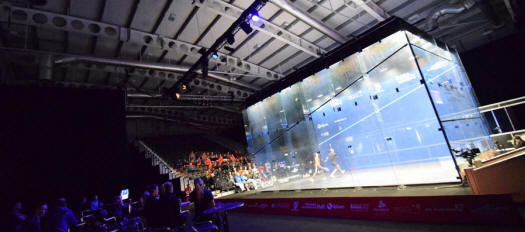 Sat 26th Mar - SEMI-FINALS
Historic all-Egyptian finals set for Hull

For the first time ever it will be four Egyptians contesting the finals of the British Open, after a dramatic semi-final day at the Airco Arena.


In the women's semis Nour El Sherbini made it four wins in a row over five-time champion Nicol David as she reached her fourth World Series final in a row.

She'll meet Nouran Gohar, the reigning world junior champion, who dethroned Camille Serme in a five-game battle that couldn't be closer.


In the men's semis former champions Ramy Ashour and Gregory Gaultier did battle with Ashour letting a two-game lead slip before recovering from 1-6 in the fifth to maintain his impressive record over the Frenchman.

Defending champion and world #1 Mohamed Elshorbagy was in control of his match with Karim Abdel Gawad from start to finish as moved back into the final.
[4] Nour El Sherbini (Egy) 3-1 [2] Nicol David (Mas)
11/6, 2/11, 11/9, 11/6 (43m)
[8] Nouran Gohar (Egy) 3-2 [5] Camille Serme (Fra)
12/10, 11/9, 9/11, 9/11, 11/9 (80m)

[5] Ramy Ashour (Egy) 3-2 [2] Gregory Gaultier (Fra)
11/6, 12/10, 8/11, 9/11, 11/7 (74m)
[1] Mohamed Elshorbagy (Egy) 3-0 Karim Abdel Gawad (Egy)
11/8, 11/7, 11/7 (45m)

The semi-finals in 60 seconds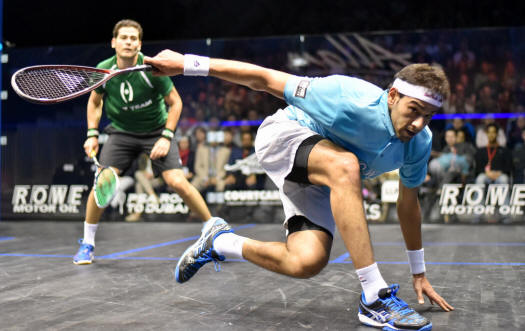 Shorbagy sails through to final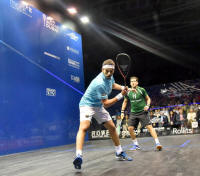 Top seed and defending champion Mohamed Elshorbagy returned to the final with a solid straight game win over Karim Abdel Gawad.

Gawad, playing his fourth successive Egyptian opponent, competed well enough but never managed to get in front and never realistically looked like ending his losing streak against the world #1.

"Karim played so well to get to the semi-finals for the first time," said Shorbagy. "To have four Egyptians in the finals, especially with the tournament being sponsored by an Egyptian, is special."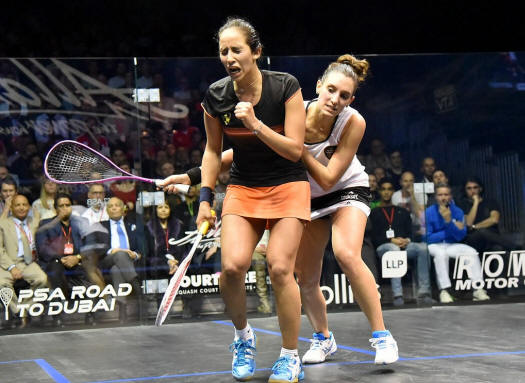 Gohar dethrones Serme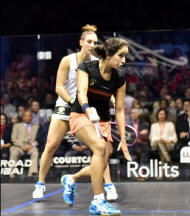 World Junior Champion Nouran Gohar came through a high-qualify, high-intensity, nothing to choose between them five game encounter to dethrone Camille Serme and ensure that there will be two all-Egyptian finals in Hull.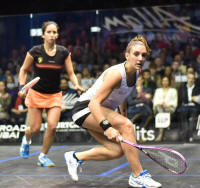 All five games could have gone either way, but it was the young Egyptian who got the better of the closing stages of the first two, and the Frenchwoman who recovered from 6-8 in the third and 8-9 in the fourth to set up a decider.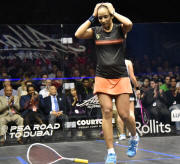 Gohar again started well, led 6-3 and although Serme pulled that lead back, levelling at 6-all and 7-all, it was Gohar's more powerful game and relentless pace that prevailed in the end.

"Even the first two games were close," said Gohar. "She gave it everything she had, I gave it everything I had. I was so tired at the end.

"It's my biggest achievement so far - I was in the British Open Junior final just two months ago and now I'm in the final of the senior tournament, it's amazing!"
Ashour wins a thriller


When Ramy Ashour took a two-game lead over Gregory Gaultier, it looked as though the Egyptian would extend his already impressive H2H advantage over the Frenchman with something to spare.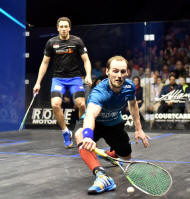 Outplayed in the first, Gaultier really should have taken the second, but errors at the very end cost him. He recovered well though, leading the third and fourth games, although he needed Ashour errors to take the third and finished the fourth with a volley that Ramy's dive couldn't reach.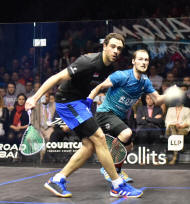 At 5-0 and 6-1 in the third a full comeback looked likely, but it was Ashour's turn to recover, and by the time he'd reached 5-6 there only looked one winner - and sure enough after 74 minutes Ramy Ashour claimed his place in the final, to the rapturous applause of the packed crowd.


"I was nearly handing my key in at reception after my first match," said Ashour, "so to win another five-setter against a great competitor such as Greg and to reach the final of this historic event again feels really special."


Gaultier reflected:

"I was not expecting anything coming here, and being able to play over an hour against somebody like Ramy, and nearly beat him, means the world to me."
Sherbini does it again


Nour El Sherbini made it four World Series finals in a row as she beat Nicol David for the fourth time in a row in the first semi-final.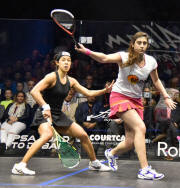 Well on top in the first, Sherbini looked set to continue her recent dominance, but it was five-time champion David who powered through the second, and led 8-5 in the third.

From there on it was the Egyptian who resumed control and David, making more unforced errors than we're use to seeing from her, couldn't break the spell.


"Since I played Nicol in the 2012 final I've been trying to hard to get back to the British Open final," said Sherbini, "but I kept losing in the early rounds! I'm so pleased to finally make it.

"I always try to play the perfect shot, at the perfect time. That way, I can finish it quickly!"
Preview
Semi-finals day in Hull with the titles in the 'Wimbledon of Squash' now within sight for five Egyptians, two French and one Malaysian.

The first session features both second seeds as five-time champion Nicol David takes on young Egyptian Nour El Sherbini in a repeat of their 2013 final at the O2 in London. David won that time, but it's 4-all in the H2H with the young Egyptian having won the last three,

Then it's two-time British Open and current world champion Gregory Gaultier against Ramy Ashour, champion in 2013. Here the H2H is 27-7 in Ashour's favour, and he's won the last three as well.


The evening session sees both defending champions in action. Camille Serme and Nouran Gohar both produced stunning upsets yesterday and while Serme will be eyeing a successful defence the world junior champion is hungry for a first major senior title. This will be their third meeting, it's one apiece.

Last up is an all-Egyptian match between world #1 and defending champion Mohamed Elshorbagy and Karim Abdel Gawad, who will be playing a compatriot for the fourth time in a row having already beaten Omar Mosaad, Fares Dessouki and Marwan Elshorbagy. Shorbagy has won all six of their meetings, three BJO matches and three on the senior circuit.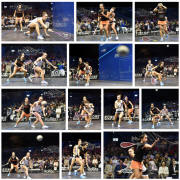 Semi-Final Collages
more in the Gallery