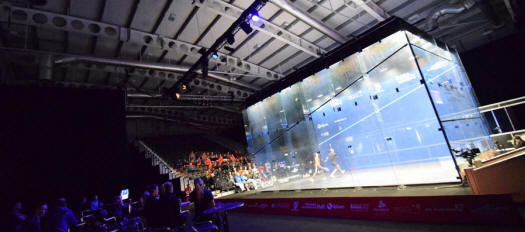 Thu 24th Mar - Day SIX:
Egyptians advance as quarter-finalists are settled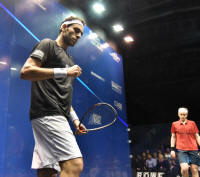 Today saw the second part of Round Two as quarter-finalists were finalised.

There were no upsets today as the top seeds and defending champions - Mohamed Elshorbagy, Laura Massaro and Camille Serme - all went through with the highly-anticipated Elshorbagy-Willstrop rematch from Seattle going the way of the Egyptian world #1 - and it was another good day for the Egyptians with five winners taking their quarter-final count to nine.

Quick reports below, photos in the gallery,
full reports on the Egypt/Tecnifibre pages ...
Round Two (Top Half):

[8] Nouran Gohar (Egy) 3-0 [9] Annie Au (Hkg)
11/7, 11/3, 11/8 (27m)
[3] Raneem El Welily (Egy) 3-0 [10] Sarah-Jane Perry (Eng)
11/9, 14/12, 11/6 (41m)

[5] Camille Serme (Fra) 3-0 Victoria Lust (Eng)
11/5, 11/8, 11/3 (31m)
[1] Laura Massaro (Eng) 3-0 Line Hansen (Den)
11/9, 12/10, 11/5 (35m)

[1] Mohamed ElShorbagy (Egy) 3-1 James Willstrop (Eng)
11/6, 11/6, 8/11, 11/5 (63m)
[6] Miguel Rodriguez (Col) 3-0 [Q] Mohamed Abouelghar
11/3, 11/8, 11/8 (43m)

Marwan ElShorbagy (Egy) 3-0 Saurav Ghosal (Ind)
11/6, 11/6 rtd (24m)
Karim Abdel Gawad (Egy) 3-1 Fares Dessouki (Egy)
12/14, 11/3, 12/10, 11/9 (91m)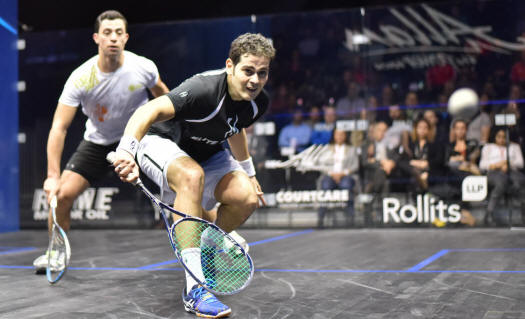 Gawad edges past Dessouki


The last match of the day was an all-Egyptian encounter - and the longest match of the day by a good margin - between Karim Abdel Gawad and Fares Dessouki to see who would contest an all-Egyptian quarter-final with Marwan Elshorbagy.


Dessouki edged a 20 minute opening game in extra points but Gawad fired straight back, dominating a 6-minute second to level. Dessouki was 8-3 up in the third before Gawad mounted a determined comeback to take the lead.


The fourth was nip and tuck with the referees heavily involved as they had been all match.

Gawad came from behind to earn two match balls at 10-8, Dessouki took a self-inflicted injury break after saving the first and promptly tinned after he'd returned to court to face the second.

"Fares is one of my best friends on tour," said a delighted but relieved Gawad, "but you have to forget that when you go on court.
Massaro digs in

World #1 Laura Massaro showed her mettle as she trailed in both opening games to Line Hansen, taking both before accelerating away in the third.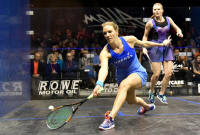 Hansen led 9-7 in the first, and 10-9 and 11-10 in the second but Massaro, renowned for her mental strength and determination, clawed her way back to take both - without a "C'mon" in sight.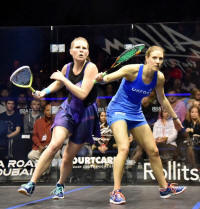 The third was much simpler for the top seed, who eased through to set up an enticing quarter-final with Camille Serme, a repeat of last yea's final!

"It will be a good match for the crowd," said Massaro. "I feel like I am playing well and much better than I was this time last year, and I don't have an 85-minute match in my legs like I did going into last year's final so I just want to play my best."
Shorbagy gets his revenge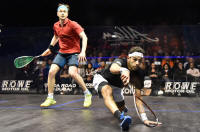 "I've been waiting for this match for four months," said top seed and defending champion Mohamed Elshorbagy after beating James Willstrop in a repeat of their World Champs clash last November in Seattle, which of course the Englishman won.


In truth there seemed little prospect of Willstrop repeating that upset today, the Egyptian world #1 was on top for most of the match, responding to Willstrop taking the third game by upping the pace in the fourth to close out a satisfying win.

"James surprised me that day," said Shorbagy, "he was one of the best players in the world but had been out for a while, and the first time he played like we all knew he could was against me!"

Willstrop's defeat means that there will be no Englishman in the quarter-finals since 1992.
Serme safely through


Defending champion Camille Serme is safely through to the quarter-finals after a solid three-nil win over England's Vicky Lust.

Dominant in the first game, the Frenchwoman needed to stage a mini-comeback from the middle of the second to double her advantage, but was quickly on top and in front again in the third.

"I'm very happy with the way I played today," said Camille. "I was a bit nervous, two years ago, I lost in the 2nd round, so last year, I told myself, just don't lose in the second round!"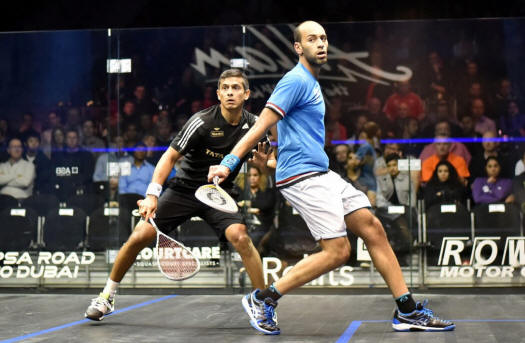 Marwan through as Saurav retires


Marwan Elshorbagy continues to impress, looking every much a British Open quarter-finalist - or more - as he got the better of his two opening games against India's Saurav Ghosal.

From the middle of the second Ghosal was looking more and more uncomfortable, and although he left his racket on court at the end of the second, it wasn't a surprise that the injury he picked up during his opening match was now troubling him sufficiently to walk over to Marwan and shake his hand.

Marwan now plays the winner of tonight's match between Gawad and Dessouki, meaning that two Egyptian semi-finalists - at least - are guaranteed.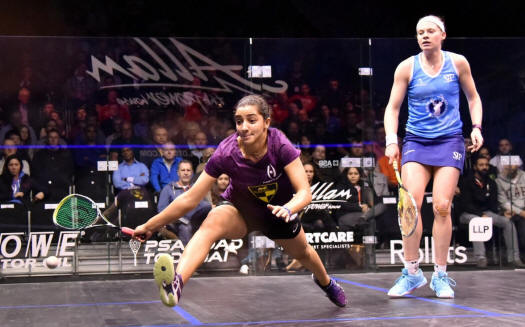 SJ makes it tough for Raneem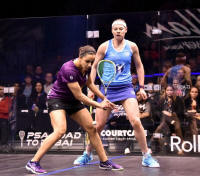 Sarah-Jane Perry made third seed Raneem El Welily work hard for her quarter-final place.

The Englishwoman took a good lead in the opening game only to see Welily claw it back and take the lead. She had a lead in the middle of the second too, lost it, then came back to earn game balls at 10-9 and 11-10 but again it was the Egyptian who took it.

Welily led throughout the third but it was never comfortable, but with SJ doing the splits and diving to the corners of the court, she again managed to close the game out.

"Annoying," said SJ. "A poor serve and a terrible drop on my game balls. Next time!"
Rodriguez fires into quarters


In the first men's match of the day Mohamed Abouelghar was improving game by game, but it came just a little late to seriously trouble Miguel Angel Rodriguez, who made the quarter-finals with a straight-game win.

Unforced errors from the young Egyptian were the order of the day in the first game, the Colombian accepting the gratefully for a quick lead.

Abouelghar reduced the error count in the next two games and never let Rodriguez get too far ahead but still, at crucial times, the tin came to the Colombian's aid.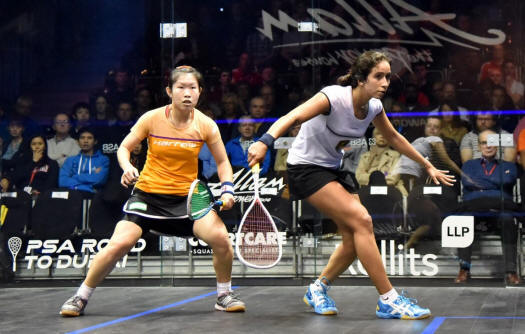 Gohar through to quarters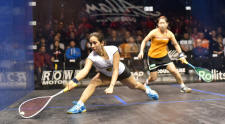 Today's first match saw world junior champion Nouran Gohar through to the quarters with a straight game win over Annie Au. With the head to head standing at 2-apiece and the seeding as #8 v #9 it could have been a tricky encounter, but the young Egyptian dominated most of a match which comprised mainly short rallies.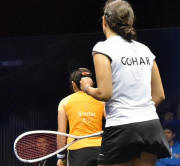 Having taken the first Gohar was quickly up in the second with Au making a few errors at the end, and although the Hong Kong player had a narrow lead in the middle of the third, Gohar accelerated away to take the match in just under half an hour.

"I'd never beaten her 3-0, last time I was 2-0 and 7-2 up and lost so I'm happy to win in three," said Gohar. "I have trained hard at home for this event, one of the most important of our Tour, I like the court conditions, it's hard and bouncy, it suits my game, hitting hard and running around!"

Reports, Quotes Photos on the Egypt & Tecnifibre pages