PREVIEWS
British Open Champions talk about the 2016 Open
Greg "happy to be back"
Two-time British Open champion Gregory Gaultier is looking forward to being back in action in Hull after a two month layoff following his injury in January's ToC in New York.

"I'm happy to be back playing after two months not competing," said Gaultier during his British Open preparations. "Being back on court playing with no pain is a good feeling when I think 9-10 weeks ago I was using sticks and couldn't walk."


The reigning World Champion was forced to sit out the Cambridge Cup, Swedish Open, Windy City Open and French Nationals and found it tough:

"It's been hard to miss all these events, this is where you realise how much you love the sport, when you end up being on the sofa watching others playing.

"I'm really thankful to all the physios, doctors who have helped me during all this rehab and did a great job cause at the beginning we didnt really know when I would be back competing, whether I would start with the British or even later.

"Big thanks to my coach Thomas who was there every day for me and all the other members of my team for their great support."


Champion in 2007 (beating Thierry Lincou in the final) and 2014, the Frenchman who is nine-time European Individual champion is happy to be back for the British Open.

"The british open is the wimbledon of tennis," he said. "When I won for the first time I was over the moon, it's such a prestigious tournament to win. Like the World Open or World Series Finals, it s one of the top three events you can dream of winning.

"We will see what happens this week, it's just nice to be part of the competition again ..."

Serme ready for British Open title defence
2015 Women's British Open Champion Camille Serme is looking forward to starting a World Series event as the reigning champion for the first time.

"This title is the biggest of my career," said the World #4 from Creteil. "I still get very emotional when I see pictures or videos of it!

"It's the first time that I start a World Series event as the previous winner, it's new for me."

Since that emotional victory in Hull last May, Serme has retained her French Nationals and European Individual titles, reached the semi-finals of the U.S. and Windy City Opens and is looking forward to returning to the scene of her most famous victory, where she beat home favourite Laura Massaro in the final.

"I don't want to put too much pressure on myself, I just try to be in the same mental state as I've been for the other World Series event this season.


"Everyone is so close in term of levels at the moment, it's hard to pick a winner.

Serme starts her defence with a match against Hull's own Fiona Moverley, the wildcard entry, and if all goes to seeding would meet Massaro again in the quarter-finals.

"Of course I will give everything I have to try to win it again, it would be amazing!

"Let's see next week how things go," she concluded, "I feel ready!"

David excited ahead of British

Five-time champion Nicol David says she is excited to compete in the illustrious Allam British Open later this month when the 'Wimbledon of Squash' gets underway in Hull's Airco Arena.

After lifting just one World Series title in the last 12 months, December's Hong Kong Open, David will be hoping to return to winning ways in Hull and lift the special trophy once again.


"The prestige of this event is the highlight for me and to be part of the British Open every year is truly special," said David.

"It is the longest running squash tournament in the history of the sport and every player is gunning to win that title to make their mark in the squash world.

"It is such a thrilling experience winning this title knowing you're part of an elite group of legendary squash players who have put their name on this trophy. The British Open title was probably seen as the highest regard before the World title was introduced so it does carry a lot of weight winning this title."

Elshorbagy aims for British title defence
Twelve months after adding his name to the illustrious list of former Allam British Open champions World No.1 Mohamed Elshorbagy, the 24-year-old Egyptian now based in Bristol, says he is hungry for more success at the prestigious 'Wimbledon of Squash'.

Elshorbagy joined the likes of legendary icons Jahangir Khan, Jansher Khan and mentor Jonah Barrington when he defeated Gregory Gaultier to triumph in a brutal encounter last May and after successfully defending his Qatar Classic, Hong Kong Open and Tournament of Champions crowns so far during the 2015/16 season the man who has dominated the top or the world rankings throughout the past 12-months is hoping to complete a clean sweep of title-defences when he takes centre stage at the Airco Arena,

"Winning the British Open was an achievement that I will always remember as it was something that I always dreamt of achieving," said Elshorbagy.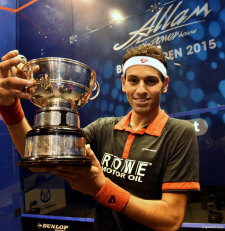 "t was a dream come true and an honour to have my name beside all the greatest players in the history of squash. Having Jonah Barrington guiding me throughout my career made it even bigger for me because I wanted to try and put my name on the trophy beside his.

"Having already won it takes some pressure off me but as an athlete and a competition you want to win everything and I definitely want to see my name on that trophy a few more times."

"It will be good to be back in Hull, Dr Allam has been supporting our sport over the past few years and does a great job making us feel comfortable during the competition and we are all thankful for the support he gives us."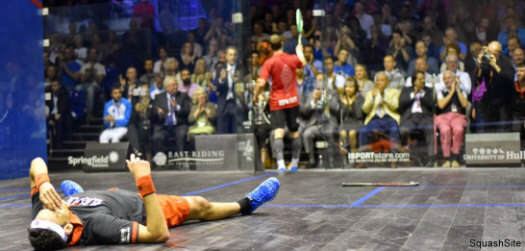 Massaro relishing 2016 British challenge

Women's World No.1 Laura Massaro, the 32-year-old from Preston, is looking forward to going into this year's 2016 Allam British Open at the Airco Arena, Hull as the tournament top seed as she bids to win the illustrious 'Wimbledon of Squash' for the second time .


Massaro became the first Englishwomen in 22 years to win the Allam British Open when she defeated Nicol David to take the title when the tournament made its debut in Hull in 2013. Three years on she is hoping for a repeat performance this March.

"Winning the Allam British Open in 2013 was huge for me," said Massaro. "To beat Nicol David, who was then No.1, in front of a home crowd in my first ever British Open final is something that I will never forget.


"Once you get on court you only focus on playing squash but when the crowd get behind the British players, especially in the latter stages, and become more vocal it really does give you an incredible boost and, as a player, it is a feeling that is hard to replicate at any other tournament in the world.

"That 2013 win was unexpected and exciting but I feel capable of winning this year also. Having two British Open title would be very, very special. My focus is on playing my best and doing everything I can to make it happen."

"I'll be the top seed this year and it's a pleasure and a privilege to be number one but there are so many players with the talent and ability to go all the way that I know I can't take anything for granted."

Matthew eyes up a Fourth British

Nick Matthew is hoping a change of date for the 2016 British Open will help him in his quest to win the sport's most prestigious title as the tournament returns to its traditional March slot.


The 2006, 2009 and 2012 champion is the most decorated Englishman ever to play the sport after a sparkling 18-year career, and won a record 8th British Nationals title in February.

"This year, with the event taking place in March, I think that changes the dynamic a little," said Matthew.

"At 35, trying to peak for a May event at the end of the season was maybe taking too much out of me in the last couple of seasons so hopefully it coming earlier is of benefit to me. When I was growing up, the tournament was always in the Easter week and I used to go down in the school holidays and watch 3-4 days of the event so hopefully that change is a good omen for me.

"I believe I still have the quality to compete and win major titles and I'm still hungry, which you have to be if you want to compete. But you need to be smart as well and adapt. I have the quality but maybe not the quantity so this year I'm not pushing myself to play in every tournament like I have done in past years. You have to continually evolve as a player and that's been at the forefront of my mind this season."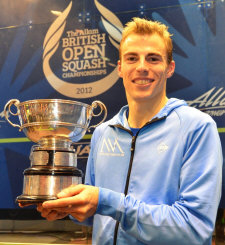 "I've won the British Open three times and the win in 2006 was a real breakthrough for me because I wasn't considered a top contender at that point".

"The history and tradition of the tournament is next to none, so to win when I wasn't a contender, and for that to be my first major tournament win, was surreal. I feel very fortunate that I've been able to win it since and join that history. It was a huge boost for me, it gave me the belief that I could win major tournaments. There's nothing better than winning the British Open as your first major event.
"Along with the World Championship, the British Open is the one you really target every year."
Ashour targets return at British

Three time World Champion Ramy Ashour is hoping his injury nightmare will soon be behind him as he aims to return to competitive action at the prestigious 2016 Allam British Open

The current World No.5 from Egypt has grappled with injury over the past two years and has made just a handful of appearances since his 2014 World Championship victory, where he marked his return from a six-month absence to lift the sport's biggest prize.

After winning the NetSuite Open in his first tournament of the 2015/16 season, injury curtailed his participation in his next two events at the Delaware Investments US Open and 2015 World Championship and he has been out of action in the three months since.


However, Ashour is hopeful that his latest attempts at rehabilitation will prove fruitful as he looks to win a first British Open crown since 2013.

"I have been working hard over the past few months to recover from my injuries and I hope to be able to compete at the Allam British Open later this month," said Ashour.

"Winning the tournament in 2013 was a special moment for me and fingers crossed I can compete in that great event again in a few weeks."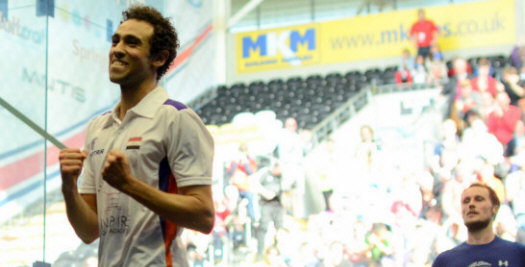 TODAY at the British Open