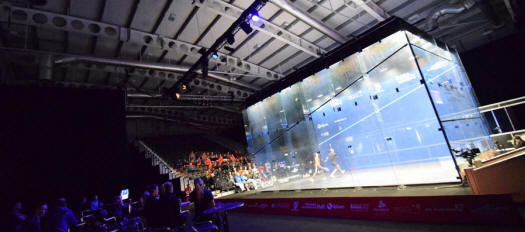 Wed 23rd Mar - Day FIVE:

All matches are at the Airco Arena from now on, and today saw the start of Round Two as the last sixteens battle it out for places in the quarter-finals.
Round Two (Bottom Half):

[4] Nour El Sherbini (Egy) 3-1 [Q] Liu Tsz-Ling (Hkg)
11/3, 11/7, 6/11, 11/1 (27m)
[7] Amanda Sobhy (Usa) 3-0 [11] Alison Waters (Eng)
11/8, 11/2, 11/3 (28m)
[6] Omneya Abdel Kawy (Egy) 3-0 Joey Chan (Hkg)
11/5, 11/5, 11/9 (22m)
[2] Nicol David (Mas) 3-0 Donna Urquhart (Aus)
11/4, 11/7, 11/6 (27m)

[5] Ramy Ashour (Egy) 3-2 Ryan Cuskelly (Aus)
11/5, 11/9, 6/11, 9/11, 13/11 (106m)
Ali Farag (Egy) 3-2 [3] Nick Matthew (Eng)
4/11, 13/11, 10/12, 11/7, 11/4 (68m)
[7] Simon Rφsner 3-2 Chris Simpson (Eng)
11/8, 10/12, 10/12, 11/7, 11/4 (95m)
[2] Gregory Gaultier (Fra) 3-0 Stephen Coppinger (Rsa)
11/5, 11/1, 11/9 (44m)
Farag downs Matthew, Ashour survives


The first day of second round action saw comfortable victories for all of the women's seeds in the bottom half of the draw, all going through in under half and but a series of titanic tussles in the men's matches.

England's Chris Simpson fell just short of the big win he's been close to several times but German Simon Rosner somehow found a little extra in the fifth; Ramy Ashour looked in good form as he went two game up, but then needed a fantastic comeback in the fifth to deny Ryan Cuskelly; Ali Farag ended Nick Matthew's hopes of a fourth title, the Englishman fading at the end of yet another five-setter; second seed Gregory Gaultier finished the day with a strong win over Steve Coppinger.

Brief match reports and quotes below ...
Ramy survives - somehow ...


After coming back from two-nil down in his first match, Ramy Ashour looked more the part from the start as he went two nil up Aussie Ryan Cuskelly.

The Aussie fought back though, taking the next two to force an unexpected decider.


By this time after an early stumble Ashour was diving all over the court, not always to good effect.

A series of unforced errors put Ashour in trouble, and 9-3 down in the fifth. He cut out the errors and clawed his way back to 10-9 match ball, but two more tins gave match ball to Cuskelly.


It was the Aussie's turn to dive now, but in vain as Ashour saved that, then took the next two points to somehow, somehow, reach the quarter-finals.

"When you go through certain predicaments you learn a little about yourself," said a thoughtful Ramy.

"It was an incredible match, Ryan is an incredible player, and the British Open means so much."

Full report: "How did Ramy win that match ???" Ramy & Ryan Quotes
Farag foils Matthew bid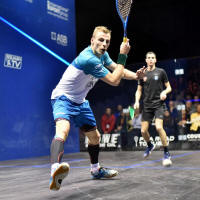 Nick Matthew may be a three-time world and British Open champion, but his quest to become the oldest ever winner of the 'Wimbledon of Squash' came to an end as he lost out in five games to rising young Egyptian Farag.


Matthew dominated the first but Farag struck back to take a close second and had game balls in the third before Matthew took it 12/10.

Farag was back on top in the fourth, and from early in the fifth it was clear that Matthew wasn't able to compete - he later revealed it was an ankle problem - as Farag finished the game quickly to set up a meeting with Ramy Ashour.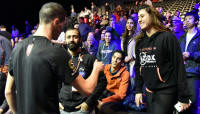 "The British Open means a lot, it's the Wimbledon for us," said Farag. "It feels good to be in the quarters, but I don't want to be satisfied yet …"

"I can't go on playing at 80 per cent every tournament," said Matthew. "Everyone was trying to support me and keep me going but I just couldn't do it in the end."

Full report: Nick's ankle flares up in fourth
Rosner outlasts Simpson


Chris Simpson once again came close to that elusive big win. After seeing a good lead disappear as Simon Rosner took six points in a row to take the lead, Simpson edged ahead taking the second and third games on extra points.


The big German pulled clear at the end of a close fourth, and with both players feeling the effects of a gruelling match it was Rosner who had enough left to take the decider.

"After the fourth, I didn't think I could turn it around or where to play my shots," said a relieved Rosner.

"I don't know how I won that one."
Gaultier's back


Two-time champion Gregory Gaultier, returning to action after an injury layoff since January, looked much sharper tonight than in his first round match.

South African Steve Coppinger kept pace with the Frenchman for most of the first game but Gaultier finished it off well, dominated the second and built up a good enough lead in the thrd to fend off Coppinger's late rally.

"I was happy with how I played, it's the first time since I cam back that I felt my movement was good and I could feel my shots," he said.
David looking strong

Five-time champion Nicol David looked sharp as she despatched Australia's Donna Urquhart in straight games.

The Malaysian dominated the first and although Urquhart fared better in the next two games David was always ahead and never looked like letting that lead go.

Sherbini safely through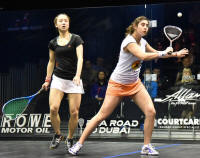 Fourth seed Nour El Sherbini dominated the first two games against Hong Kong qualifier Liu Tsz-Ling but then in her own words lost her length completely allowing Liu to take the third.

"Then Shabana told me that I lost my game, that I had to be strong from the start of the 4th, to attack and get back to my game. Which I did. And it worked."

Kawy in quickfire win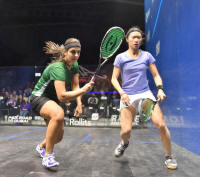 Omneya Abdel Kawy wasted no time in recording her first win over Joey Chan in three attempts.

The Egyptian sixth seed was on to from the beginning, reeling off the first two games in just 13 minutes,

Although Chan led in the middle of the third Kawy found her shots again to reach the quarter-finals.

Full report: Quick win for Omneya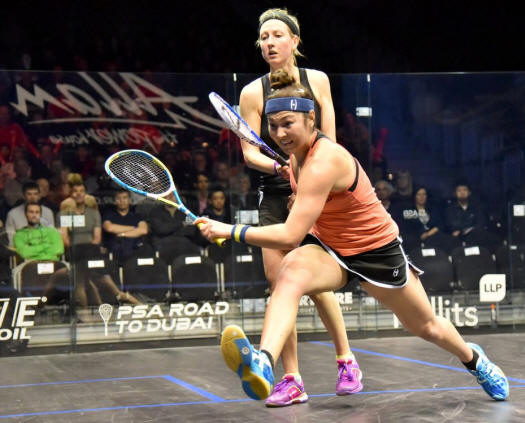 Sobhy first through to quarters


Round two started off with a comfortable win for Amanda Sobhy, the rising American getting the better of a close first game against England's Alison Waters before racing through the next two games to complete the win.

"Making the quarters of such a prestigious event is massive," said Sobhy, "but if I can make it past the quarters, it would be even better!"

WIN a signature edition of Miguel's new Tecnifibre racket