Mon 21st Mar -Day THREE:
Round ONE - Bottom

On the third day of the 2016 British Open in Hull the main draw got under way with sixteen bottom half matches at the Airco arena and at the University of Hull.
Women: Three upsets and an escape

There was a trio of upsets - and a narrow escape - in the women's matches as the 13th, 14th and 15th seeds fell , all at the University.


Hong Kong Qualifier Liu Tsz-Ling beat England's Jenny Duncalf - the 2008 finalist - in four games while compatriot Joey Chan beat Low Wee Wern, returning to action after another injury layoff, also in four. Australia's Donna Urquhart produced the other upset as she beat India's Joshna Chinnappa.

Five-time champion Nicol David, fourth-seeded 2012 finalist Nour El Sherbini, and in-form American Amanda Sobhy all eased through in straight games, as did England's Alison Waters as she beat four-time champion Rachael Grinham, appearing in her 20th British open.


Sixth seed Omneya Abdel Kawy had a narrow escape as she recovered from two games down against Welsh qualifier Tesni Evans to earn herself match balls at 10-6 in the fifth.

Five points in a row from Evans turned that around, and Kawy had to save another match ball before finally completing the escape 15-13.

"Even when I was down 2/0, I had th feeling that I would still win it," said Kawy. "But at 10/6 match ball, I played that silly shot and got to 10/10, and I thought that's it!" Full report and quote
Men: Ashour survives, Gaultier is back

There were no significant upsets in the men's matches, but a few lengthy encounters and one great escape.


Home favourite and three-time champion Nick Matthew eased past compatriot Adrian Waller and he'll meet young Egyptian Ali Farag who despatched wildcard Tom Richards.

German seventh seed Simon Rosner wasn't at his best but had enough to see off Max Lee in four games to set up a meeting with Chris Simpson, who survived a long five-setter to beat qualifier Zahed Mohamed in five.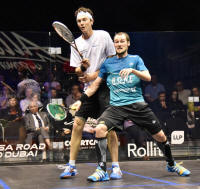 World champion Gregory Gaultier, returning to action after injury, needed all five game to beat Australia's Cameron Pilley and he'll meet Steve Coppinger in the next round.

Also making a return after missing several events through injury was Ramy Ashour, and when the fifth seed lost the first game 11-1 to Mexican qualifier Cesar Salazar things didn't look good for the 2013 champion.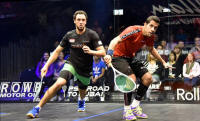 He lost the second too, but as the match wore on his movement, error count and confidence grew massively and by the fifth he was well in control.


"It was not pleasant no. It was hard. But it's holding up," said Ashour. "I think I was just trying too hard, working too much, training too much, I always believe the more the better. I realise now I was wrong."
Full report and quotes

Ashour will need to maintain that improvement next time out as he takes on Australian Ryan Cuskelly who beat Kiwi Paul Coll in four tough games in the longest match of the day.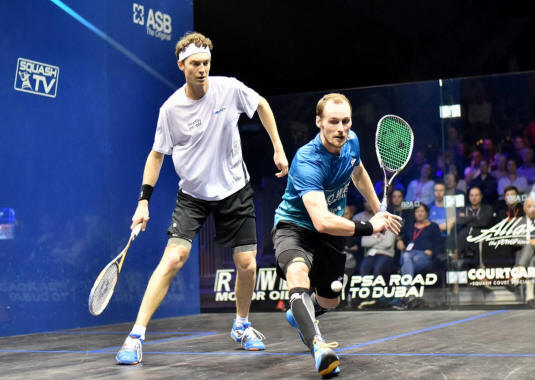 Women's Round One (bottom half)

[4] Nour El Sherbini (Egy) 3-0 Nicolette Fernandes (Guy)
11/3, 11/7, 11/6 (32m)
[Q] Liu Tsz-Ling (Hkg) 3-1 [15] Jenny Duncalf (Eng)
13/11, 11/8, 4/11, 11/7 (35m)
[11] Alison Waters (Eng) 3-0 Rachael Grinham (Aus)
11/4, 11/5, 11/6 (22m)
[7] Amanda Sobhy (Usa) 3-0 [Q] Coline Aumard (Fra)
11/7, 11/7, 11/4 (29m)
[6] Omneya Abdel Kawy (Egy) 3-2 [Q] Tesni Evans (Wal)
9/11, 7/11, 11/8, 11/7, 15/13 (61m)
Joey Chan (Hkg) 3-1 [13] Low Wee Wern (Mas)
11/5, 11/9, 10/12, 10/8 rtd (54m)
Donna Urquhart (Aus) 3-1 [14] Joshna Chinappa (Ind)
12/10, 7/11, 11/9, 11/5 (40m)
[2] Nicol David (Mas) 3-0 [Q] Mayar Hany (Egy)
11/8, 11/9, 11/0 (26m)
Men's Round One (bottom half)

[7] Simon Rösner (Ger) 3-1 Max Lee (Hkg)
10/12, 11/8, 11/9, 11/8 (67m)
Chris Simpson (Eng) 3-2 [Q] Zahed Mohamed (Egy)
11/5, 12/14, 11/9, 9/11, 11/7 (84m)
[5] Ramy Ashour (Egy) 3-2 [Q] Cesar Salazar (Mex)
1/11, 6/11, 11/8, 11/8, 11/3 (51m)
Ryan Cuskelly (Aus) 3-1 [Q] Paul Coll (Nzl)
12/10, 13/11, 9/11, 12/10 (88m)
[3] Nick Matthew (Eng) 3-0 [Q] Adrian Waller (Eng)
11/7, 11/4, 11/8 (43m)
Ali Farag (Egy) 3-0 [wc] Tom Richards (Eng)
11/6, 11/6, 11/5 (40m)
Stephen Coppinger (Rsa) 3-1 [Q] Nafiizwan Adnan (Mas)
11/3, 11/13, 11/3, 11/5 (54m)
[2] Gregory Gaultier (Fra) 3-2 Cameron Pilley (Aus)
8/11, 11/6, 7/11, 11/2, 11/7 (76m)