TODAY at the Qatar Classic 2010
Fri 5th, Day ONE Fram reports ... Steve in Italics
Under way in Doha

Thirty-two (well, 29) players assembled for the men's qualifying draw at the Khalifa Squash & Tennis complex in Doha, as the latest PSA Super Series event gets under way.

Thirteen matches to play on two courts, so it's a relatively gentle introduction as they go. Once the men reach the main draw stage every match will be on the all-glass court, with the women joining in at the quarter-final stage (their qualifying begins tomorrow).



Men's Qualifying Round One:

Tom Richards (Eng) bye
Alan Clyne (Sco) bt Amr Khalid Khalifa (Egy)
11/6, 11/8, 11/7 (43m)
Nicolas Mueller (Sui) bt Ammar Al-Tamimi (Kuw)
11/4, 11/4, 11/5 (29m)
Yann Perrin (Fra) bt Bradley Hindle (Mlt)
7/11, 9/11, 11/7, 11/9, 11/9 (81m)

Simon Rosner (Ger) bye
Max Lee (Hkg) bt Bader Al Hussaini (Kuw)
12/10, 11/8, 11/2 (37m)
Steve Coppinger (Rsa) bt Abdullah Mohd Al Tamimi (Qat)
11/6, 11/8, 11/6 (29m)
Campbell Grayson (Nzl) bt Mansoor Zaman (Pak)
4/11, 11/13, 11/2, 11/8, 11/5 (51m)

Borja Golan (Esp) bt Scott Arnold (Aus)
11/6, 11/3, 11/7 (36m)
Aaron Frankcomb (Aus) bt Saoud Al Sulaiti (Qat)
11/8, 11/5, 11/3 (20m)
Henrik Mustonen (Fin) bt Mathieu Castagnet (Fra)
11/7, 11/8, 9/11, 11/3 (60m)
Andrew Wagih (Egy) bt Ryan Cuskelly (Aus)
9/11, 15/13, 8/11, 11/7, 12/10 (98m)

Karim Abdel Gawad (Egy) bt Abdulrahman Al Malki (Qat)
11/9, 11/8, 11/6 (29m)
Martin Knight (Nzl) bt Basem Makran (Egy)
11/3, 11/7, 11/6 (35m)
Julien Balbo (Fra) bt Siddarth Suchde (Ind)
6/11, 11/3, 11/4, 11/2 (52m)
Omar Abdel Aziz (Egy) bye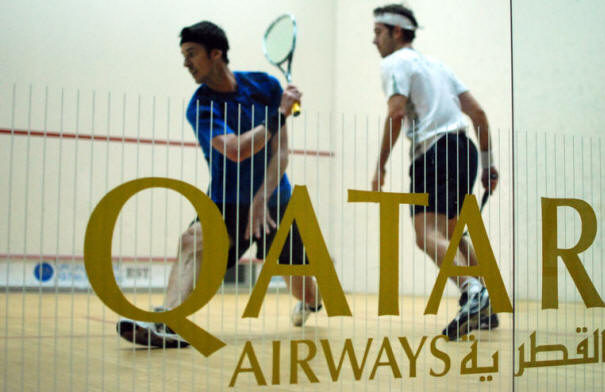 Borja Golan (Esp) bt Scott Arnold (Aus)11/6, 11/3, 11/7 (36m)


TOO MANY ERRORS FROM SCOTT

It started very well indeed for Australian Scott Arnold, who I thought played a good tactic against Borja Golan, trying to pick up the pace, and hit hard in the front corners. And if the players were never more than a point away, at 5/5, Scott seemed to melt down really! Seven unforced errors in that game, that really didnít help him.

Borja now more in control, having more time to adjust his shots, the Spanish really hammered the second game, only three points for Scott. But the Australian made an excellent come back in the third, fighting to 5/5, 6/6, but again, at the end of the game, Borja gave it a big push, and Scott found the tinÖ

"It was a tough draw for both of us, but then again, everybody would be a tough draw for me!!!

"Today, I didnít expect anything, I just try and prepare well, good warm up. I never felt that sharp of the court, but he made a few unforced errors I took advantage of.

"I know he is particularly good on the forehand, so at the start of the match he was playing winner upon winner, hitting very hard close to the tin, and I was in trouble there, maybe also because I played some loose shots in the middle. So I had to make sure my length was better, and my shots tighter."



Golan will play Aaron Frankcomb for a place in the main draw after the Australian eased past Qatar's Saoud Al Sulaiti in 20 minutes.

Sulaiti certainly has the skill and the shots, and the watching players were duly impressed with much of his play, but Frankcomb's fitness and mobility were the deciding factors.

Alan Clyne (Sco) bt Amr Khalid Khalifa (Egy)
11/6, 11/8, 11/7 (43m)

STEADY ALAN, PATIENT KHALIFA

The Scot played the perfect game plan today, by keeping the young Egyptian behind him at nearly all times. And if Khalifa went a bit too short too early at the start, he soon reassessed to length and accept Alanís long rallies.

A few errors here and there Ė most due to the pressure and pace imposed by his opponent, but the Egyptian really played a very mature way today. And never gave up. On the contrary, as he got used to the rhythm and style of play, Khalifa played his best squash in the thirdÖ

"I was trying to be patient, today, especially as I went for my shots in the first game, and that didnít work for me at all. So, in the next two games, I was more patient.

"But he is so fast, I didnít how to handle his shots. Itís so different from the juniors, the level of game, the pace. And I need to train to be able to compete on the PSA circuit."


"I knew it was not going to be the easiest of draws! He has had a few good results lately, and I was very wary of his front game. So I tried to made it hard from the start. He is a good shot maker, so I made sure I was keeping my shots at the back.

"I think I was ahead score wise the whole match, expect maybe in the 3rd. No? I was always ahead? Well, it felt like I wasnít!!!"



The Scot now meets perennial qualifying top seed Tom Richards, who was one of three players who received byes (it was actually Tom supervising pulling the numbers out of the hat, but don't worry, that bye was his by right!)
Henrik Mustonen (Fin) bt Mathieu Castagnet (Fra)
11/7, 11/8, 9/11, 11/3 (60m)

HENRIK TOO ACCURATE

Once again, I come back and see so many improvement in my players, like in Henrik Mustonen for example, who played the perfect match.

Hitting some stunning backhand lengths glued to the wall, lovely backhand drop shots, ran like a lunatic, volleyed at the right time and played the right shotÖ

Mathieu Castagnet didnít do much wrong, very few errors from either. But Henrik today was just accurate and tight, and a bit of luck on the few shots didnít hurt him either!

A nice reward for the young man who is now a full PSA playerÖ

"Itís so difficult to play against somebody like Mathieu, who picks up virtually everything!

"For once, I didnít play too short too early, which has been my tendency up to now. And Iíve been keeping my game together, and making very few unforced errors, which Iím very happy about.

"Iíve now joined the tour full time, and this summer, I didnít play any tournament but one in France, and hardly played any games, only physical training, and shot training.

An"d I can see the result on the court now, as I could barely get to the shots before, full stretch, whereas now, I can get early on the ball, and attack from there. Plus, Iíve done a couple of tournaments now, and Iím more match fit than beforeÖ"



Yann Perrin (Fra) bt Bradley Hindle (Mlt)
7/11, 9/11, 11/7, 11/9, 11/9 (81m)

CLOSE AND TENSE

Far too many errors for Frenchman Yann Perrin to start with, and a very solid Bradley Hindle. Gradually, Yann cut down the errors, and those two played some fast paced and fierce squash, that was at times excellent quality, and with few unforced errors from both parts.

A bit tense they were in the end, having trouble moving around each other, but itís Yann that takes the cake, only justÖ

"The first two games were a recital of tins! And still, it was very close score wise.

"I was not solid enough, gave him points, and every time the game would get tight, I would attack far too quickly, in not good conditions, and of course, would find the tinÖ.

"So I started getting more patient, accepting the rallies, and still attacking, but from much better position. Still, in the end, it came down to very little, there was not much between us.

"I donít think I played my best squash today, far from it. But I guess thatís those matches you learn the more fromÖ And itís always nice to win after being 2/0 down."





"He played very well, in particular in the backhand drop shot, and was very efficient intercepting my shots on the backhand, and crosscourting. He also counterattacked my shots very well.

And to be honest, he took me by the throat physically, which doesnít happen much really.

"I have to admit Iím going through a bad patch. I had a good start of the season, but while I was in Egypt, I got a bad tourista, and although Ali played extremely well, it was not the result I was expecting, and mentally, it was a big blow for me.

"Since, Iíve been asking myself a lot of questions about my career, the way I train, my training set up. Maybe I need a bit of a break. As you see, not the best of mental states at the momentÖ"



Perrin now plays Nicolas Mueller, after the Swiss youngster despatched Ammar Al-Tamimi in under half an hour.
Andrew Wagih (Egy) bt Ryan Cuskelly (Aus)
9/11, 15/13, 8/11, 11/7, 12/10 (98m)


Wagih outlasts Cuskelly

"At least I'm not playing another Egyptian like in El Gouna," quipped Andrew Wagih before going on against Australian Ryan Cuskelly. 51 minutes later when the score stood at one-all after two brutal, physical and often contentious games, he might have been having second thoughts about that.

Cuskelly edged the first11/9 , but failed tom capitalise on game balls at 10/9, 12/11 and 13/12 in the second as a determined Wagih brought the match level 15/13. As the time tells you, the rallies were long, tough, with both of them hitting the ball with great pace and retrieving for all they were worth.

Those two games had their fair share of bumps, collisions and spills too, Cuskelly complaining to the refs about Wagih's movement, Wagih disbelieving at some of the lets his opponent was granted.

Thankfully that side of it settled down, but the squash stayed just as intense. After 63 minutes Cuskelly regained the lead 11/8, but after 75 they were level again, 11/7 to Wagih.

It was the Egyptian, still as determined as at the outset, who took the initiative in the decider. Leads of 8/3 and 9/5 looked decisive, but back came Cuskelly with a run of five points to reach 10/9 match ball on an error from Wagih.

A stroke brought them level again, Wagih slammed a volley into the nick for his own match ball - then to Cuskelly's annoyance held up play because he developed cramp in his wrist, of all places, before finishing the next rally with a perfect volley drop and another cry of "YES".

"The first game was a bit tough, he was controlling the rallies very well, mixing up his shots, volleying a lot. But I thought to myself that he was playing so perfectly he might have trouble keeping it up.

"Omar Abdel Aziz told me to mix the pace more after the first game, and to hold it as well. But in the 5th, I was up 8/3, then 9/5, but Ryan really gave it a big push!

"I think what made the difference today was that I was the young player, having nothing to lose, and he was the top player, that he HAD to win, and in the crucial points, probably tensed up a bitÖ"



Steve Coppinger (Rsa) bt Abdullah Mohd Al Tamimi (Qat)
11/6, 11/8, 11/6 (29m)


Coppinger tames Flying Tamimi

It didn't quite last half an hour, but those who saw Steve Coppinger - probably the biggest of the players - against 16-year-old Abdullah Mohd Al Tamimi - probably the smallest - weren't complaining about value for money.

"He was a bit of a flyer, wasn't he," understated Steve after the match. "I wouldn't want to play him in four or fiver years' time," he added.

Always smiling, Abdullah treated onlookers to a display that brought smiles to their faces too - flying round the court at the speed of light, bouncing off the walls when necessary, throwing in all sorts of trick shots and flying leaping volleys.

He knows all the tricks too - demanding the court be swept after a minor fall, grunting as he stretches for the ball, cheekily going to serve when he knows his opponent has hit a winner, deciding his shoelaces need tying at match ball down, and the obligatory annoyed slap on his leg with the racket when he loses.

"He likes to show off a bit," admitted Qatar coach Geoff Hunt, "but despite appearances he's pretty serious about his squash and he wants to turn pro in a few years' time. He was always going to be up against it against a player of Steve's quality, so he wanted to play a few shots ..."
Campbell Grayson (Nzl) bt Mansoor Zaman (Pak)
4/11, 11/13, 11/2, 11/8, 11/5 (51m)

MANSOOR AS LETHAL AS EVER

If I tell you that we were 8/2 Mansoor in the first in 4m04s, on a traditional court, youíll have an idea of what the New Zealander had to weather today.

Campbell is never really that quick out of the blocks, but even if he had been today, Mansoor was distributing nicks and rolls as if it was Christmas Eve. All angles, all positions. Stunning stuff.

All credit to Campbell, he just weathered the storm, dug in, and fought for every shot, taking the nick one rally, but picking up a few points here, and a few points there.

The second was so close, Mansoor clinched it, but still, Campbell never lost his determination. The Pakistani ran an awful lot today, which is nice to see. And if he was a bit tired in the fifth, it was never easy for the New ZealanderÖ

"Iím happy with that result, especially as Iíve been struggling with confidence. I had a little abductor injury earlier on, so I didnít have great results, my ranking went down. Then after the CWG, I had a bad loss in Egypt, losing first round of the qualifiers against Marwan El Shorbagy.

"So since, Iíve been trying to forget about it, and work hardÖ.

"I know how good Mansoor is with the racquet, so I tried to keep the pace up, tight and chase itÖ

"In the first, I was getting chopped, and in the second, I had a good start, found myself with a good lead. But then, he started again, playing 3, 4 shots again, and from that moment on, it was nip and tuck, with him sneaking some unbelievable shots.

"I tried to hang in there, because I knew that what I was doing would work, eventually. The fifth was tough again, and any lapse of concentration, and it meant he would have come back and beat me.

"Iím really happy to get throughÖ"


Martin Knight (Nzl) bt
Basem Makran (Egy) 11/3, 11/7, 11/6 (35m)

"I never saw Basem actually play, but Iíve been in events where he was, and I asked the boys where he was likely to attack me from. So I had a game plan, on top of my normal stuff, volleying, keeping the pace up and playing the right shots when I had the opening.

"He made a few unforced errors in the middle patch Ė although he was going for the right shot Ė and that helped me of courseÖ"



"Today my error rate was to think too much. Iíve been playing with my grip for ever, but my coaches told me that I had to change it, so while I was playing, here I was, conscious about it, and trying to changeÖ That really didnít help me!!!!

"But I hope that next time, Iíll play a better gameÖ"



Julien Balbo (Fra) bt Siddarth Suchde (Ind)
6/11, 11/3, 11/4, 11/2 (52m)

"Iím much better, I had a batch bad last year, and squash was not one of my priorities. But I was able to come back to squash this summer.

"Still I was struggling with concentration under pressure, my mind would wander when I had to play for a long time. Now, Iím happy to say thatís behind me now, I found the pleasure and the motivation to play againÖ.

"Today, although I seem to take the lead, the rallies were disputed, and Iím happy I was able to stay focus throughout the match, without have to force things out. And Iím really looking forward to playing Omar tomorrowÖ"



"Nearly every game, but in particular in the second and fourth, he was up 8/1, and itís really difficult to come back from there. Itís something Iíll have to look into, as itís not the first time it happened.

"I should have been less impatient, and when I was starting to lose a few points at the start of games, I should have lengthened the rallies, as he was dominating the T and I was more or less spending my time running around, and there is a limit to how much of that you can doÖ"