TODAY at the Qatar Classic 2010
Wed 10th, Day SIX, Quarter-Finals

Quick Video Tour of the Khalifa Squash Complex

Back together again ...

As defending champion Jenny Duncalf said after her second round match, "it's felt like two separate tournaments so far," but today the men and women came together for the quarter-finals, all on the glass court at the Khalifa Tennis & Squash Complex.

[1] Nicol David bt [7] Kasey Brown
11/6, 12/10, 11/7 (40m)
Nour El Tayeb bt [13] Joelle King
11/8, 7/11, 11/9, 11/6 (49m)

[4] Rachael Grinham bt [8] Raneem El Weleily
12/10, 9/11, 14/16, 11/7, 11/5 (48m)
[2] Jenny Duncalf bt [6] Laura Massaro
11/7, 11/4, 11/8 (36m)

[2] Amr Shabana bt [6] James Willstrop
2/11, 14/12, 11/4, 11/7 (71m)
[4] Gregory Gaultier bt [7] Peter Barker
11/4, 11/1 rtd

[3] Karim Darwish bt [8] Thierry Lincou
13/11, 11/2, 6/11, 11/9 (68m)
[1] Nick Matthew bt [8] Daryl Selby
11/5, 11/3, 11/5 (34m)


Women's Quarter-Finals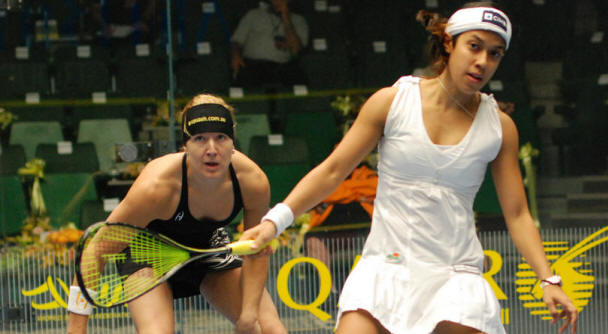 [1] Nicol David bt [7] Kasey Brown
11/6, 12/10, 11/7 (40m)

Kasey pretty close Steve reports

Kasey Brown has taken a few big scalps of late - Jenny Duncalf and Madeline Perry to name two - and today she was aiming for the biggest one of them all, and although she lost 3/0, it was actually a pretty close match and she can count herself unlucky not to have got anything out of it.

Nicol David, riding high on a 52-match unbeaten streak (since she lost in the semi-finals here last year) is a tough nut to crack though, and many players before Kasey have come close and gone away with nothing.

Nicol started the better, quickly going 5/0 up in the opening game, then 7/2, but once Kasey settled she was contesting every rally and worked her way back to 7/6, and you thought 'she's got a chance here'. But then Nicol pulled clear again, as she so often does, taking four points in a row finishing on a stroke.

Kasey stayed in touch in the second, 3-all, 4-all, but Nicol pulled clear again to 8/5. Nicol was playing her patient game, confident in her ability to retrieve most things, and that sooner or later she would place a shot that was just too tight for her opponent, while Kasey was looking for opportunities to increase the pace where she could.

She found them too, forced a couple of uncharacteristic errors from the Malaysian, and got it back to 9/8 with a perfect length. Nicol replied with one of her own to go 10/8, but Kasey fired in two winners to force extra points.

A lob out of court, 11/10 Nicol, then Kasey seized on a loose return, volleyed it into the corner, but it wasn't tight enough, stroke to Nicol. "That was harsh," said Kasey, and it might have been, too.

Kasey kept her composure though, stayed in touch in the third - she led 5/3 even - but once Nicol had levelled she imposed her game, forced a couple of errors from Kasey but mainly just worked the rallies to open up a chance to put the ball too tight.

At 10/7 Kasey lobbed her return of serve out. She'll have to wait a little longer for her next scalp, Nicol marches on ...

This is a tough game you know… I know that all the girls are systematically raising their game when they play against me, so from the first rally, my aim is to take their confidence away. I've seen what happens when they take the opportunity and I don't want that happening to me again!

I was working very hard to take the ball away from Kasey, but she was very accurate and actually forced some errors out of me, with lovely tight drives. Today she played very well, I think she has taken her game to another level…

I'm happy with my match, I was moving well, now, it's all about getting used to the glass court, I'll be a bit tighter tomorrow.



Last year, we had three months off tournaments, so I decided to work hard on my training, and I went to Rod Martin in the States, and his training sessions are pretty brutal, that explains the trimming down!

Playing Nicol just shows you what you've got to work on – I'm not telling what though – and it's a great motivation for myself and all the other girls, everybody's up to beat her…

And the motivation is just to try and do better the next time…



MY IMPRESSIONS

Well, first thing, WHAOUUUU…. Kasey, who was never ever fat in any stretch of the imagination, was now become so trimmed and sharp physically, she was just looking absolutely stunning! She was on top of that wearing a great black number, simple, efficient, that showed her figure. Again, Whaouuuuu…

But as I am looking at the stats, after the match, I just realised that the Australian never got a game from Nicol. They were some pretty long tie breaks, but she never took one. And that reminded me for a split second what the "other" players used to say about Jahangir… "How many points did you get this time? 7? Well, you are in good form, I only got 5"….

In my book, Kasey didn't put a foot wrong, but Nicol is just faster, she reads the game better, and gets there earlier. And it must be mentally freaking hard to try again and again, and to see that ball coming back, again and again.

Ah, and Nicol didn't look bad either, by the way, wearing a little white outfit – she fancies that colour – that was not out of date I tell you….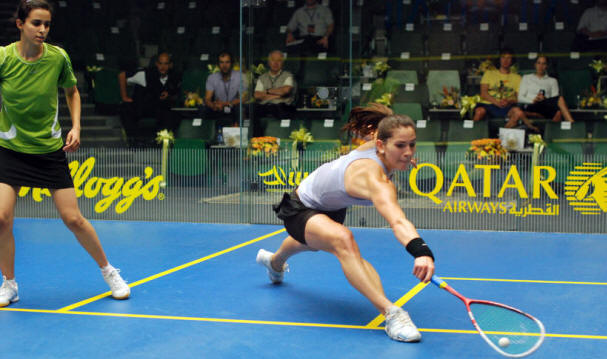 Nour El Tayeb bt [13] Joelle King
11/8, 7/11, 11/9, 11/6 (49m)

Tayeb takes another step Steve Reports

"Semi-finals of the Qatar Classic ... I can't believe it!" said Nour El Tayeb after completing a third successive stunning upset in today's second match.

It's true Nour, it's true, and well deserved too. This was a 17-year-old against one of the rising stars of the Wispa tour, and she matched her opponent in every area and bettered her in a couple of crucial ones.

It would have been a mistake for the young Egyptian to utilise the game plan that had beaten Omneya Abdel Kawy and Nour El Sherbini, she was never going to be able to overpower and rush Joelle as she had her compatriots, and she and her coach obviously realised that.

From the outset the young Egyptian was mixing it up more than she had previously, placing the ball more deliberately, and engaging Joelle in up and down the wall rallies where necessary before launching the attacks which would inevitably come. They rallied a lot, but it was almost invariably Nour who would initiate the attacks, and almost invariably she who would find the shots to finish the rally.

Nour held a slender advantage for most of the first game, was caught at 8-all but pulled away to take the lead. Joelle was always a point or two ahead in the second as she levelled.

The Kiwi was ahead for most of the third too, but not by much. Nour levelled at 9-all, then on each of the next two points worked her opponent around the court, prizing open opportunities and finished them off well.

A quick 3-0 start in the fourth was just what Nour needed, and as her confidence grew Joelle's seemed to slip away. The Kiwi simply didn't have the weapons to put the ball away today, largely due to some incredible retrieving by her opponent.

The rally at 7/5 to Nour typified this - Joelle had two good opportunities to finish the rally but Nour just wouldn't let them be winners, she ran them down and then on the first chance slammed a crosscourt into the nick.

There was no stopping Nour today. Joelle certainly didn't play badly, but Nour certainly did play well.

"If I'd played a fast pace against Joelle I would have been finished after the first three points! Deep drives and crosscourts, and not many boasts at the front, it's not my game but it's how I had to play to win this match.

"I had to try to keep the ball tight, she has a great reach and she'll volley anything in the middle and she would reach angles at the front.

"I haven't played on this court before but I coped well with it, it suits my game as shots to the front stay in, it's a bit dead in the corners.

"I can't believe I won, quarter-finals of the Qatar Classic is huge for me, I'd only looked at the points and prize money for the first round!

"Tomorrow I play Nicol David, the pressure is off I'll just try to enjoy myself and see how good the world number one is ..."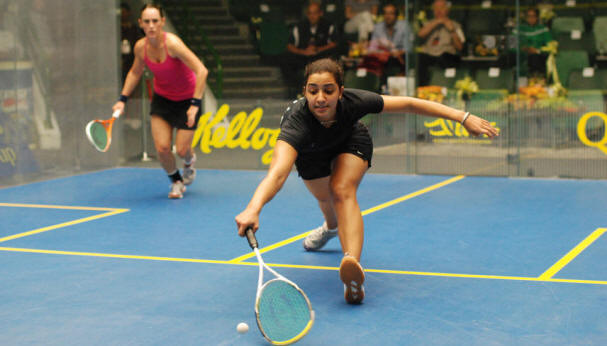 [4] Rachael Grinham bt [8] Raneem El Weleily
12/10, 9/11, 14/16, 11/7, 11/5 (48m)

Shootout at the Qatar Corral Steve reports

Take two of the most skilful, two of the quickest, two of the players least afraid of going for their shots you can find, put them onto a relatively cold glass court after they'd played on traditional courts, and what you get is this match.

First game, 22 points in six minutes. Second game, 20 points in eight minutes. Third game, 30 points in twelve minutes ... and so on. Short, sharp, fast, furious, all of that. Very few rallies where the shot count hit double figures, hardly any lets, but lots of winners, lots of errors.

Rachael Grinham and Raneem El Weleily were trading shots and errors for 45 minutes, scrambling after each other's shots, firing in their own - drops, volley drops, boasts, kills, lobs lots of lobs, shots I don't know the name of, but very few of your basic down the wall drive ... no-one knew what was coming next, possibly not even the players themselves, and the scoreboard struggled to keep pace.

For three games it was as close as could be, the Egyptian youngster taking a two-one lead, but in the final two games it was the experienced Australian who found the tin less, found the corners more, and she it was who came through to another Qatar Classic semi-final.

You won't get a mixture like this again for a while, and it's hard to decide if that's a good thing or not. Breathtaking ... Fascinating ... Error-Strewn ... Tactical Battle ... can't decide, so Shootout it is.

"I'm 33 now and I hate to admit it, but it's definitely getting harder to keep pace with these youngsters!

"Raneem's just recently gone up a gear and seems to have developed more patience - not today though, were were both making a lot of errors, whether it's because it's the first time on the glass court, the different conditions, don't know really.

"She started out going for shots in the first few points, and I was happy enough with that, but when she's attacking like that the whole time you don't get a chance to think about what you're doing yourself, it's coming at you so fast and you're just reacting.

"I'm just glad I came through and won it in the end!

"There's lots of these Egyptian kids, they just keep coming, but it definitely keeps us all on our toes, and the way they play their squash is an inspiration too ..."


[2] Jenny Duncalf bt [6] Laura Massaro
11/7, 11/4, 11/8 (36m)

JENNY COMFY OUT THERE Fram reports

Only in the last points I found that Laura was letting go of her arm freely and hitting the ball as sharply as she normally does. I nearly didn't see her power today, and God knows she's got some…

No, today, it was all about Jenny finding some stunning drop shots and winners at the front. She was free to do more of less what she wanted on there, although Laura didn't really make any errors. I'm just not sure she played the right tactic…

Duncalf now plays Grinham in a repeat of last year's final.

The plan is to keep the confidence of your opponent to a minimum…

On that court, you've got to move well, and almost push off before they've played their shot, or at least have a few shots in mind ready to play…

In the second, my length dropped a bit at times, and she let me get away with it, which probably didn't help with her confidence. Overall, it was all about trying to mix shots up and make her move… It was a 3/0 but in no means an easy one, as even with 2/0 up, and a good lead in the 3rd, she started to come back very strongly…

I feel pretty good at the moment, I've been playing bunches of tournaments, I've been away from home for a couple of months. I guess I'm in a "playing matches mode" at the moment, but at the moment, I keep on wnining…

It's nice to be out on this court, my victory last year here was a great platform for me, it got me to world number two…

And it would be a great birthday gift if I could go back home with a trophy…


I feel that I didn't put the ball in the good enough areas. And if I'd played a bit more during the match as I did at the end, I probably would have had a better result, instead of trying to match her game…

Jenny played really well, but I didn't play the way I should, and that allowed her to play in her comfort zone.


Men's Quarter-Finals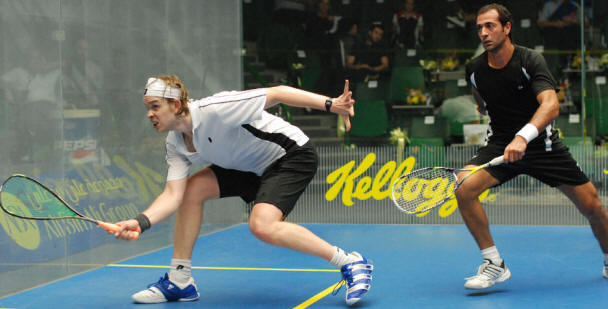 [2] Amr Shabana bt [6] James Willstrop
2/11, 14/12, 11/4, 11/7 (71m)

SHABANA WARMING UP… Fram reports

One of those matches where I got the result wrong… In my blond head, I gave James as the winner, 3/1 probably. And when the Egyptian didn't move at all in the first, I thought, well, here we go… And it's not with his start in the second that I changed my mind, 3/0 down.

But little by little, he gets mentally in the match, especially as James is tinning his shots here and there. Shabana seems to have trouble getting past James, and asks a few lets in a row.

Is that helping him to get mentally in the rallies? I'm not sure. One thing is sure, is that by the middle of that game, Shabana's motivation seems to be awakened, and the rallies are getting longer and feistier.

It will take the Egyptian four game balls to clinch the game 14/12 [he saved James' one with an audacious service return into the nick], but by the end of that game, Mighty Shabana was back in town, and from that moment on, it was like James lost a bit of confidence in his own game, while Shabana was letting his arm go free…

Fair enough…

Once he gets hold of you, he just doesn't let go, we saw that after he took the second..

My hat to him, he keeps being written off, written off, and he keeps coming back. He is obviously back into a good physical shape… I watched him last week in Kuwait, his matches were just before mine, and watching him just helped me, nobody strikes the ball better….

I have an immense respect, an IMMENSE respect for the guy, he's got an outstanding attitude on court.

I don't think I could have done much better today, when he gets in a roll, he get in a roll. And I hate losing, I absolutely hate losing to anyone, but there is nobody I'd rather lose to…



At the start, he played well, but especially, he stuck to his game plan, while I didn't stick to mine…

You know, for a few times I've been playing against him, I developed a sort of mental block, but after a while, I just thought to myself, might as well play, I've got nothing to lose… And from that point on, it was pretty close….

You've got to be careful with James, because he can shut you out if he gets into a zone… I was playing every point not caring if I won or lose, just playing each and one of them. And when I played my winners, I didn't care if it was up or down, but at least, you know the odds, it's 50/50…

So I'm really proud that I succeeded to stick in there today.






[4] Gregory Gaultier bt [7] Peter Barker
11/4, 11/1 rtd

Barker limps out Steve reports

"My glute packed up in the middle of the first game," Peter Barker revealed after conceding his match against Gregory Gaultier just as the Frenchman took a two game lead.

Thus Gaultier's relatively untroubled, undramatic win was explained. They'd had a good number of well contested rallies, but it was Gaultier who was winning them, not with cracking winners, but with relatively safe, sometimes innocuous shots.

Barker got a bit irritated with the referees early in the second, but soon looked resigned to his fate, and sure enough as Gaultier plopped in a dropshot to go two games up he offered his hand.
[3] Karim Darwish bt [8] Thierry Lincou
13/11, 11/2, 6/11, 11/9 (68m)

THE PASSION IS STILL ALIVE…
Fram reports

Karim raised his two arms in the air after taking his fourth match ball… The relief on his face was obvious to all….

Today, he had all the pain in the world to shake that bleeping Frenchman off his racquet. The Old Man wouldn't say die, and ran, volleyed, drop shot-ed his way through three out of four games, giving a real scare to the former number one.

In my opinion, Karim probably made the error tonight to let Thierry play within his comfort zone. No twisting and turning. No change of pace. A bit passive at the back defending instead of asking the questions at the front. But as all the great champions, he still wins when maybe not playing at his best…

The first game was a bit surreal, as Thierry played as when he was a young man, honestly, I haven't seen him play that well, for a very long time. He was all over Karim, and the Egyptian was rather happy to take that opening one, as it took him four game balls to do so, 13/11….

In the second, Karim took an excellent start, and the Frenchman was flat as it comes, a formality for the Egyptian, 11/2. And maybe the Egyptian relaxed a bit? Maybe he thought that his opponent was bound to be tired after his 70m on court the day before?

Well, Thierry got himself in the lead, 7/4, in that third game, controlling the court, and forcing Karim on his backfoot again and again, especially with a stunning short volleying….

And the momentum went on, Thierry actually keeping on controlling the start of the fourth, and to be honest, I had the impression the Egyptian had lost a bit of confidence in his game. 4/0 for the Frenchman….

Who then makes six unforced errors in eight points. Thanks, said Karim!

Passion was flying high at that moment, some surprising to say the least decisions got Thierry boiling, and he actually threw his racquet across the court when refused a let! That was, in all the years I've seen Thierry play, a first….

Still, strong Karim got match ball, 10/7. The Frenchman, having nothing to lose, started playing as he did in the beginning of the match, with a loud crowd cheering BETWEEN the games, thank you guys, and well, you know the rest…

I had to push myself to come back on court today, I was a bit flat after yesterday's big match we had with David, I was struggling a bit mentally today, and that's why I had some bad patches, where I lost my focus.

When I was able to stick to my game back, I was fine, and I really felt fine physically, it was harder mentally…. But then again, I told myself I didn't have anything to lose, and that's when I play my best. Well, I still can play well, but I can't win anymore!!!!

It's a shame that I lost a bit my way when I was 4/0 up in the 4th. That's what is becoming difficult now, to keep that lucidity match after match, game after game, and point after point. And it all came down to that moment really, because the rest of the match was rather balanced..

I had two good wins this week, then a good match today, so of course I want to keep going, and I'm lucky I've got my family that supports my choices, and I'm so lucky to be able to live my passion…

Overall, really happy with this trip, one semi final, two quarters in a short time, I tell you, I would have signed immediately for such a result before leaving Marseille!!!! And I feel that the more I do, the more I play – like here, for three weeks, being immersed completely – the more I feel comfortable in my game.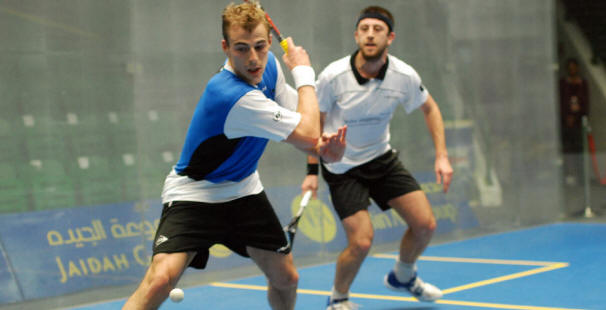 "What happened last time was in my mind, of course, but it was different this time, it's hard to do what he's done in the last couple of days and pitch up again.

"He did well to see off Olli and Pilley in really tough matches, we've all been in the position of breaking into the top ranks when those just outside see you as a good draw, but it had to take its toll on him.

"I wasn't in any mood to le him settle into any slow rallies which might have helped him loosen himself up, and on an unforgiving court like this he was having to stretch for it instead of counterattacking as he likes to do, the pressure kept building and I knew the opportunities for winners would come."



[1] Nick Matthew bt [8] Daryl Selby
11/5, 11/3, 11/5 (34m)

Not this time ... Steve reports

A repeat of last week's upset result in Kuwait, where Nick Matthew faltered at two games up against Daryl Selby was never really on the menu tonight, partly because Daryl had survived two really tough matches to reach this stages compared to Nick's much easier passage, and partly because the top seed would be acutely aware of not letting it happen again.

And so it proved as Nick, for all Daryl's efforts, dominated the match, working the ball around the court, attacking incisively and never letting his opponent settle.

Daryl never led, and apart from love-all the only time he was even level was at 2-all in the third as the defending champion moved impressively into the semis and a repeat of last year's final against Karim Darwish.

Can I talk? Just about! The lungs are ok, it's just the legs…

I tried hard…

Yes, I've got more than 3h on court, he's got less than 1, so, big difference. But that said, Nick was really sharp tonight.

I thought I hit the ball well, I didn't make it easy for him by giving him easy rallies, but he got good shots, and didn't give the any time, he played fast…

You know, Nick is the kind of guy, if he has a bad time, he comes back strong, and I hope I lost against the winner of the tournament tonight.

I'm happy with my week, I run every ball down, gave my 100. I want to thank ES Physio, Jade, who's helped me this week, as I was really struggling last week, and without her, I don't think I would have been able to do much. Also wanted to thank Joe and Wendy back home….