TODAY at the Qatar Classic 2010
Mon 8th, Day FOUR




The Busiest Day ...

Twenty four first round matches, and two upsets in the women's event as Nour El Tayeb takes out the third seed and Dipika Pallikal comes back from the brink ...

Men's Round One, Bottom Half:


[12] David Palmer (Aus) bt Jonathan Kemp (Eng)
11/5, 11/9, 11/6 (33m)
[8] Thierry Lincou (Fra) bt Hisham Ashour (Egy)
6/11, 11/5, 16/14, 11/9 (59m)
[16] Stewart Boswell (Aus) bt [Q] Omar Abdel Aziz (Egy)
11/6, 11/9, 11/5 (43m)
[3] Karim Darwish (Egy) bt [Q] Henrik Mustonen (Fin)
11/2, 11/5, 11/4 (20m)

[15] Cameron Pilley (Aus) bt [Q] Borja Golan (Esp)
9/11, 11/5, 11/9, 11/3 (55m)
[8] Daryl Selby bt Olli Tuominen (Fin)
11/9, 6/11, 11/9, 8/11, 11/8 (79m)
[15] Alister Walker (Eng) bt [Q] Tom Richards (Eng)
6/11, 11/6, 11/8, 9/11, 11/6 (64m)
[1] Nick Matthew (Eng) bt Ahmad Mohd Al-Tamimi (Qat)
11/2, 11/3, 11/3 (21m)

Women's Round One:


[1] Nicol David (Mas) bt Emma Beddoes (Eng)
11/6, 11/4, 12/10 (30m)
[11] Donna Urquhart (Aus) bt [Q] Milou Van Der Heijden (Ned)
11/3, 11/7, 11/4 (18m)
[7] Kasey Brown (Aus) bt Kylie Lindsay (Nzl)
11/0, 11/6, 11/9 (39m)
[9] Vanessa Atkinson (Ned) bt Manuela Manetta (Ita)
11/4, 6/11, 11/6, 11/6 (32m)

[14] Sarah Kippax (Eng) bt [Q] Olga Ertlova (Cze)
11/5, 11/4, 11/3 (26m)
[8] Raneem El Weleily (Egy) bt Tania Bailey (Eng)
14/12, 11/7, 11/5 (30m)
[12] Isabelle Stoehr (Fra) bt [Q] Gaby Schmol (Sui)
11/6, 11/9, 11/2 (34m)
[4] Rachael Grinham (Aus) bt Latasha Khan (Usa)
11/4, 12/14, 1/1 rtd calf injury

Nour El Tayeb (Egy) bt [3] Omneya Abdel Kawy (Egy)
11/7, 11/5, 11/6 (27m)
[16] Nour El Sherbini (Egy) bt [Q] Adel Weir-Nunan (Rsa)
11/6, 11/5, 11/4 (17m)
[5] Camille Serme (Fra) bt Line Hansen (Den)
11/2, 11/4, 11/6 (21m)
[13] Joelle King (Nzl) bt [Q] Lucie Fialova (Cze)
11/2, 12/10, 11/6 (26m)

Dipika Pallikal (Ind) bt[15] Aisling Blake (Irl)
13/11, 3/11, 4/11, 11/4, 12/10 (64m)
[6] Laura Massaro (Eng) bt Orla Noom (Ned)
11/8, 11/8, 11/2 (29m)
[10] Jaclyn Hawkes (Nzl) bt Joshna Chinappa (Ind)
11/5, 4/11, 11/4, 9/11, 11/8 (47m)
[2] Jenny Duncalf (Eng) bt [Q] Lauren Selby (Eng)
11/3, 11/4, 11/2 (21m)

Women's Round One ...
Steve reports
[1] Nicol David (Mas) bt Emma Beddoes (Eng)
11/6, 11/4, 12/10 (30m)
[14] Sarah Kippax (Eng) bt [Q] Olga Ertlova (Cze)
11/5, 11/4, 11/3 (26m)

Nicol reels in Emma, Kippax cruises

For two games Emma Beddoes couldn't get close to World No One, World Champion, Commonwealth Champion etc etc etc Nicol David.

"I was doing court sprints for those first two games," said the Englishwoman, "she puts you under so much pressure."

She was making elementary errors too, tinning when not really under any pressure because she was "trying too hard to make something happen", while Nicol seemingly strolled around court, stroking the ball gently to all corners, as she does.

"In the third I was more patient, got into some rallies and started controlling some of them," explained Emma. And it worked too, she led 6/2, 9/4 and 10/7.

But Nicol has been in deeper holes than that before, many many times, and she tightened up, started hitting the ball crisper and deeper and reeled off the next five points to take the match.

"It's great to see a women playing like that," said Emma, "I play a lot of men who can't do what she does. I was happy with how I played in the third, it's just a pity that I had to meet her in the first round, and that I couldn't get one more point!"

For her part Nicol was impressed and relieved: "She played well, she got more confidence in the third, got into her rhythm and started playing some shots, whereas in the first two she was making mistakes.

"I needed to up my game to match her, but she could easily have taken that game so I'm happy to have got off in three."

Meanwhile Sarah Kippax kept the English flag with a straight games win over qualifier Olga Ertlova.

"I's never played her before, but I wasn't going to take anything for granted," said Sarah. "You're always a bit nervy before your first match and it was very bouncy on there, so I just had to try and keep her contained.

"I'm really pleased to make the last sixteen here, it's the sixth time I've played the event!"

[11] Donna Urquhart (Aus) bt [Q] Milou Van Der Heijden (Ned)
11/3, 11/7, 11/4 (18m)
[8] Raneem El Weleily (Egy) bt Tania Bailey (Eng)
14/12, 11/7, 11/5 (30m)

Raneem and Donna warming to task

"I seem to draw English players quite often recently," said Raneem El Weleily after beating Tania Bailey in straight games, "I guess it's just the draw!"

Bailey gave the two-time world junior champion (Tania won it once herself, of course) a tough time in the first, but thereafter struggled to stay with the young Egyptian, partly through El Weleily's honed accuracy, and partly with the breathing difficulties that have plagued her in recent years.

"I wasn't really in the game at the start," admitted Raneem, "it took me a few rallies to get there but after that I was happy with the way I played, and happy to get through."

For her part Australia's Donna Urquhart was using the first round to get herself into shape for future challenges. "She hits a really good ball," she said of her opponent Milou Van Der Heijden, "she was putting me under pressure and made me do a lot of running.

"I was trying to get my length working and build a few rallies, I'm probably going to need all of that against Nicol tomorrow!"


[7] Kasey Brown (Aus) bt Kylie Lindsay (Nzl)
11/0, 11/6, 11/9 (39m)
[12] Isabelle Stoehr (Fra) bt [Q] Gaby Schmol (Sui)
11/6, 11/9, 11/2 (34m)

Kasey & Isa happy

"Everything I hit in the first game went up, including the frames," admitted Kasey Brown after a straight-games defeat of Kylie Lindsay, "I was playing pretty well then."

After that first game blitz the Kiwi came more and more into the match, and the third was a real struggle for the triple Commonwealth medalist, with Lindsay leading at the midway point but just unable to cling on to extend the match.

"She started to read my game better in the second and third, and I was just glad to get through the last one to be honest," added Kasey.

"I've made the last 16 here a couple of times but never the quarters - actually it was Vanessa who beat me at that stage last year and it looks like I'll play her again ..."

If Kasey started strongly and ended up hanging on, Isabelle Stoehr did the opposite in her match against qualifier Gaby Schmol. This was three-nil too, but the Frenchwoman saw off the early challenge from the Swiss and finished the match well.

"I've been struggling to play well recently," Isabelle admitted, "so I've been trying to relax on court and concentrate on my lengths, then the other shots will come once that's in place.

"Gaby has been playing well but I managed to stop her playing her game, and in the end she became frustrated.

"It's all about focus, and I'm pleased with how I managed to keep it today, from first point to last - that's more satisfying than the physical performance, because at the moment it's more about how my head is.

"I've got to the second round here a few times, always lost though. The next match is tough, but I'm relaxed and enjoying my squash, so you never know ..."

[9] Vanessa Atkinson (Ned) bt Manuela Manetta (Ita)
11/4, 6/11, 11/6, 11/6 (32m)
[4] Rachael Grinham (Aus) bt Latasha Khan (Usa)
11/4, 12/14, 1/1 rtd calf injury

Rachael misses killer instinct,
Vanessa still resurgent ...

Friends on and off court, Rachael Grinham and Latasha Khan played out a curtailed match, Latasha deciding that a calf injury she felt during the warmup wasn't getting any better, and conceded rather than risk making it worse.

"You must have been playing well though," she was asked [based on the scoreline alone, didn't see a single rally]. "Not really," was the answer, halfway through the second Rachael saw me feeling my leg and asked if I was ok. I said 'yes' but it wasn't right, and Rachael put the next five points into the tin!"

After Latasha called it a day it was Rachael who rushed off to get a bag of ice for her opponent, how's that for fair play ...

As Kasey predicted, it will be Vanessa Atkinson who plays her in the second round.

Just returned to the world's top ten and enjoying a rich vein of form, Vanessa looked comfortable enough in her 3/1 win over Manuela Manetta, who always make anyone work hard for a win. But, in the year since they last played the Aussie has come on in leaps and bounds and has a number of top class scalps to her name, so that should be one of the highlights for tomorrow.
Second round tomorrow,
all on one court .... phew

Nour El Tayeb (Egy) bt [3] Omneya Abdel Kawy (Egy)
11/7, 11/5, 11/6 (27m)

Tayeb takes out Third seed

Nour El Tayeb pulled off a spectacular upset over third-seeded compatriot Omneya Abdel Kawy in the opening match of the evening session, and she thoroughly deserved it too.

From the outset El Tayeb was all action, chasing everything down, returning with interest, putting in boasts at the front that caught Kawy out time after time, and never letting her opponent settle.

From the middle of the first Omneya was getting frustrated that she couldn't impose herself on the game, questioned most of the referees' decisions and generally looked out of sorts.

The youngster got off to good starts in all three games and never eased up, tremendous retrieving - none of her diving though, and all the better for it - harrying her elder opponent into mistakes, volleying everything she could to keep the pace insanely high.

From 6-all in the third Omneya looked almost at a loss at how to counteract it, and in the end she just couldn't, tinning the last to points more in frustration than anything else.

"I played well," she said modestly at the end, "but I had to to beat Omneya in three," she added, "that doesn't happen every day!

"I beat Engy two weeks ago in Chicago and I've been playing well, so I knew I had a chance, no more than that, I certainly didn't expect to win, I'd never even taken a game off Omneya before.

"I tried to keep it deep, to keep her out of the middle, she's the best in the world from there so you can't afford to give her anything loose."

There were no celebrations at the end though, partly because it finished with an error, partly because of the respect Nour has for Omneya.

"It's just the first round though, I can't celebrate yet, and I couldn't celebrate beating Omneya. I'm just happy my work is paying off ..."

Nour El Sherbini's comfortable win over local qualifier Adel Weir-Nunan means that we will have one of the young Egyptian brigade in the quarter-finals ...

Dipika Pallikal (Ind) bt[15] Aisling Blake (Irl)
13/11, 3/11, 4/11, 11/4, 12/10 (64m)

Dipika denies Aisling

The run of success for the youngsters continued when Dipika Pallikal mounted a comeback to thwart Aisling Blake in an hour-long thriller.

The Irishwoman thought she'd won the first 11/9 and was in her seat preparing for the next but was brought back onto court for a let, only to lose it 13/11.

She shrugged off that disappointment to take the next two comfortably, but the fourth was just as good for Dipika as she rediscovered her touch.

Aisling powered to a 10/7 lead in the decider, but was pegged back point by point in a tense finish, with Dipika finally taking the second round spot.

"When I was 10/7 down I thought ''oh not again', I was down 10/6 to Aisling in Malaysia, but I won that one so I knew I could do it," she said, "we've played three times this year so I knew it was a good opportunity to reach the second round.

"I just went too quick in the second and third but managed to steady myself in the last two, but it could have gone either way.

"The last month was just awful for me, having to withdraw from the Commonwealth Games with illness, it took me three weeks before I could come out of my room and talk to someone.

"But I'm pleased to be back playing, and looking hopefully I can play well tomorrow ..."

[10] Jaclyn Hawkes (Nzl) bt Joshna Chinappa (Ind)
11/5, 4/11, 11/4, 9/11, 11/8 (47m)

Jaclyn survives Joshna attack

"She has such good shots, and when you play her the rallies usually end quickly, one way or the other," said Jaclyn Hawkes after her 47-minute five-setter against Joshna Chinappa.

The match was typically Joshna, short rallies, usually finished with winners or tins, with her opponent hanging in there to see what might happen next.

It's not quite that simple of course, Joshna can apply herself when the need arises, and Jaclyn was doing more than just keeping it going, but you get the idea.

"You have to try to keep it off her racket," explained the Kiwi Commonwealth Gold medalist, "but I wasn't moving as well as I know I can so that made it a little harder.

"Still, a win's a win, and as I don't normally do very well here I'll take it!

Rounding out the women's first round were straight game wins for Camille Serme (playing in a virtually identical outfit as Line Hansen), Laura Massaro ("my movement wasn't very good in the first two games but I was more sprightly after that"), Joelle King (who saved a game ball in the second against Lucie Fialova) and Jenny Duncalf.

Men's Round One, bottom half ...
Fram reports
Much better than last week!

Today, at least it was competitive, even if the pace was still too fast for me. Last week, I didn't feel I was in control in any rally. Still, I didn't have time to think about what I was doing, too fast… I would have liked to sneak the second game, but he was just playing better than I.

But in a week, I'm happy with the progression really, I can only hope it's going to keep on improving like that, and I should be fine soon.



[12] David Palmer (Aus) bt Jonathan Kemp (Eng)
11/5, 11/9, 11/6 (33m)

DAVID A BIT WOBBLY

The Marine is just coming back from an elbow injury he contracted in the Doubles at the CWG, and had to pull out of last week's Kuwait Open. So we were not exactly expecting fireworks for his first match.

A bit in and out of focus, especially against a player who makes rallies short and furious at the front, with not much rhythm, David struggled a bit in the second, probably playing too much at the front. But as the great pro he is, he just lengthened both shots and rallies, and clinched that crucial game.

Kempy was happy with his performance, much improved compared to his match last week in Kuwait, his first competitive match in ages. But I would have liked to see him a bit more at the back, as he won a few points by playing some stunning drives and crosscourt lobs… Maybe he forgets sometimes that he is really good at the back too…

I haven't been able to hit the ball much obviously, but the main purpose today was to win the match, and 3/0 is a good result against Joey on that court. I was a bit on and off, I think I was playing well in patches.

He is hard to get rid of, he gets some great shots at the front, and as he is recovering from injury as well, at the start, he was not moving well, and at some point, not moving to the front at all, so I thought I'd take him to the front, and that was a big mistake, which led me to play short far too soon in the middle of the second….


[8] Thierry Lincou (Fra) bt Hisham Ashour (Egy)
6/11, 11/5, 16/14, 11/9 (59m)

WHEN HISHAM'S PLAYING WELL…

… The world is his oyster. My Gosh I forgot how stunning this boy's game can be, as last times I saw him play were on traditional courts. But today, in a cold environment, on a very rewarding court, the Egyptian played excellent, patient squash, with some stunning attacks throughout the match.

Well, patient and stunning, that was when he was not tinning his shots that is. Like he did in that crucial third, where he found the tin 12 times. So, on 16 points scored by the French, he only got four on his own…. Slightly frustrating, wouldn't you say?

For my point of view, Thierry didn't look forward to this match. Playing an attacker like Hisham in the first round of a major is not the draw you want, but on a freezing court, mmmm. Definitely not.

Like David in the previous match, Thierry was a bit "wobbly" today. And it's probably thanks to his experience that he still clinched this match. Hisham, well, was extremely disappointed with his performance. I don't agree. He played very well tactically, just made a few execution errors. It happens.

"He does everything really. The points, the errors… and it's so hard to stay in a straight game, because you are somehow drawn into his fast/Egyptian game, and at that game, he is much better than I!!


"I had to stay efficient, and it was so frustrating. Not to mention my lack of intensity overall…"


[16] Stewart Boswell (Aus) bt [Q] Omar Abdel Aziz (Egy)
11/6, 11/9, 11/5 (43m)

AWKWARD AS EVER

I will repeat it and repeat it again, I'm afraid, I just love watching Omar AA play, his style is second to none! His movement, not your usual fluid one, that's for sure, a bit like if he was limping, expect he is not!

Today, he could have take the second, at 9/9, it was anybody's game, but two bad unforced errors, one on the forehand, and one of the backhand sealed his fate.

All credit to him, he kept pushing and never let Bozza off the hook. And I believe the Australian when he says he never felt comfortable. Omar never said died, and Stewart had had to be relieved to win his opener in a quick 3/0.

He is such an unpredictable player. Sometimes he is going to rally out, and sometimes, he plays a totally random squash…

Like in all our previous encounters, I never felt comfortable, and never put enough intensity into the match, especially in the third game, where it was point for point.

Now, I'm going to prepare myself for the next match, it's not going to be easy, that's for sure…



I could have played much better today, but I just didn't put any kind of pressure on myself, I was flat. The foot is much better, I'm playing ok, but not patient enough, attacking to the front much too soon.

And he played much more experienced squash than I did, and just played better.


[3] Karim Darwish (Egy) bt
[Q] Henrik Mustonen (Fin) 11/2, 11/5, 11/4 (20m)

FIRST TIME ON
A GLASS COURT…

Well, not really, as he played once like three years ago in Hungary. But you know what I mean. First time in a major event, first time on the glass court, and playing former number one, Karim Darwish, on a cold court.

It couldn't go exactly according to plan, could it…

The Finn got better as the match advanced, and Karim had to be punishing in the third not to get into long rallies.

It can only get better from there…

Today, getting the ball to the back of the court was not easy, all my shots seem to stop half way. Also, the ball is much colder than a normal one. At some point, I had the feeling I was hitting a rock, and not a soft ball. And it was so hard to get the ball past him.

Not to mention the bounce that I got so many times wrong, mistiming the ball. And let's talk about how hard it is to SEE the ball, let alone read his game!!!!

Apart from that…


I'm not sure what Cameron told you, but I don't think we played well today, he was a bit nervous at the start, in the first, I was leading 7/2, we made a lot of errors there, we both lacked accuracy I felt.

But now, I'm going back home to play in the Santiago Open, a tournament that is very important for me. I was very happy to qualify in the main draw, and I hope that I can come back in January, and beat one of those guys.

And I wish all the best for Cameron tomorrow….



[15] Cameron Pilley (Aus) bt [Q] Borja Golan (Esp)
9/11, 11/5, 11/9, 11/3 (55m)

BORJA NOT ALL FIT YET…

I'm not talking about physical fitness, but more a mental one. It takes a lot of concentration and focus when you play long rallies against Top Boys, and maybe today, Borja was a bit short in this department.

Not to mentioned that Cameron played at a very high pace, that could have surprised a Borja, lacking a bit of matches at that level of the game.

If the first game was top squash in my mind, the intensity, the accuracy dropped a bit, to really struggle in the 3rd, 8 tins from the Spanish….

Borja's main goal this trip was probably to qualify for this tournament, and prove to himself he belongs up there.

Mission accomplished.

It's a bit annoying that Borja is struggling physically, I'm not sure if he injured himself that the end of the 3rd, but he was not his normal self.

Borja is definitely in the right track to get back in the top ten.

We are good friends you know, we like to see each other do well, and I hope he'll get himself sorted soon.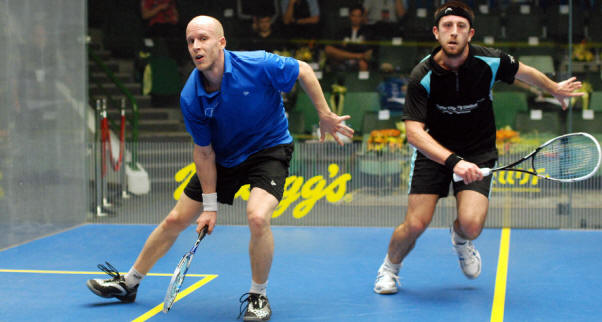 [8] Daryl Selby bt Olli Tuominen (Fin)
11/9, 6/11, 11/9, 8/11, 11/8 (79m)

DARYL DIGS IN BIG TIME

One massive match, on a very rewarding court that suits the Fin to a T. That boy has got two plan. Plan A. Hit the ball as much as possible. Plan A+. Hit harder if plan A doesn't work.

And while you have your opponent virtually scotched to the back or side wall, find a lovely little drop shot that dies beautifully.

In other words, Daryl will have a few aches and pain in the quads tomorrow.

The whole game was played at such a pace, so fast and furious, they kept on hitting that poor ball again and again, but in my humble opinion, what made difference tonight, was Daryl's superb retrieving.

The first goes to Daryl only just, 11/9, and Olli just flies away with the score in the second from 7/5 to take it 11/6.

The third is a bit scrappy, and never with more than one point for the whole game. Gruelling for them both, but again, it's Daryl that's steal the cake after Olli tins it for the 6th time of that single game.

If Daryl thought for a split second that he might have broken the Fin's spirit, he soon might have realise that wasn't the case, and after a short fast and furious game, yet again, we are on for a decider.

Olli led 6/4 in that last game, to see Daryl claw back, and set up his first match ball, 10/7. A superb return of serve right in the nick delays the Englishman victory, but not for long. And after 79m of a punishing squash, Daryl is in the second round.

Oh, my, word.

that's all I've got to say on that match….!!!!

It was an emotional rollercoaster. After every point, it would change, the fact I would believe I would mean to the fact I thought I would lose.

Olli played an excellent squash today, he is always at his best on that kind of court. The court was deader than when we practiced on it. And you've seen how far up the court he stands, it's so hard to get past him.

I had to dig in, play scrappy squash sometimes. I was on the backfoot all the time, and at the end, it came down to a toss of a coin.

It was a really really hard much, but against such a fair player, I fully enjoyed it, I enjoyed the push. It was hard but fair.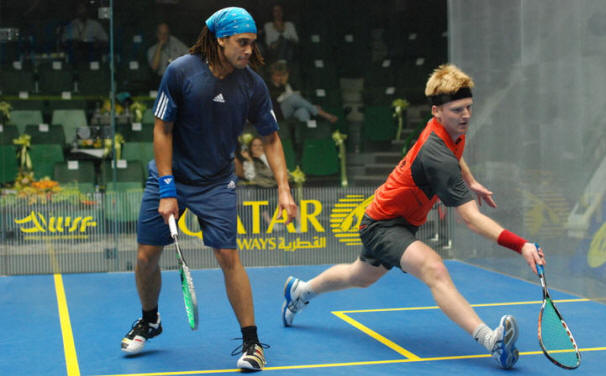 In the 5th, I don't know exactly what happened, except that Ali played very well, and you know, when you get to that stage, 4/4, 5/5, it's one good shot here, one bad shot there, I don't think I did much wrong, he just played better.

The moments in the match I was losing was when I was trying to play in a more conventional way. You know, at some point, players have got to enjoy it… And I like the way Ali plays the game, he is very fast, he attacks, and that's the way I like to play too.

Of course I'm gutted with the loss, absolutely gutted, but I think I played quite well, and I thoroughly enjoyed the game. That's why hopefully we play the game, for enjoyment…



[15] Alister Walker (Eng) bt [Q] Tom Richards (Eng)
6/11, 11/6, 11/8, 9/11, 11/6 (64m)

INVENTING ANGLES OF PLAY

After a rather straight forward, parallel or crosscourt style of play we had in the previous game, this one was a bit of a shock honestly. I would say they probably played what, 10 straight drives the whole match????

I'm exaggerating, but you see my drill.

They INVENTED angles to attack, retrieve, counterattack, counterdrop, change direction both deep and flat at the front. Honestly, one of the most entertaining, surprising and talented games I've seen for a very very VERY long time.

A pure gem between two players having the utmost respect for each other, running like lunatics, no I mean it, like LUNATICS, retrieving what can't be retrieved to find a nick out of it, and being sent again around the court….

All the panel of shots was put on display tonight, believe me…

In the third, at a crucial 8/6 Ali to serve, Tom asked for three minutes' injury break, as he seemed to suffer from the hip. He received treatment between games after that.

But he never let it stop him, or play more conservatively. Those two attacked every living ball on that court tonight, and Ali will be glad to take this one, as at 4/4 in the fifth, there was not much between those two.

I ended up playing exactly the opposite of the game plan I had in mind to start with, which was, being patient, playing the ball off the backwall, building rallies on my length, and create openings.

But after the first game, I realised that if I stuck to that game plan, I may end up 2/0 down rather quickly.

So I took my chances, and basically adjusted to the conditions, a bit like he did.

So we played a great game of squash, with ridiculous movement, and I think the crowd enjoyed it, because it was played in good spirit.

I have a lot of admiration for Tom, I see him as I was two years ago, top qualifiers, and knowing that if he has a good draw, he can go through to the last 16, like he did I think in Australia, and build from there…

I really didn't notice he hurt his hip, he was absolutely flying around, he really managed to play through it, my hat to him. I just hope he is ok.


[1] Nick Matthew (Eng) bt Ahmad Mohd Al-Tamimi (Qat)
11/2, 11/3, 11/3 (21m)

When I came on court today, I knew I was facing the number two in the world, and that by itself deserves respect.

I tried to play my best squash, I tried to be patient, but against that man, I couldn't be patient! He was far too good! And my friends who were shouting to me, "play your shots, play your shots"!!! How???? Nick was so patient, his movement was just too good.

If I could replay the match, I would try to borrow some fitness from somebody …





Nick played as you would expect a world number two to play, he is a professional, and he still was kind to him, by hitting the ball back to him. He was not going to give him anything, you've got to earn it!

Ahmad had to adapt to the conditions and the pace, of course, it was such a step up from his usual, but the boy is a good competitor, he tries and trains hard, he is a hard worker. His backhand is probably his strongest point, whereas on the forehand, he lets the ball go past him, but then again, there are not many players quicker than Nick, are there?

I think it was a good experience for him, I think that he'll cherish it all his life, and who knows, maybe one day he'll come and compete again on this court…