TODAY at the Qatar Classic 2010
Sun 7th, Day THREE Fram reports ... Steve in Italics
Qualifying is complete for the men, and all 31 main draw matches will take place on the all-Glass court. Today sees the top half take their turn with second seed Amr Shabana opening proceedings (original #1 Ramy Ashour withdrew injured).

For the women there's six qualifying finals on the outside courts ...

Men's Round One, top half:

[2] Amr Shabana (Egy) bt [Q] Nicolas Mueller (Sui)
14/12, 11/9, 11/7 (33m)
[14] Adrian Grant (Eng) bt Joey Barrington (Eng)
10/12, 11/2, 11/1, 11/5 (45m)
[6] James Willstrop (Eng) bt [Q] Steve Coppinger (Rsa)
11/9, 11/6, 11/5 (40m)
[13] Laurens Jan Anjema (Ned) bt Ali Anwar Reda (Egy)
13/11, 11/7, 11/6 (49m)

[4] Gregory Gaultier bt [Q] Karim Abdel Gawad (Egy)
8/11, 11/8, 11/3, 11/4 (57m)
Omar Mosaad (Egy) bt [11] Wael El Hindi (Egy)
11/9, 7/11, 11/8, 11/5 (60m)
[7] Peter Barker (Eng) bt [Q] Simon Rosner (Ger)
11/5, 13/11, 5/11, 11/8 (62m)
[13] Mohamed El Shorbagy (Egy) bt Tarek Momen (Egy)
16/14, 11/6, 11/9 (49m)

Women's Qualifying Finals:
Shock horror, all Egyptians out ...

Lucie Fialova (Cze) bt Anna-Carin Forstadius (Swe)
11/7, 11/7, 11/7 (25m) plays King
Lauren Selby (Eng) bt Salma Nassar (Egy)
9/11, 11/8, 11/4, 11/9 (42m) plays Duncalf
Gaby Schmohl (Sui) bt Becky Botwright (Eng)
11/2, 11/7, 11/9 (27m) plays Stoehr

Olga Ertlova (Cze) bt Merhan Amr Mahmoud (Egy)
9/11, 11/2, 11/4, 11/7 (41m) plays Kippax
Milou Van Der Heijden (Ned) bt Sherif Esmat Youssef (Egy)
9/11, 11/7, 11/6, 11/7 (27m) plays Urquhart
Adel Weir-Nunan (Rsa) bt Mayar Aly Ezzo (Egy)
11/7, 11/0, 11/3 (18m) plays Sherbini

"It was a good game, he is probably the fairest player on the circuit, so we had hardly any contact.

"Still, a bit disappointed with the way games went, maybe if I succeed to take the first, things would have been different.

"Physically, I was hitting well the ball, but I had game balls in the first two games, and didn't get any of them. That's why I need to keep on working, especially on my crosscourt, as if they are not wide enough, those top guys just cut them off in the middle…"



[2] Amr Shabana (Egy) bt [Q] Nicolas Mueller (Sui)
14/12, 11/9, 11/7 (33m)

SHABANA NOT AS HIS BEST

Not sure what was happening today, but from the start, Mighty Shabana was a bit wobbling, not moving at his best, in particular on the backhand front corner, where he just couldn't get out fast enough – got penalised five times there. But he adapted, and started trickle boasting in that corner, to avoid being caught out. Clever man…

It was experience versus youth today, and Experience prevailed. Nico, who doesn't play often enough on the glass court, will benefit immensely from that match, I believe. He need to get "glasscourt match fit", put a bit more power in his shots, succeed to read the ball and get used to the pace a bit better. That is just practice;

Whereas for Shabana, not being at his best, he got out of the potential banana slip. The number of players that were actually looking at the match confirms it could have been…

"It's the first time I've played him, he's got good hands, good reach, good movement, a clean technique, but I think he'll be really dangerous once he gets the balance between attacking and patience…

"Today, I feel that I was in and out of concentration, I kept holding him back, and then, letting him back in again.

"He'll be a good player, he is very fair."


[14] Adrian Grant (Eng) bt Joey Barrington (Eng)
10/12, 11/2, 11/1, 11/5 (45m)

PAINFUL TO WATCH

I know a few people reproach me my emotional side. True, true, I do react sometimes where others would shake their shoulders, and shrug it off, but hey, how can you write with emotion if you feel none????

And today was a typical feeling for the player day… Hurting for him I was for three games.

Everybody on the tour knows – yes, it's like that, you can't hide your injuries here – that Joey has been injured. Both calf and ankle. And during Kuwait, as he was commentating, he must have been BOILING to play, dying to get on court and hit the bleeping ball instead of just talking about it.

But if he played fine in the first game, from the second, it became obvious to us all, that he was not fit to play, his right side being really impaired, and his movement just not good enough to compete.

He still pushed – not sure he was right to do so to be honest – but Adrian's biggest effort today must have been to make attraction of his opponent's injury. And that's never easy…
[6] James Willstrop (Eng) bt [Q] Steve Coppinger (Rsa)
11/9, 11/6, 11/5 (40m)

COPPINGER'S NO FLUKE

For those who thought that Steve was a bit lucky to catch Nick in the first round of a tournament last week, well, they were bitterly disappointed today, as the South African fought hard with James today in a disputed match that offered us superb attacking squash

Those two have the same build, give or take a few centimetres, and luuuve the same game, drop shots from the back of the court, nice attacks, stunning crosscourt lobs, great retrieving, and fast runs in all directions.

They logically decided to play the same tactic, as in, twist and turn. So we had a lot of movement on that court today, lots of crosscourts, deception, wrong footing each other.

And if the score doesn't tell you the whole story, I'm here to tell you that James was soooo right to give Coppinger all the due respect as there is a new kid in town boys, watch out.

"I didn't underestimat him at all, and that's maybe why I was not too settled at the start, I knew how good he is, I knew that was one of the toughest qualifiers draw I could have got.

"You hear everybody going on about getting through the first round, getting it out of the way…. Well, you think you are in a decent shape, had a good run of matches in KW, but you arrive here, and it's like starting from scratch again. Also he must have had a nice week in KW, I had a few more matches, he is probably a bit fresher in the legs…

"Those matches, at the time, you think whooaa, that's a bit intense, but afterward, you realise it's good to have had them. "


"He was too good… But I'm getting there ..."


[13] Laurens Jan Anjema (Ned) bt Ali Anwar Reda (Egy)
13/11, 11/7, 11/6

LJ'S MATURING

I've seen that boy play for a long time now, and he is one of the no nonsense boys of the circuit. There is no complications with LJ. He says things as they are, and I guess he'll always be like that, I hope. Still, he is maturing a bit, getting a bit more diplomatic – she says, famous as she is for her talent in that domain – and still as interesting to chat to as he was first time I met him in 2003.

Like I told you in KW, in particular in his match against Ramy, his game is also maturing. It's coming to fruition, like the pieces of a puzzle finally coming together at the right place. And if he keeps injury free, I feel that a lot of good could come from Netherlands soon…

Today, his broader game did wonders against an up for it Mohamed Ali, recovering from that injury I mentioned in his match against Thierry last week. He was moving well, but went in my opinion for a bit too much too soon, without taking the time to set up his rallies first. And often, that lead to tins or/and counter attacking that leave you on the backfoot. Getting tired fast…

And that's exactly what happened today, an LJ controlling the T for most of the game, and Mohamed Ali shooting from all corners, clipping the tin too many times…

"My short game has improved, but then again, not necessarily in this game, as his shots are so good, mine, even improved, may look a bit pale!

"I had a bit of a nervous start, as he can hit winners from anywhere on the court, even from a bad position, so you've got to be on your toes constantly!

"It's so different when you are an up and coming player, like he is, he is one of the players that can come out of nowhere and beat a top 10 player, compared to a "Veteran" like I am now! Not a long time ago, I was him, but now, I'm trying to fight those new comers off!!!! And age doesn't matter, it doesn't matter if I'm only 27. It's role playing.

"You know, people always come to you and say, you should do a little bit more of that, or a little bit less of this. Well, yes, but changes take a long time to get implemented. First, you've got to practice them in training, for one or two years, then try and play during matches, but under pressure, your natural game just comes back with a vengeance. It's a long and painful process to change one's game…."





"I'm happy today, of course, a loss is a loss, but I'm moving better, and I feel no pain. I came early here, got some good treatment, so I'm feeling good now.

"If I had taken the first, maybe I could have put a bit more pressure on him, but all credit to him, he played a solid all around game, and kept me well in the back, especially in the last two games."


[4] Gregory Gaultier bt [Q] Karim Abdel Gawad (Egy)
8/11, 11/8, 11/3, 11/4

MAYBE NOT FIT, BUT…

This was not the first time I saw Karim. I had that privilege last year in Sky Cairo, and I remember writing a little something like "watch out for this kid".

I can confirm. Watch out for this kid!

He is, how can I say, free with his racquet. It's like his movement is fluid, like running water. He is powerful when needed, but it's more a question of absorbing his opponent's strength and power, changing the pace at will, and a quick eye to place the ball exactly where it's going to hurt the most.

Greg, still not that secure on his leg after his injury a few days back in KW, was not exactly at his top in the beginning. A bit wary, he had to wake up his body fast, as the boy was not letting him rest for a second, sending him left right and centre from the first shot, forcing uncharacteristic errors from the Frenchman.

The rallies were extremely intense in the first two games, and Greg owes it to his experience for taking the second, as he has been there so many times, and was able to play the crucial points that much better.

And after that, although the young player was still fighting, the hard work produced took its toll…

But was I impressed with Karim G? Bet your racquet I am. Do I believe this boy is top 5 material? Oh yes.

"For his second time on a glass court, I must say he was impressive, especially in the first game. I felt a bit sluggish, and he went straight in from the word go. So I just tried to stay focused and make it hard for him until he would crack up physically.

"He is only 19, so only a couple of years, and he'll be up there. You just can't relax against these young players, they come on court to beat you! I remember when I was that age, whoever I was playing, even the number one player in the world, I would come to beat them, and give it all what I had.

"If you want to be the best, you have to put pressure on absolutely everybody you play."



"I was injured during El Gouna, and I just couldn't play at all for 7 days. My first qualifying match was my first time on court since then, so you can't say that my fitness was at the best on this tournament, and Greg is one of the fastest guys on court, and I should be as fit as can be to try to compete with him."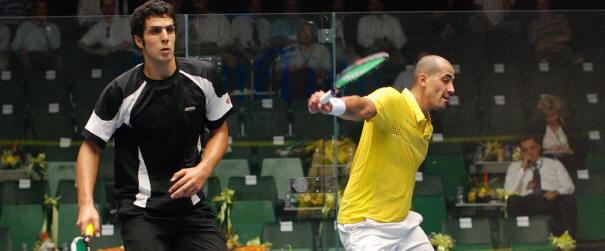 Omr Mosaad (Egy) bt [11] Wael El Hindi (Egy)
11/9, 7/11, 11/8, 11/5

STRONG REFEREEING

A few days ago, while in KW, I had a conversation with two players – they will recognise themselves – who very strongly were in favour of the "No Let/stroke only" squash. And I was telling them that I thought that if the actual rules were applied, these extreme changes of rules wouldn't be necessary.

Today's game sustains my claim…

It all started as a normal game of squash, with Omar starting beautifully, attacking very well, and Wael, as can happen to him, taking a bit of time to warm up and find his rhythm, taking the game after being led for most of it.

In the second game, the decisions became more and more frequent, I counted 19, with Omar making most of the asking (I counted 6 for Wael). Just at 9/7 Wael serving, quite a crucial time of the game, I counted 5. Mentally, the young contender cracked a bit there, tinning it to give a game ball, 10/7, that Wael took on a lovely drive that bounced funny…

During that game, the ref John Massarella explained very clearly why the refs were giving out lets to Omar, answering Wael's questioning. And the ref started warning Wael about his movement, telling him to clear the ball, on several occasions.

The third was extremely close, if one would take the lead, the other one would quickly catch up, until a crucial 8/7 for Omar, where a "harsh" stroke was given by the three refs. Wael was stunned, and questioned them. "That's what I've been warning you about M. El Hindi. Please continue play," said the central ref.

The next point is played, and stroke again. Now the crowd is starting to get it. This is not a normal decision. The Refs are trying to send a strong message to Wael. And Omar takes the game, 11/8.

"Is it a problem between us, John", asks the Egyptian as he leaves the court. "M. El Hindi, I gave you all the explanations you required, no more about it, please."

The fourth was, well, tense, that's the very least we can say. At 3/3, Wael got another stroke against him, and just didn't seem to know where to stand, poor thing! His mind started wandering, it was obvious he was struggling with his concentration, and a very mentally strong Omar took full advantage of it, as you would…

"It's so cold in here!!!!

"This match was always going to be tough, our head to head was 2/0 up to last year in Mumbai when I took my first win. So today, I was really up for it, as I wanted to confirm my win last year.

"Also, a victory here would really help my ranking, I have now entered the top 20, and I would hope to get top 16 with that victory.

"In the first I was leading, but he came back very strongly, and took it. Then at the start of the second, I was serving, and he made a movement as if he was stopping playing, I got confused, and he got a nice drop shot in. It took me 4 points to recover!

"I'm happy with my game today, I want to thank Wael for this match, I'm so happy that I could beat somebody as talented as he is. And that's all thanks to my squash coach and my fitness coach."


[7] Peter Barker (Eng) bt [Q] Simon Rosner (Ger)
11/5, 13/11, 5/11, 11/8 (62m)

Barker wins Paderborn derby

"Don't assume that because this young German's come through qualifying that the world number seven is going to jump all over him," compere Robert Edwards warned the crowd in the introductions to this match. Peter Barker needed no such warning, he knew exactly how tough his Paderborn team-mate would be.

The match opened with a long rally - let - followed by an even longer one, and when Simon Rosner hit the tin to put the first point on the board four minutes had already elapsed.

The first game continued in that pattern, long testing rallies, but the Englishman was generally finishing them, off better, and after 10 minutes he led 7/3. A few too many errors from the German racket and Barker was one game to the good after 12 minutes.

Rosner started the second better though, opening out to 4/1 but Barker soon levelled. As they matched each other to 9-all some of the exchanges were rapid, frantic almost, but again it was Barker who finished better, doubling his advantage on his third game ball, 12/10.

Another fast start from Rosner in the third, 4/1 again, and this time he extended it to 7/2 and 9/4, no way back for Barker this time.

The Englishman didn't allow his opponent to get a third start though, but they matched each other up to 7-all in the fourth, both mixing winners with errors as the rallies shortened.

Perhaps going for too much, it was Rosner who cracked, four errors - with one from Barker - putting paid to his chances as Barker made it three English wins on the day.

"I got to know Simon quite well over the last 18 months as we've been playing for the same team in Germany, so I knew his qualities.

"I certainly didn't take it for granted, but I played into his hands a bit too much, putting the ball onto his racket and he punished me.

"I tried to play at too fast a pace too often, and that suited him, so I needed to try to slow it down a little and play my own game.

"I'll need to do that tomorrow too ..."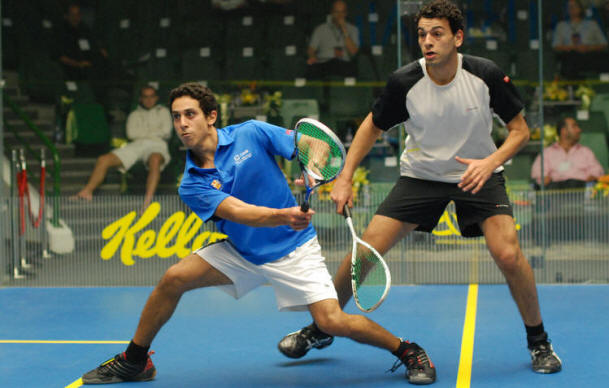 [13] Mohamed El Shorbagy (Egy) bt Tarek Momen (Egy)
16/14, 11/6, 11/9 (49m)

RIGHT GAME PLAN FOR MOHAMED

We knew from the start that the match wouldn't be long. Both just out of juniors, both Egyptians, I was not expecting long rallies.

But when Tarek attacked all the shots, opening the court a lot for Mohamed to kill or counter drop, Mohamed was hitting deep in the corners, and that paid off in the end….

The first game, well, 16/14, was no joke, and they both had their share of game balls (four for Mohamed, two for Tarek), played at a fast and furious pace, as you may imagine.

Mentally down, Tarek went on to make five tins within the first ten points of the second, that obviously helped his opponent to take the game easily. The third was very close again, not much with a player, and if one was up score wise, it wasn't for long!

At 8/8, then 9/9, everything was still possible for Tarek, but once again, Mohamed found some great length on the two last points, both drive and crosscourt, and forces two errors from Tarek.

A great 3/0 win, never easy on a cold court against Tarek…

"I'm so happy I win this match 3/0, this is my third tournament in a row where I win 3/0 in the first round, and that's not my usual, so, really happy.

"The first one was crucial. With Tarek, you've got to make sure you force him out of his comfort zone, that you make him play at your pace. Because if you play at his, you'll lose. If you force him to play yours, he sticks to his game plan normally, so you've got to try and beat his plan A!

"Last time we played in Malaysia, I played that well against him, I was 1/0 up, and 9/6 up, and I lost concentration, and never found it again! And I know that's my problem, my loss of focus.

"So today, I make sure that I kept my concentration for the three games. And I think the 3/0 wins comes from there.

"It's nice I have a day of rest, and after that, I'll play Peter, the only time we played was in Saudi, a tough match that I won 3/1. I'm so looking forward to it, I'm sure it will be very hard again, and I'm sure going to try to play my best as I'm sure he'll try and play his best!"





"It wasn't a matter of fitness today, more the lack of motivation. I was playing well in the first game, I had game balls, but went for weird shots and blew it really…

"After that, I had some good patches, but I had so many things on my mind, like my studies, and I feel that tonight, he wanted to win more than I did…"


Women's Qualifying Finals
Lucie Fialova (Cze) bt Anna-Carin Forstadius (Swe)
11/7, 11/7, 11/7 (25m)

Lucie through again

The first women's match of the event (after three no-shows yesterday) saw Lucie Fialova become the first player through to the main draw.

The Czech left-hander always seemed to have the upper hand against Sweden's Anna-Carin Forstadius, but as the 11/7, 7, 7/ scoreline suggests, it was never that easy.

"I was very nervous," said the winner, "especially at the start of each game, but once I settled down it was ok.

"I qualified here last year so it feels good to reach the main draw again. I haven't even looked at who I might get, any match will be really good experience for me, I'm just excited about the prospect!

Lauren Selby (Eng) bt Salma Nassar (Egy)
9/11, 11/8, 11/4, 11/9 (42m)

First time for Lauren

"I'm really pleased to get through in my first time in Qatar," said England's Lauren Selby after coming from a game down to beat Egyptian Salma Nasser in a well-contested four games.

"It's never easy playing an Egyptian in a hot climate," Selby added, "and she's had a few good wins lately, but when I stuck to the game plan that my Dad and Brother gave me in the game intervals it worked - when I didn't it let her back into it."

Nasser threatened to come back from substantial deficits in the second and fourth games, but Selby held on to confirm her place in the main draw.

"I don't like to look too far ahead," she admitted, "so I don't know who I might get drawn against, I just know it's not Nicol because Emma [Beddoes] is playing her!"

Gaby Schmohl (Sui) bt Becky Botwright (Eng)
11/2, 11/7, 11/9 (27m)

Schmol so pleased

Gaby Schmol gave out a great big "YES" as she secured the last point in her match against 'local' girl Becky Botwright and a place in the main draw.

"I'm only really playing once a week," admitted Becky, the former world #26 who has been based in Qatar fro three years now. "I'm doing more running, which doesn't help, but I thought I'd enter as it's just 20 minutes down the road and it's good to see all the girls again."

She seemed to be getting into her stride as the match went on, getting closer each game after losing the first 11/2, but a determined Schmol hung on to bring more success for the Swiss.

"That was tough at the end, really close," said the winner. "It's the first time I've entered such a big tournament, I played Monte Carlo last month which was the next biggest.

"My goal was to get through qualifying, I was just focusing on this match. I've done that, so what comes next is great ..."

Olga Ertlova (Cze) bt Merhan Amr Mahmoud (Egy)
9/11, 11/2, 11/4, 11/7 (41m)

Olga doubles Czech currency

"I'd never played an Egyptian before," Olga Ertlova admitted after she'd just made it two Czechs in the women's main draw by beating Merhan Amr Mahmoud in four games.

"In the first I didn't know what was going on, it was fast, the ball was bouncy and flying all over the place.

"I just needed to calm down and start getting her to the back, once I got her there I could finish it at the front, but if I gave her time to get to the front I was lost.

"I lost out in final qualifying here last year, so it's great to make it through this time, it's definitely the biggest tournament I've played in and to have a game with any of these girls is just so exciting for me ..."

Milou Van Der Heijden (Ned) bt Sherif Esmat Youssef (Egy)
9/11, 11/7, 11/6, 11/7 (27m)

Milou & Adel complete Egyptian rout

It's not very often these days that you can report that all the Egyptians in qualifying lost, so we'd better make the most of it as it's unlikely to happen again any time soon (to be fair, there's plenty of them in the main draw by right anyway!).

Milou Van Der Heijden continued the trend of losing the first game before advancing as she beat Sherif Esmat Youssef, while Adel Weir-Nunn won a tough first game against Mayar Aly Ezzo before taking the next two quite comfortably.

"She was just hitting hard, hard, hard at the start and I tried to join in with her," admitted Milou. "Vanessa told me to be more patient and play a better length, and when I did that - which is when I'm at my best anyway - it worked.

"It's my first time in Qatar, so I'm very happy to qualify, I love this tournament already!"

Adel Weir-Nunn (Rsa) bt Mayar Aly Ezzo (Egy)
11/7, 11/0, 11/3 (18m)

Adel, who has been a resident here in Qatar - "just ten minutes down the road" - for almost three years, was equally delighted.

"It's the first time I've managed to qualify in four attempts, so I'm delighted and relieved," she said.

"It was tough in the first game but I just tried to keep it uncomplicated, keep to basic squash. I think she was a bit nervous, she's not played many WISPA tournaments, but she's going to be a good player and she has many more years in front of her."

"I'm still loving it in Qatar, although I try to get away for two or three months in the heat of the Summer, but it's going well and I hope my sponsors Ramada Plaza Hotel, Go Sports and Adidas are happy!"