TODAY at the Qatar Classic
2011:
Fri 14th, Day One Fram & Steve in Doha
Men's Qualifying Round One:

Matthew Karwalski (Aus) bye
** Alan Clyne in main draw to replace Kemp ...
Siddarth Suchde (Ind) bt Leo Au (Hkg)
11/7, 11/13, 11/4, 11/1 (62m)

Kamran Khan (Mas) bt Omar Abdullah Al Emad (Qat)
11/5, 11/5, 11/4 (20m)
Joey Barrington (Eng) bt Bradley Hindle (Mlt)
11/5, 11/6, 2/11, 5/11, 11/7 (74m)

Mohamed Abouelgar (Egy) bt Karim Abdel Gawad (Egy)
11/7, 4/11, 7/11, 11/9, 11/9 (58m)
Yann Perrin (Fra) bt Omar Abdel Meguid (Egy)
11/3, 6/11, 8/11, 11/7, 11/6 (103m)

Muhd Asyraf Azan (Mas) bt Wael Farag (Egy)
11/9, 11/9, 8/11, 1/11, 11/4 (60m)
Chris Ryder (Eng) bt Ivan Yuen (Mas)
11/6, 11/2, 9/11, 11/6 (63m)

Omar Abdel Aziz (Egy) bt Nafiizwan Adnan (Mas)
11/8, 11/9, 6/11, 11/7 (53m)
Jaymie Haycocks (Eng) bt Ahmed Al Tamimi (Qat)
11/0, 11/1, 11/6 (18m)

Robbie Temple (Eng) bt Raphael Kandra (Ger)
11/6, 11/9, 9/11, 11/7 (61m)
Henrik Mustonen (Fin) bt Aaron Frankcomb (Aus)
6/3 rtd (8m)

Marwan El shorbagy (Egy) bt Ryan Cuskelly (Aus)
11/9, 11/8, 9/11, 6/11, 11/9 (88m)
Mazen Gamal (Egy) bt Abdulrahman Al-Malki (Qat)
13/11, 11/4, 11/4 (30m)

Farhan Mehboob (Pak) bt Elvinn Keo (Mas)
11/2, 11/2, 11/4 (26m)
Mohammed Abbas (Egy) bt Harinderpal Sandhu (Ind)
12/10, 12/10, 8/11, 11/9 (60m)

Follow on Twitter:
@squashsite #qatarclassic
Day One Roundup:
Quiet start to Qatar Qualifying,
but it doesn't last ...

The 11th Qatar Classic got off to a quiet start as men's qualifying top seed Alan Clyne, due on court in the first batch of matches, was informed while he was warming up for the match that the late withdrawal of Jonathan Kemp meant that he was through to the main draw - against David Palmer - without having to step on court.

The definitive ruling took a while to come through, but when it did it was also good news for Clyne's prospective opponent Matthew Karwalski, as the Australian received a bye instead of having to face the running machine that is Clyne, or another opponent as was originally ruled.

On court, Malaysia's Kamran Khan was the first to register a win, overpowering Qatar's Omar Abdullah Al Emad in just 20 minutes.

The quiet start didn't last long though, as there followed a series of matches which were all long and highly-contested.

Siddarth Suchde overcame a tiring Leo Au 3/1 in just over an hour; Joey Barrington saw a two-game lead disappear before finally beating Bradley Hindle in five games and 74 minutes; Mohamed Abouelgar's "hardest-ever match and best win" saw him beat fellow Egyptian Karim Abdel Gawad 11/9 in the fifth; Yann Perrin came through an ugly encounter with Omar Abdel Meguid that took five games, 103 minutes and 75 decisions; Muhd Asyraf Azan took exactly an hour for his 3/2 win over Wael Farag.

Chris Ryder looked to be about to buck the trend as he went two games up against Malaysia's Ivan Yuen, but the youngster fought back to take the third, leaving Ryder to wrap it up in four games and 63 minutes.

With Omar Abdel Aziz - who at one stage thought he might be getting a bye - battling it out with Nafiizwan Adnan on court four, it was left to Jaymie Haycocks to bring an end to the run of long matches as the Englishman reduced Qatari interest with a quickfire win over Aspire student Ahmed Al Tamimi. Haycocks will play Aziz for a place in the main draw after the Egyptian beat Adnan 3/1 in a comparatively brisk but entertaining 53 minutes.

Robbie Temple overcame some stern resistance from Raphael Kandra, winning 3/21 in 61 minutes to make it a quartet of Englishmen through to the qualifying finals, where he'll face a fresh Henrik Mustonen, the young Finn who benefitted from a knee injury which caused Aaron Frankcomb to retire mid-way through their first game.

It soon became four Egyptians through too, as Marwan El Shorbagy and Mazen Gamal won in contrasting styles to set up a meeting tomorrow. Gamal put out the third and last Qatari entrant, although Abdulrahman Al-Malki had game balls in the first before subsiding in straight games, while Shorbagy, having taken the first two games against Ryan Cuskelly, finally secured an 11/9 in the fifth victory after 88 minutes. The Aussie was left feeling aggrieved by his no let on the final point, while Shorbagy summed it up saying "I just didn't want to lose today."

The final pairing was decided when Pakistan's Farhan Mehboob made quick work of his win over Malaysian shotmaker Elvinn Keo and experienced Egyptian Mohammed Abbas held off a spirited challenge from young Indian Harinderpal Sandhu to win 3/1 in exactly an hour.

Qualifying finals, and women's qualifying round one, start at noon tomorrow.
Siddarth Suchde (Ind) bt Leo Au (Hkg)
11/7, 11/13, 11/4, 11/1 (62m)
Kamran Khan (Mas) bt Omar Abdullah Al Emad (Qat)
11/5, 11/5, 11/4 (20m)

Kamran with ease, Sid tested

If Kamran Khan didnít have too much trouble handling Qatari Omar Abdullah Al Emad Ė although he made far too many errors for his own good Ė it was a different story for Indian Siddarth Suchde against Hong Kong's Leo Au.

Sid started very well indeed, firmly planted on the T, helped with Leo many unforced errors. But in the second game, the Hong Kong player was far more patient, varied the pace much more, accelerating the pace and surprising his opponent several times.

Leo had his first game ball at 10/7 in that second, but Sid worked very hard indeed, clawing back to 10/10, 11/11. The fourth game ball was the good one for the Hong Kong player, but he really left all his energy on that game, and just couldnít find any power in the last two games, that Sid won, 4 and 1Ö

"He is a good player, and we had some very long rallies, but in the first, he really made a lot of mistakes, he lost a bit of confidence on there, and I was able to get a good and comfortable lead.

"But in the second, the unforced errors levelled, and he got his first game ball at 10/7. I dug in, hung in there, and I guess that although I lost the game, the hard work paid off in the end, as I could see he was slow to get to the ball after that, making it easier for me to move the ball around.


"Iím frustrated, I wanted to finish the point far too quickly, and made so many errors in the first game! I lost it far too quickly. At the end, I was tired physically, but I have no excuse for the earlier mistakesÖ"


Joey Barrington (Eng) bt Bradley Hindle (Mlt)
11/5, 11/6, 2/11, 5/11, 11/7 (74m)

JOEY IN FIVE, AS EVER

Iím sorry, but there should be a law that says that Joey Barrington has got to play the last one of the day, bless his sweet white cotton socks, as he likes to make the pleasure lastÖ. I left after watching the first two games, where Joey was well in control on the T, and Bradley looking a bit out of focus at times, then working hard again, then looking veeeeeery tired at the end of the second.

And I thought, ok, thatís done and finish, letís go and see whatís going on next door, by the time I come back, Iíll have the quotes from them both.

But of course, it didnít happen, did it?? Joey lost the next two, and I arrived at the start of the 5th, with both players tired, but digging in, some nice rallies, each wrong footing the other one, nice squash.

But Bradley on that last game just didnít seem to finish the points, and Joey, as he always does, hang in there, forcing Brad to take more and more risks, and getting errors out of him at crucial times, 5/4 and 8/6 in particular. So frustrating.

The Maltese will be extremely disappointed with that loss, as he came so close, and Joey, well, as he said ďItís nice to get a win on PSA for once ..."

"I played some pretty immaculate and accurate squash in the first two, I was very relaxed and moving well. But in the next two, I relaxed too much, and the ball having gone soft, Bradley took advantage of the conditions much earlier than I did. I lost my length, and he played very positively Ė which he had to do, as he was 2/0 down!

In the fifth, it was up to me to make a choice where I wanted the match to go, and I chose to make it a go.. Iím happy to win, of course I would have rather win 3/0, but itís all credit to Bradley who made it very difficult for me."

Joey Barrington
Yann Perrin (Fra) bt Omar Abdel Meguid (Egy)
11/3, 6/11, 8/11, 11/7, 11/6 (103m)

PERRIN
IN THE END

A very long, very disputed, very ďlet pleaseĒ match between the Frenchman and the strong Egyptian that lasted over 100 minutes, and the least that can be said is that there was not much love lost on court.

So many decisions, over 75 a few injury times, dead leg for the Frenchman in particular plus a few bruises, both trying to plead with John Massarella, firmly in charge of the referring, which today was a tough job indeedÖ

"I didnít make so many errors today, I had a very bad start this season, and my aim today was to keep the ball in the court as much as possible, to play straight, and to prevent him from volleying as much as I could.

"And I also made sure that I kept my focus at all times, as I knew we were going to have a few discussions, and a lot of lets! I really tried my best not to get involved in the decisions with the refsÖ

"Iím happy to win such a match, which was really won on a mental level. And I was happy that I felt good physically as I had to go round him a lot, and change direction, and dig in the rallies!

"Iím really looking forward to playing Abouelgar tomorrow, a junior that is coming up.

Heís improved a lot. He is a fair and very honest player, it will be a pleasure to play against him.



Mohamed Abouelgar (Egy) bt Karim Abdel Gawad (Egy)
11/7, 4/11, 7/11, 11/9, 11/9 (58m)

"This is the hardest game of my life, and definitely the best win of my life!

"Karim and I are very good friends, and we play each other all the time, we know each otherís game inside out, he knew what to expect, and so did I!

"It was all about who would play better on the day, and who was going to be able to adapt and change his gameÖ.

Karim is so strong mentally, he is the most difficult player to win in five against! Iím happy with the way I played, both mentally and physically, and I just hope I can keep on playing like that tomorrow.

And I too thought he was going to win, Fram!!!!"


Chris Ryder (Eng) bt Ivan Yuen (Mas)
11/6, 11/2, 9/11, 11/6 (63m)

He was playing well today, he had no pressure, and any opportunity he had, he just went for his shots, and he got his fair share !!!! I think I played tight, and contained him pretty well.

At the end, he was coming back at me quite well. I think with a bit more experience heís going to be good. It all came down to shot selection in the end.

My training is improving, Iím working with Rob Owen, an ex top 20 player, who makes me work on the severity on the ball, more cut. Iím now improved my tactical awareness, and I now understand better where my weaknesses and strengths are!

You know, Iím past 30 now, and I keep being introduced as ďan up and coming professionalĒ, but Iím about the oldest one here!!!!


Omar Abdel Aziz (Egy) bt Nafiizwan Adnan (Mas)
11/8, 11/9, 6/11, 11/7 (53m)

A FAIR MATCH, ALTHOUGHÖ

That one between Omar Adel Aziz and Wan was in my book the best match of the day.

The two players were so respectful, fair, honest, giving each other their doubled, not up, etc. Both players are unorthodox squash players, they both worked very hard to get where they are, not your flashy racquets, I mean. But really lovely boys, great solid squash, long rallies and determined souls.

In my view, Wan lost a bit of energy and confidence in the 2nd, when he thought so many times that he had the point won, only to see Omar getting it back and digging in, forcing him to take more risks, and finally, errors cameÖ

At the end, Omar, extremely hungry after he had to stop more than two months for injury, just found some lovely winners, especially as Wan couldnít apply the same pressure anymore, having worked extremely hard.

Itís a shame that the last call on match ball Ė no let Ė upset our Malaysian, who left the court rather quickly. Shame really, as like I said, it had been the perfect match.

"Wan is a very fair player, and a very nice guy. But today, I think maybe I adapted better than he did to the court conditions, and Iím really happy to be back trying to qualify for a Platinum event after receiving physio treatment in the US on both my knees.

"Now I feel good physically, and Iím working hard for each and every point, I donít try and win cheap points, Iím constructing my rallies, and still finding some good winnersÖ"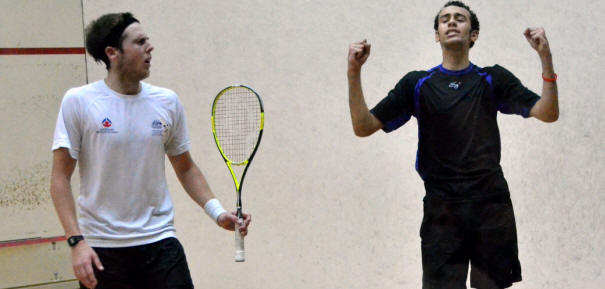 Marwan El shorbagy (Egy) bt Ryan Cuskelly (Aus)
11/9, 11/8, 9/11, 6/11, 11/9 (88m)

MARWAN, EVENTUALLY

This was never going to be an easy match.

Ryan Cuskelly, the up and coming Australian who played very well in Boston a few days ago, against the World Junior Champion Marwan El Shorbagy, who has really been making his mark on the senior circuit for a few weeks now.

And it seemed that we were going to have a pretty quick upset too, when the Egyptian was up 2/0, 11/9, 11/8. But Ryan, well, heís got the experience, the physical strength not to mention a great ability to dig his heels in, and make his opponent work very hard for every freaking point!

And thatís exactly what the Australian did for the next three games. Marwan, well, he fought very hard in the third, 9/9, and zoom, two tins. And in the fourth, maybe he relaxed a bit mentally, also a bit tired from the hard work produced up to then, with Ryan keeping pushing and pushing, being more aggressive and confident in the attackÖ

Here we were in the fifth. 3/3. 4/4. 5/5. 6/6. 8/8. Honestly, some superb squash, even if we were starting to get a few too many calls, both players trying to get some cheap points, well both being pretty cooked by then!

The end was pretty tight, and it could have been anybodyís match. Still, on a no let, Marwan gets his first match ball, 10/8. He slips getting onto the ball in the left front corner, injures his knee, 10/9. On his second match ball he goes for a drop shot that Ryan cannot get past his opponent to try for, no let.

Ryan was not happy with Marwanís movement [running into him more than once], and made his opinion quite clear to both his opponent and the refs at the end. I personally didnít see any obvious wrongdoing from Marwan, but then again, I was not the one playing him and Iím not as technical as others on that department.

Strangely, the Egyptian was very calm all the way through Ė he is sometimes extremely excited, but none of that today Ė and in my view the key of the match stands in what Marwan told me at the end ďI just didnít want to lose todayĒ.


"Honestly, I thought it was normal interference in a squash match, and I didnít mean to go through his body, and if I did, well I apologise, I was just trying to get to the ball.

"In the first two games, I played really well, and in the 3rd, it was pretty close too, I just made two errors at 9/9. In the 4th, Iím not sure what happened, I kept on pushing on my legs Ė it was quite a very feeling really Ė but it was not responding, but in the 5th, I just didnít want to lose, I flew all the way from England, and I was NOT going to lose in the first round.

"This is a good win for me. After losing in the US Open, I came back and worked on my weaknesses with Ian Thomas in Millfield. Iíve improved a bit on it, but I still need to get better on those.

"Tomorrow, another tough match, which I hope to win, and qualify for another Platinum tournament."


Mohammed Abbas (Egy) bt Harinderpal Sandhu (Ind)
12/10, 12/10, 8/11, 11/9 (60m)

SOMETHING IN THE INDIAN WATER??

During the Worlds Team event in Paderborn, Saurav Ghosal was playing David Palmer, and I wrote that Saurav didnít play for India that day, but actually run for it! Well about the same story today, with an Abbas a bit slow in the brain department Ė sorry, but you know what I mean, not taking the right decision, a bit slow to move, wrong shot selection - and Harinder running like a motorcycle on there, the ones that run and run forever, the ones you just cannot stop!

Honestly, that boy is as fast as it comes, talk about Speedy Gonzales, and he found some pretty accurate shots too. It reminded me of Marat Safin when he was playing Frenchman Fabrice Santoro, and he just couldnít understand what the heck was going on there.

Hari pushed Abbas all the way, forced him to make error upon error, and to be honest, had he taken the 4th, the Egyptian could have been mentally in a lot of trouble there. The Indian was playing very well, thatís for sureÖ

Close, very close indeed

"I donít know what happened to me today, I was so flat inside, it felt like I hadnít played for a long time, which is not the case. But I couldnít move, I couldnít put any rhythm at all on the ball. That type of game doesnít suit me at all!

"Iím glad to reach the second round, and those things Iíll have to assess and change for tomorrowÖ

"But he is FAST!!!!!"