Outside the Khalifa Complex
TODAY at the Qatar Classic
2011:
Wed 19
th, Day Six, QUARTERS Fram & Steve in Doha
Quarter-Finals in Doha

It was back to normal on quarter-finals day in Doha as, after a day of upsets in round two, all the remaining seeds won through to the semi-finals, with defending champions Nicol David and Karim Darwish still on course to retain their titles.

Women's Quarter-Finals

[1] Nicol David (Mas) bt [9] Raneem El Weleily (Egy)
11/6, 11/4, 11/8 (27m)
[3] Rachael Grinham (Aus) bt Emma Beddoes (Eng)
14/12, 11/4, 11/7 (30m)

[4] Madeline Perry (Irl) bt [12] Low Wee Wern (Mas)
11/8, 11/5, 11/9 (42m)
[13] Nour El Tayeb (Egy) bt Nour El Sherbini (Egy)
11/8, 5/11, 11/8, 13/11 (46m)

Men's Quarter-Finals

[3] Karim Darwish (Egy) bt Nicolas Mueller (Sui)
2/11, 11/8, 11/5, 11/4 (35m)
[6] Gregory Gaultier (Fra) bt Tarek Momen (Egy)
11/5, 11/8, 11/7 (65m)

[4] James Willstrop (Eng) bt [7] Peter Barker (Eng)
6/11, 11/7, 11/4, 13/11 (56m)
Stewart Boswell (Aus) bt Cameron Pilley (Aus)
11/8, 11/5, 4/11, 11/4. (68m)

The main tennis court, squash centre on the right
Normal order restored in Doha

After a seemingly endless succession of upsets in round two, normal order was restored in the first session of quarter-final action in the XIth Qatar Classic at the Khalifa International Tennis and Squash Complex in Doha.

Top seed and defending champion Nicol David, was always in control against young Egyptian Raneem El Weleily, who didn't help her own cause with numerous unforced errors in each of the three games. Only in the third did the Egyptian threaten to extend the match, but David soon closed that opening to win 11/6, 11/4, 11/8 in 27 minutes.

Third seed Rachael Grinham took just a little longer to end the run of England's Emma Beddoes who had scored two upset wins to reach this stage, but for the Australian it was a case of taking the first game in the face of a stiff challenge from Beddoes. Thereafter Grinham's shotmaking held sway.

The first men's match promised another upset when unseeded Swiss Nicolas Mueller raced into an 11/2 and 4/1 lead against Karim Darwish, the third seeded defending champion. Darwish settled, and dominated from that point on to win 2/11, 11/8, 11/5, 11/4 in 35 minutes.

James Willstrop and Peter Barker had met at this stage in the US Open just over a week ago, and just as then it was Willstrop, the fourth seed, who won 3/1 after Barker had taken the first game.

The match looked as though it was heading for a decider as Barker led throughout the fourth, but his frustration grew as Willstrop pegged back the lead, saved two game balls, and took the match in extra points, 6/11, 11/7, 11/4, 13/11.

The evening session started with a hard fought straight games win for Madeline Perry over Malaysia's Low Wee Wern. Each of the games were close to the midpoint but the Northern Ireland fourth seed's experienced showed as she forged ahead in all three to win 11/8, 11/5, 11/9 in 26 minutes.

Nour El Tayeb and Nour El Sherbini met in a replay of their recent World Junior and WISPA Alexandria finals. In a match featuring dramatic retrieving and tremendous shotmaking from both Egyptian teenagers, it was the elder of the two El Tayeb who emerged the 3/1 winner this time, thus emulating her achievement last year in making the semi-finals.

There was to be no further upset for Tarek Momen, who after his explosive dismissal of top seed Nick Matthew last night, found Gregory Gaultier a step too far.

Not that the sixth-seeded Frenchman had it at all easy - despite winning in straight games 11/5, 11/8, 11/7 the match took over an hour (some of it wasted with some, shall we say confusion, over the video referral decisions) and the young Egyptian had his chances in each of the last two games.

An upset of sorts finally arrived in the last match of the day as Stewart Boswell got the better of fellow Australian Cameron Pilley in four games, 11/8, 11/5, 4/11, 11/4. Both are unseeded, but if there were to be sixteen seeds then Pilley, ranked #16, would have got the nod. On the night however it was Boswell, who beat another compatriot in David Palmer in the previous round, who won through.

Semi-finals begin at 17.30 on Thursday.
[1] Nicol David (Mas) bt [9] Raneem El Weleily (Egy)
11/6, 11/4, 11/8 (27m)

No sweat for Nicol

Defending champion Nicol David made it safely through to the semi-finals for the Qatar Classic semi-finals for the sixth year in a row without too much trouble against Raneem El Weleily.

The world number one didn't do anything special, but in truth she didn't need to, keeping the ball tight, aiming to force loose returns and errors from the young Egyptian who duly obliged often enough to dent her chances of seriously threatening.

From 5-all in the first five errors from Raneem - not all unforced, to be fair, she was being pushed tight and deep by her opponent - and it was 11/6 to the Malaysian.

From 4-all in the second it was more Nicol's precision that did the damage, 11/4 for a two-nil advantage.

The third was closer, 3-all, 6-all, 8-all with Raneem now starting to find the range with some of her shots.

A boast that left Raneem for once flatfooted for 9/8, then after Nicol had determinedly chased down a couple of short balls from the Egyptian, Raneem clipped the tin with an attempted crosscourt counter-drop for match ball.

One attempt was all it took, a floated ball deep into the back corner never looked like coming back and Nicol was through again.

In the third, I didnít want her to take any shred of confidence, so I kept on pushing, those last three shots were crucial.

Today, I played a bit defensive to start with, because I was trying to get used to the court, and you canít just go out at the front if you are not confident. You need to get your timing right first. Then, when I got a bit more confident, I attacked more.

Raneem can hit shots from everywhere, but fortunately for me, she makes a few errors as well. But my job is to make sure that I put enough pressure on her to prevent her from adjusting her shots.

Plus, she reads the game very well, like most Egyptians I have to say. Itís like a gift, they just know where itís coming, and the do what feels rightÖ

Yes, I have been working even harder after my defeats. When you lose, you want to make sure that you are putting things right, and my way is to make sure that my body is reacting the way I want it to react. So, year after year, Iíve been working harder and harder, and even more recentlyÖ

The Malaysian Press can be a bit harsh with us sometimes, but then again, theyíve helped tremendously with Squash promotion in our country. And also, itís up to us athletes to take notice or not, and to make sure that whatever went wrong doesnít happen again.

And may I add that the reports on SquashSite have helped them to understand how tough the competition is nowadays at the top, what the feelings of the players are, what they go through, and they now understand and feel the game better.




I was really pleased with the way I came up in the first game, after my hard match yesterday.

But she is so experienced, she is at home on the glass court.

This is my best tournament so far, Iíve learned so much, and hopefully itís going to push me forward and help me in the ranking too. Very happy.



[3] Rachael Grinham (Aus) bt Emma Beddoes (Eng)
14/12, 11/4, 11/7 (30m)

Rachael's shots beat Emma's running

If asked to predict how this match would go before the start, the answer would have been: "Rachael will be going for everything, throwing in her lobs boasts drops an angles, and Emma will chase down everything Rachael throws at her."

And that's pretty much how it was. The elder Grinham can have the odd shocker - here two years ago in the semi, in Philadelphia just over a week ago - but the bad news for Emma was that this wasn't one of them. The Aussie was mixing up the shots and the pace like only she does, and the Englishwoman had no choice but to chase every shot until Rachael played a winner, Emma got one loose enough to put away or could chase no more.

It took Emma a while to get into it, to get used to the very different conditions on the glass court, but once she did she recovered from 6/3 down in the first to level at 7-all, saved two game balls to force extra points and even had a game ball herself at 11/10. But Rachael put in one of those drops that only she knows where it's going before taking the lead 14/12.

The second was quicker. Rachael took a 6/0 lead helped in part by some untypical unforced errors from Emma, and was never going to lose it from there.

Emma made a better start to the third, leading 4/1, but Rachael, still giving the ball enough air to give Emma something to go for - which of course she did, willingly - but also playing with enough deception and tightness when it mattered to keep the scoreboard ticking over, levelled at 5-all.

The third seed moved ahead to 8/6 then 10/6 and closed it out with a volley drop for 11/7 on the half-hour mark.

It was a good, entertaining match with plenty of variety, thoroughly enjoyable too, as long as you're not the one doing all the running!

We came from the back court, so the ball today felt much heavier and dead. I was not feeling that confident on there, made a few errors, a few lob attempts, but I thought that she had a couple of hard matches, first round, she beat Omneya, and yesterday, Joe Chan in the tie-break in the 5th, so she was bound to be a bit tired today.

And in the second, I could see she was not moving too well to the front, and I thought that if I could keep making her working hard, I should be fine. And after I took the first game, I knew that mentally, she would find it hard to come back.

That first game was really important, it changed everything.


[4] Madeline Perry (Irl) bt [12] Low Wee Wern (Mas)
11/8, 11/5, 11/9 (42m)

Perry pips Wee Wern

The third women's quarter-final saw Northern Ireland's Madeline Perry come through in straight games against the ever-improving Malaysian Low Wee Wern, although it took the fourth seed 42 minutes of solid work to squeeze out the result.

From the outset the rallies were long, both players hitting solid length and taking it short only when a good opportunity presented itself.

The first was tight up to 5-all, then a couple of errors from Low followed by three winning shots from Perry took it to 10/6, finishing it off 11/8

The pattern of the game continued in the second, but Perry, having taken an early lead extended it to 6/2 then 9/4 and there was no way back for Low as Perry closed it out 11/5 with a low crosscourt that died in the deep.

The game opened up in the third, both more willing to attach short now, but this seemed to suit Perry better, who again pulled away from 5-all to earn three match balls at 10/7.

A tin and a stroke brought a nervous moment but a loose volley from Low was driven straight down the backhand wall and Perry was in the semi-final.

"I'm happy with a 3/0 there, Wee Wern is always a tough competitor and even when she loses 3/0 it's usually long.

"I got a bit excited at 10/7 in the third, played differently to how I had been as I tried to finish it off, but thankfully I go there.

"It's strange seeing lots of the seeds going out, it's good because it opens up opportunities for you but it put a bit of pressure on you not to be the next one!

"The semis is the best I've done here, so I've at least done that, although I've never played either of the Nours so we'll just have to wait and see what happens in the next round."





"I thought I hung in well until about 5-all in a couple of the games but then she stepped it up to go ahead, she's much more experienced at this level than me.

"I started to come back but it was always too late.

"I play her again in the first round in Rotterdam so hopefully I've learned something from that!"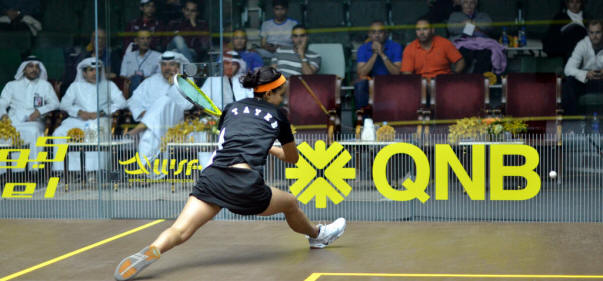 We always have very tight matches, nobody can pick a winner, last time, I won, this time, I feel she was the better player, and therefore, deserves to win. And I wish her the best of luck for the rest of the tournament.



[13] Nour El Tayeb (Egy) bt Nour El Sherbini (Egy)
11/8, 5/11, 11/8, 13/11 (46m)

It's Tayeb this time

Well, what a contrast from the previous match this one was. A repeat of the World Junior Open final in July, and the Alexandria Open final at the end of last month, here we had two young Egyptians who know each other and each other's game so well, playing a game of speed chess on a squash court.

There wasn't too much in the way of rally building, there was precious little in the way of defence, but there was plenty of quality squash as both tried to prise an opening and went for it as soon as any chink appeared.

There wasn't really a pattern as such, each of them could win a handful of points in a flash, or make a couple of crucial errors just as quickly. There was fantastic retrieving of course, and quality shotmaking - a lot of it totally unorthodox but so, so effective.

In the end it probably came down to a little bit more desire on the part of El Tayeb today, who was on the floor half a dozen times during the match, and a couple of crucial errors late in the third and fourth games from El Sherbini, tinning while her opponent was hopelessly floundering, on the floor.

For the record the first two games were shared, first Tayeb then Sherbini getting on top. Then it was Tayeb who pulled away from 5/7 down to take the third. She did the same from 6-all in the third, going to 9/6 only to be brought back to level by a determined Sherbini.

An even more determined Tayeb needed two match balls to win it - the second one was a stroke, although we had to wait for confirmation from the video referee. It came, sure enough, and El Tayeb was in the semis just like she was last year.

Tayed won the world final, Sherbini won in Alexandria, this time it was Tayeb's turn. What does that mean for the next time they play? Absolutely nothing.

Itís so hard to play Nour, we are good friends, we know each otherís game so well, and we have always tough battles her and I. Plus, she is my room mate here, itís difficult to find the aggression in me in those circumstances!!!! Plus, our head to head is now 3/3, to show how close we always areÖ

I feel a bit lucky, as she made a few errors, that gave me confidence to keep pushing and pushing because I wanted to win, I wanted to win so much, one to take my revenge from last time she beat me, but most of all, because I so much to play another semi-final here, itís a special tournament for me.

Nour is so good in the middle, any shot you give her in the middle, she kills at the front, both forehand backhand. And I could kick myself every time I was giving her a chance to do that, when my ball was not deep enough.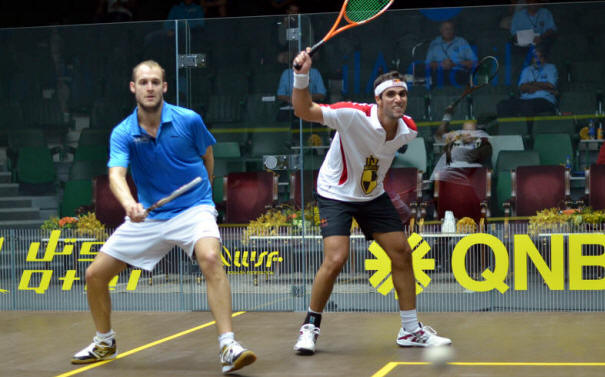 [3] Karim Darwish (Egy) bt Nicolas Mueller (Sui)
2/11, 11/8, 11/5, 11/4 (35m)

NOT TONIGHT NICKI

It looked to start with that Qatar 2011 was going to have another seed casualty, when Nicolas walked away with the first game after only 5m38seconds, Karim having scored 2 points.

The image of Tarek must have flown over Karim, and he probably thought, ah no, not me mate, I want my third Qatar Title!

And he decided to put the clock back on the right time, as we say in France.

And that, he did. From that moment on, Karim speed up the pace Ė yes, if that possible Ė and I had the impression of watching a match in forward mode. Fast, to the front, to the back, attacking, retrieving, anticipatingÖ. They were both playing their life on there. With the edge for the Egyptian.

Today, Karim had more experience, and it showed in particular in the 4th. Going for too much, not thinking things through too well, Nicki lost a few opportunities and went a bit junior on us. But itís all part of the learning progress, and Karim was extremely complimentary on the young man, and he meant it.

In the first game, he was playing every shot into the nick and taking every opportunity.

Itís so hard to play a young player like that, he is full of confidence, he just beat Shabana and Azlan, he knows he is playing well, and it makes him really dangerous.

So after losing the opening game, I just kept pushing him in the back and try and stay focused. I thought he was bound to lose a bit of concentration, he had good wins, not that used to that freezing court, because itís really freezing on there!

In the 3rd, we were 1/1, 5/5, and we were both running like lunatics. That was the turning point I think. And I was trying to get him tired, but he didnít seem tired!

Overall, he played superb squash, and if he goes on like that, heíll go to the top.



The first game is the best game I ever played in my life, up to 4/1 in the second. I was very sharp and taking the ball very early, and thatís surprised him a bit maybe.

But after that, he tightened things up, straightened his shots, and didnít give me any more angles anymore. I did try and keep go for it, but itís was not as easy. And I kept trying to take advantage of the freezing conditions, it worked in the 1st game, but by then, he had sharpened his game, and maybe I shouldnít have kept attacking that way, as he played superbly the last three games.

Not the longest match, 3/1, 35m, but still very happy with my week and tournament.


[4] James Willstrop (Eng) bt [7] Peter Barker (Eng)
6/11, 11/7, 11/4, 13/11 (56m)

PETER, SO MUCH MOREÖ

Today, the court is freezing. Actually you could wrap me in the glossy bag and sell me as an ice cream. So, the logical set up was: cold court, attackerís delight, James 3/0.

But two factors. 1. That court needs a master at length to get the ball to the back, which Peter is, and 2. Peter has adding that much depth to his game he is now lethal at the front as well as the back.

Scary.

And James was just completely outplayed in the first game. Canít say he didnít see a ball, as it was still 12m long and he scored 6 points, but he didnít see muchÖ

The second, well, was crucial. James had to re-establish his authority as the shot maker if he wanted to take his confidence away from his team mate. Quickly, James went 3/1, but couldnít shake Peter off, 4/4.5/5. 6/6. Then followed a series of flicks that wrong footed and frustrated his opponent. Happy when he went off court, Peter was not, mentioning to the ref that James didnít seem to move at all away from the shot.

Maybe a bit of fatigue, maybe a bit of dropping of focus from Peter, James basically dominated the 3rd from beginning to end, 11/4.

And the 4th, wellÖ That was anybodyís game at the end, although Peter took a flying the start, 6/1 then 8/3. James, not happy with having to play a 5th, just dug in, point by point, eating away Peterís lead, to shrink it to 8/9. Needless to say that the rallies were so fast, furious, and at time, ridiculous squash really.

A tin gives Peter his first game ball, 10/8 but a stunning drop shot from James that wrong foots him again. A tin takes the second one, 10/10. A low drive glued to the wall gives his third, 11/10, but James saves it with a kills, and with a straight drive that dies in the back, sets up his first match ball. One will be enough, and with another straight drive glued ot the wall, on the backhand this time, James takes the game and match.

Peter must have been extremely disappointed, to put it mildly, as he disappeared in the wings, I just never found him. Whereas James, well, relieved is the word I think.

Today was a match like against Adrian in Manchester, a bit frenetic, and itís difficult to take the game out of that. And that is mostly due to the condition of the court.

Peter played a really good game for that court, he did surprised me, I didnít expect that game from him, taking the ball that early, going that short. He is really adding to his game all the time.

Some people think of him as a player who keeps the rallies going, but he is proving that he can play in any conditions now, and thatís what you want to be doing when you are like he is in the top 8.

Today, I had to dig in deep to turn it around.


[6] Gregory Gaultier (Fra) bt Tarek Momen (Egy)
11/5, 11/8, 11/7 (65m)

GREG READY FOR TAREK

I can tell you that the Frenchman didnít take the young Egyptian lightly and was waiting for him with a racquet fully loaded! And you could see from the start that Greg was on each and every ball, short, side, back, he just didnít let much go by him. In his mind, it was crucial not to let the young man, full of confidence after his superb win, no pressure Ė get any kind of belief he could repeat his previous night exploit.

The second, well, started extremely well for the Frenchman, leading 7/3, but suddenly, Tarek got more confident, his shots started to hurt Greg more and more, who suddenly made a few errors, giving even more oomph to the Egyptian, who caught up 7/7. And the game was tight, long rallies, tough, fast, lots of running for both, lovely lovely squash, and then we arrive at 8/7 Greg serving.

Thatís when confusion arose, thanks to the Central Ref who didnít seem that comfortable with the Video referral system, to say the least. I had during the week already noticed he wasnít sometimes on the ball as much as we would expect a ref at that level to be. But you think, everybody has got to learn, so, you give him the credit of the learner.

But on this particular occasion, the poor man was out of his depth to be honest, got the players confused calling one score, then changing his mind twice bless him, not exerting enough authority on the players Ė in my opinion anyway.

It was started with Greg missing a volley cross court, and getting it at the back. Tarek thought he actually touched it on his first attempt, and stopped. Discussions, lively ones. Very lively. A let is given. Greg goes wild. Tarek, who want the point given to him, asks for a video review. And a no let is given.

The central ref bless him first read it giving the point to Greg, only to change his decision after Tarek argued his case, point to Tarek. Only to be explained the situation again, and changing his mind, again.

By that time, Tarek has lost his focus, is not happy, and quite understandably. Greg takes the game, finally, but what a mess, boys and girlsÖ.

All credit to both players, they just kept their heads down, and worked hard at their game, playing yet again superb squash until the last shot. Well done to Tarek for his remarkable progression since he is full time professional, and to Greg to have contained the talent of this young manÖ.

I think that if one could measure the speed of Tarek on the court, they would find out he is actually fast than I am!! He is so talented, good hands, feathery shots. When he gets the ball to the front, itís so difficult to retrieve them, and any chance you leave me, he kills the ballÖ. He has done a fantastic tournament, he is young, and Iím sure heíll be threatening all the top seeds on a regular basis, me included!

I like the video reviewing, when you get a good ref up there. You know, when you are on court, you are so focused on your own game, sometimes, you donít see clearly whatís going on, so when I see the video, and I realise Iím wrong, I apologise to the ref. But when I see Iím right, I think the ref should apologise to me!

Now, for the ball Tarek thinks Iíve touched, honestly, I didnít feel anything, and even when I looked at the video, I didnít see the trajectory of the ball change whatsoever, or the racquet touch the ball. If I had, I would have given the point up.

It was really not easy tonight, I really had to dig in and dig in, 3/0, but 60m! He goes and picks all the balls, I was working extremely hard to push and tire him, but he didnít! At no time I saw him getting tired, or starting to make unforced errors. He virtually didnít do any at the front, and I really had to push to my maximum to win that one.

I was happy to take the first, because even if the score doesnít show it, it was a pretty tough one. But I was never comfortable on there, even if I had a few points cushion, he was constantly trying to come back, he never ever let go, and was constantly a threat.





I donít think I played that bad today, I thought I even played well, it was almost a repeat of my performance last night, but Greg was too sharp, too focus for me tonight. I must say that he surprised me, there were shots I thought I won, but out of nowhere, he was able to retrieve themÖ

In the second, I really got completely confused with the ref decisions and announcements, it was really a close game, and if I had taken that one, I think that the match could have lasted much longer, but all credit to him, he played really well there.

I may have given him a few openings that he took advantage of, but overall, Iím happy with my performance.


Stewart Boswell (Aus) bt Cameron Pilley (Aus)
11/8, 11/5, 4/11, 11/4 (68m)

SUPERB PERFORMANCE FROM BOSWELL

That is without contest the best match that I ever saw Stewart play. From the start, he took his opponent to the throat, forcing him into a false security, nice pace, but in fact, preventing him from any attack, containing his power, and annihilating his talent.

Of course, in the third, Bozza had a little let down energy wise. Are you surprised?? After beating his mate Palmer last night in 80m for the first time in exactly 10 years, you are allowed to feel a bit tired at some point, both mentally and physically.

But all credit to him, Stewart took the control of the 4th from the start. There was again a bit of a strange Video Ref moment when Bozza got a let, asked for the Video review, expecting a stroke, and got a no let!!!

A blond moment.. Anyway, after a funny line from Bozza, ďIíll have the let thenĒ, we all went back to Boswell controlling the game, with Cameron getting more and more frustrated, while his opponent was controlling the ball better and better, finding in the last part of the match some of the best volley drop shots I ever saw him play.

I was a bit worried that I would be a bit flat tonight, after having such a long match against David, so I really was focusing up from the start. Tonight, I think I played as well as I could, I controlled the ball really well, which is the key to Cameronís game.

In the 3rd, he varied his pace more, and that put me under a lot of pressure, added to the fact I was a bit tiredÖ. In the 4th, that awful video reviewing call actually helped me, giving me a little break after his quick win of the thirdÖ

Overall, Iím really happy with the way I contained him, because if you try and have a shoot out of a game like Cameron likes, youíll lose, he is too good at it. So I had to try and impose my boring, methodical gameÖ




The Khalifa Complex