TODAY at the Qatar Classic
2011:
Fri 21st, FINALS DAY Fram & Steve in Doha
XI Qatar Classic, FINALS: finals preview

[1] Nicol David (Mas) bt [4] Madeline Perry (Irl)
11/2, 11/7, 11/3 (33m)

[6] Gregory Gaultier (Fra) bt [4] James Willstrop (Eng)
11/8, 11/7, 2/11, 11/8 (70m)


Five for "too fast" Nicol,
Greg comes good ...

Nicol David claimed her fifth Qatar Classic title with an impressive straight-games win over Madeline Perry, who summed up the performance of her Malaysian opponent as "too fast, too accurate, too good.

For Gregory Gaultier it was a first Doha title as he took a two-game lead over English rival James Willstrop, who stormed back to take the third but lost out in a tense finish to the fourth and final game. Gaultier thus collected his first major title for over two years, and boy was the Frenchman happy ...

[1] Nicol David (Mas) bt [4] Madeline Perry (Irl)
11/2, 11/7, 11/3 (33m)

Nicol too good

"Too fast," was Madeline Perry's instant verdict after Nicol David collected her fifth Qatar Classic title with a supreme performance in the final against the Northern Irish fourth seed playing in her first Doha final.

Nicol has been here before, and she was instantly at home, shrugging off an error on the first point of the match to take the next seven with a combination of drops, volley drops and boasts that were either winners or forced errors from Perry.

Madeline got one more point in the first, but Nicol continued in the same vein to take the opener 11/2 in 7 minutes, and at 5/2 in the second a very quick final looked on the cards with Madeline struggling to get a foothold in the match.

Gradually she managed to stay in the rallies, found a few openings appearing and pegged back that lead.

5/4, 6/5, then she levelled at 7-all as Nicol hit a rare tin, but the Malaysian followed that with four winners in quick succession, a dropshot, a loose shot driven away, a perfect dying length and a short drive glued to the wall for 11/7 after 17 minutes.

Two-nil down against a Nicol who's playing well isn't a nice place to be, and the match continued in the same vein, Nicol forcing the pace, Madeline doing her best to keep with it.

But the scoreboard kept rolling the Malaysian's way, 3/0, 7/2, and it only took one match ball, which was possibly the longest rally of the match, before a final dropshot left Madeline stranded and Nicol looking at the prospect of picking up the trophy for the fifth time.

Nicol may have been a little defensive at the start of the week, but by the end she was running, no purring, on all cylinders, and everyone had better watch out in Rotterdam next week ...

"That first game? Well, I had a hit with Greg this morning!!!!!

It was far from easy, but today, I just had that feeling you get at the end of the tournament, on the last day, where you just want to get on there, and give it all.

Madeline always played 100%, but she had a few matches that were more difficult than mine, it was an easy path to the final for me… I was lucky as she didn't play as many shots as she normally does.

This was the best I felt and the best I played all tournament, I felt good on there, and comfortable from the start.

My length today was really good, I was able to contain her and prevent her from playing her shots, she is so dangerous on the volley. It's one of those days where everything just comes together, and work your way….

It is one of those events where you just love to come back to, a combination of the people, the organisation, the court, the fact I got to 5 finals, and that I won them all, and also, I have so many people that come and support me, that makes a big difference.



"Too fast!

She took the ball so early and went short right from the start, volley dropping from the first rally.

That's not what she usually does and it took me a bit by surprise, I was expecting to be able to work my way into the match for a few rallies.

"When she's playing well she gets on a roll and it's really tough to keep with her. If I'd managed to sneak the second maybe I could have held it, but once she was two-nil up I was struggling.

"Too fast, too accurate, too good."


| | |
| --- | --- |
| | |
[6] Gregory Gaultier (Fra) bt [4] James Willstrop (Eng)
11/8, 11/7, 2/11, 11/8 (70m)

BACKHAND, PACE AND INTENSITY

Apart from the kitchen sink, those two threw at each other anything they could put their racquet on, and they seem to particularly enjoy battling on that left wall. Straight drives, drop shots, volley drop shots and counter drop as much as you can eat really…

Talking with James, it seems that were it all happened, that it was in that department that the Frenchman was able to frustrate him and contain him, while setting up lethal attacks to the front.

What really stood up for me in that match was the difference of intensity between the two players. Greg came out firing from the word go, hitting very hard to pin James at the back with a frightening accuracy, while James' strike had a softer touch. I'm not sure that was the right tactic, until the third game really!

Greg had work extremely hard in the first two games to prevent James from approaching the front, leading 6/3, only to be caught up at 7/7, the Englishman finding some exquisite winner at the front. But Greg took the control of the T again, scoring 3 points in the row, then closing it down 11/8.

Full of confidence with that first game, Greg zoomed at 6/3, 7/3, with a James that looked a bit lost on there, missing the ball a few times, although they were battling like lions on there, their two styles offering a staggering show for the lively audience.
And honest as ever, at 10/7 second game ball for Greg, the Englishman gave up the point as he hit a double bounce. At such a crucial time, may it be a lesson to you all young players…

But all that pace that Greg had to inject, all that hard work to annihilate James' talent, well, the Frenchman was going to have to pay for it at some point, and for a game and half, James, having gone to plan B, took complete control moved extremely fluidly, was attacking at will, rallies were short and lethal.

At 5/1, then 6/2 in the 4th, I thought we were going to have a decider but Greg seemed to get his second wind, gave it a big push, up the pace went again. A few hard fought rallies, the tension rose a bit and at 7/5, Greg's racquet got stuck under James' arm. James, quietly, took Greg racquet's and instead of handing it to him, dropped if deliberately on the floor. With a smile.

The crowd, in majority French for some strange reason, boohoos James. That was soooo out of character! But as ever, only the players know what's going on the court…

As you may imagine, the crowd was now extremely involved, especially as they both were producing some stunning and at times ridiculous squash. 7/7. 8/7 Greg. Crucial times and 7 lets ending with a tin from the Frenchman. 8/8. James was not to score another point…

Greg tonight wanted victory badly. Happy doesn't start to describe how he felt when he closed the match. He was like a kid that is winning his first major tournament, so ecstatic, virtually flying…

He absolutely hates being world number 6. He wants his number 1 spot back. And he is now ready to not only get it back, but to hold it. You have been warned…



We've been playing each other since we are that high, since we were juniors, we had some memorable battles. It's actually nice to see each other back to the final. He is just a gentleman on court, such a fair player, I have tremendous respect for him.

I remember when we play the British Open Junior final, we had an unbelievable match for the U19 title, and I won 12/10 in the fifth. Right after the match, he came to me and took me back to the court, that's the memory I keep from that final. We both dreamed about our career, and although on the way, we had a bit of a falling out, but now, I feel the same way about him than I did then, a immense respect and admiration for him.

I saw that I had a chance to win, and I just took it. In the third, he changed his tactic, and tried and slow me down. We had a bit of a rough contact at the start of that game as well, and I got a bit of a hit on the chest that cut my breathing. And he played very well, got a good lead, so I just let that one go to get back stronger in the 4th.

In that 4th, I stepped up on the T, re-injected some pace, because he was really slowing me down, but I pushed, pushed, until he broke down, but I tell you, I'm happy that my shots got in at the end.

Doha is my second him now!!!!! Joke apart, I've been coming here since the age of 16 or 17, and I've seen all the great players win this title, so for me, it's like a dream come true, especially as I didn't win a major event for two years now. I was world number one then, then I went through some bad times, lost my ranking, then injuries, then depression.

But I've come out of it, came back and I'm sure it shows it on court, I'm so happy to be on there, and this week, well, it's gone so fast, I didn't see the days go by because I had such a great time. And I want to thanks all the people that came to support us, Qataris, Egyptians, French!!!! Thanks very much to you all and of course to all the sponsors that make this event possible year after year, and to QSF of course.

See you next year!!!!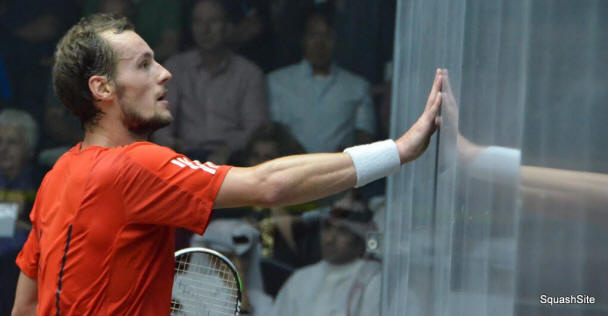 The first two games, Greg played down the backhand side was much better than me, which is a bit frustrating as it's normally considered as my strength. He played some super squash, his attacks were better than mine, his accuracy and length was just superior to mine.

In the third, I put it together better, I used my brain plus the help of Chris [Roberston, ES National Coach], as I knew something had to change. I had to find a way to stop damaging me on that backhand side, as he was in a comfortable position to hurt me with his shots. Maybe I made a few too many errors there, but it was probably something to do with the way he was playing!

I was not frustrated on there, yes, he was frustrating me squash wise, but no, when I dropped his racquet, I was not frustrated, he doesn't get to me. But I find a bit surprised what he said at the end, considering his comments and behaviour on court....

There are reasons why he keeps on winning matches like that, my length and width was just not good enough to preventing him from attacking, which means that, at the end of the day, he played better. He's been going on all week about how good he felt, how good he played, and he proved it tonight.


Player

ND

MP

Country

Mas

Irl

Age

28

34

Seeding

1

4

World Rank

1

4

Yrs

in Doha

9

7

Won/Lost

33/4

12/6

Finals

5

1

Titles

4

0

2011 Record

Games W/L

12/1

12/0

Points W/L

136/75

177/80

Mins on Court

129

145

Head to Head

WISPA

14

1

All Matches

16

1

Player

JW

GG

Country

Eng

Fra

Age

28

28

Seeding

4

6

World Rank

4

6

Yrs

in Doha

7

8

Won/Lost

20/6

18/7

Finals

2

2

Titles

1

0

2011 Record

Games W/L

12/2

12/0

Points W/L

143/85

132/62

Mins on Court

189

181

Head to Head

PSA

6

5

All Matches

7

12

David the Favourite

After a tournament where it seemed the upsets would never end, we're down to the final four in Doha, with three former Qatar Classic finalists still in contention for the titles in the XIth edition of one of the world's premier squash events.

Nicol David has been here many times before - the defending champion from Malaysia, after beating Rachael Grinham yesterday in a repeat of the 2010 climax, will be appearing in her fifth Qatar Classic final and she hasn't lost one yet.

For Madeline Perry this is the furthest she's ever been, winning an hour long three-setter last night against world junior champion Nour El Tayeb.

As with all David's opponents - she is five--time world champion and has been world number one for almost six years after all - the stats look to be heavily weighted in her favour at 16-1, but Perry's sole victory in the British Open semi-finals of 2009 will be in both their minds.

So yes, David is the favourite, but we know what's been happening to those this week ...

Too close to call ?

The men's final features two players who have been battling it out since their junior days.

Gregory Gaultier won all their junior matches - although it was James Willstrop who became world junior champion in 2002, after Gaultier had lost to Karim Darwish in the 2000 final.

The Frenchman gained a measure of revenge yesterday when he beat Darwish, the defending champion, in the semi-finals.

For his part, Willstrop got his first win over Gaultier in the Super Series Finals of 2007, and since then the wins have been evenly shared.

Both are appearing in their second Qatar Classic final - Willstrop won in 2005, Gaultier lost out to Amr Shabana in 2007.