TODAY at the Qatar Classic
2011:
Tue 18th, Day Five Fram & Steve in Doha
Round Two, the Last Sixteens

It was a day of upsets in Doha with the men's #1 and women's #2 seeds only the headline casualties ...

Men's Round Two:

Tarek Momen (Egy) bt [1] Nick Matthew (Eng)
11/9, 12/10, 11/8 (44m)
Stewart Boswell (Aus) bt [8] David Palmer (Aus)
11/8, 4/11, 11/6, 5/11, 11/5 (80m)
Cameron Pilley (Aus) bt Tom Richards (Eng)
11/7, 11/2, 13/11 (54m)
[6] Gregory Gaultier (Fra) bt [Q] Siddarth Suchde (Ind)
11/3, 11/3, 11/8 (44m)
[7] Peter Barker (Eng) bt Thierry Lincou (Fra)
11/6, 11/3, 11/9 (57m)
Nicolas Mueller (Sui) bt Azlan Iskandar (Mas)
11/8, 7/11, 8/11, 11/7, 11/6 (59m)
[3] Karim Darwish (Egy) bt [Q] Henrik Mustonen (Fin)
11/4, 11/5, 11/5 (28m)
[4] James Willstrop (Eng) bt Simon Rosner (Ger)
11/5, 11/2, 14/12 (47m)

Women's Round Two

[1] Nicol David (Mas) bt Kanzy El Dafrawy (Egy)
11/6, 11/7, 11/1 (25m)
[9] Raneem El Weleily (Egy) bt [7] Camille Serme (Fra)
11/7, 11/5, 11/5 (26m)
[3] Rachael Grinham (Aus) bt Aisling Blake (Irl)
7/11, 11/5, 11/7, 11/5 (49m)
Emma Beddoes (Eng) bt [15] Joey Chan (Hkg)
8/11, 11/6, 11/7, 6/11, 13/11 (54m)
[12] Low Wee Wern (Mas) bt [5] Laura Massaro (Eng)
11/6, 3/11, 12/10, 11/9 (57m)
[4] Madeline Perry (Irl) bt [Q] Farah Abdel Meguid (Egy)
11/5, 11/5, 11/3 (21m)
Nour El Sherbini (Egy) bt [10] Donna Urquhart (Aus)
11/8, 11/7, 11/5 (29m)
[13] Nour El Tayeb (Egy) bt [2] Jenny Duncalf (Eng)
11/8, 5/11, 11/9, 12/10 (59m)


En Bref #2
Aspire & Qatar Sport
Men's Round Two Roundup

The first match of the day saw a first win over Thierry Lincou in five attempts for Peter Barker. The Englishman looked to be heading for a comfortable win as he pulled clear from 6-all in the first and took the second 11/3, but Lincou dug in, as he does, and made the third really tough.

At 9-all Lincou was annoyed to lose the point as Barker hit the ball from the back into the Frenchman's leg, and having used his video appeal fruitlessly on that one, had none left when Barker put in a tight forehand volley to win the match.

"Too many errors, unforgiveable," was Lincou's verdict, while Barker it was a case of "I did play well the important points but still, I feel that I was a bit fortunate, but I'll take it."

It was a second scalp in a row for Nicolas Mueller as the Swiss followed up his round one defeat of Amr Shabana with a five-game win over Azlan Iskandar. They took it in turns to dominate the first four games, but from midway through the decider it was Mueller who took control, finishing with a dropshot that left the Malaysian on his knees.

"In the US Open a few days ago, he beat me easily 3/0, so when I took the first game, it boosted my confidence," said Mueller.

Karim Darwish beat Finland's Henrik Mustonen in double quick time in last year's first round on the way to taking the title, and although the young Finn lasted longer this time around, particularly in the third game which he contested strongly up to 5-all, the Egyptian third seed still won 11/4, 11/5, 11/5 in just under half an hour.

James Willstrop looked to be heading for a similarly quick win as he opened up a two-game lead over Simon Rosner, but the German fought back well in the third, took it to extra points but eventually fell 11/5, 11/2, 14/12.

Willstrop moves on to another all-English meeting with Barker while Darwish meets Mueller.

The evening session started with a mammoth upset as Egypt's Tarek Momen recorded the best win of his budding career to beat top seed Nick Matthew in straight games - and in the process ending a run of ten consecutive PSA finals for the English world champion.

Momen's movement, short game and retrieving were getting the better of the world champion in each game, and although Matthew led the first 9/6 it was Momen who was doing the frontrunning after that, finally clinching the win on his third match ball 11/9, 12/10, 11/8.

After admitting he was "speechless", Momen said "Today, everything was going my way, and I thought "you've got to take the opportunity, it may never happen again."

Nothing quite as dramatic, but the next match saw another seeding upset as Stewart Boswell came out on top - for only the second time in 15 meetings - in a seesaw encounter with fellow Aussie David Palmer, Boswell taking the first, third and fifth game to put the 8th seed, playing in his last Qatar Classic, out in 80 minutes of intense play.

"Well, I was not too happy about the stats, 13/1 David was over me for over a decade, so I'm happy to squeeze this one tonight," admitted Boswell.

Another Aussie made it through to the quarter-finals as Cameron Pilley beat England's Tom Richards in straight games. Pilley was always in the first two, but a strong fightback from Richards saw Pilley needing to save two game balls before clinching a meeting with Boswell which guarantees an Australian semi-finalist.

Last man into the semis was Frenchman Gregory Gaultier who beat Indian qualifier Siddarth Suchde in straight games to set up a meeting with Momen at noon tomorrow.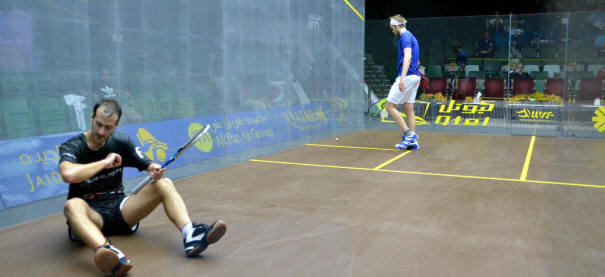 Women's Round Two Roundup

Another early start for defending champion and top seed Nicol David, who wasted little time in seeing off Kanzy El Dafrawy in three games.

The 17-year-old Egyptian competed well enough in the first two games, but was always behind on the scoreboard.

There was no diving today, but at 10-0 down in the third she let out a loud "YES" as a mishit boast saved her from a whitewash.

"I really enjoyed it," said Kanzy, "I've been wanting to play Nicol since the day I was born! She gave me no chance, but I'm happy with my tournament."

Raneem El Weleily will be the next young Egyptian to test Nicol, and judging by the form she showed in this re-run of her world junior final against Camille Serme, the Malaysian will be well tested.

El Weleily always looked in control, Serme unable to make much headway on the scoreboard as the Egyptian put her under constant pressure to reach the ball which contributed to more errors than is normal for the Frenchwoman.

"This is the third time I played Camille this year and we were one-all," said Weleily, "so I knew it wasn't going to be easy. Yesterday I played well for two games then it didn't go the way I wanted, so even at 2-0 up I told myself it wasn't over, to stay on court, stay on court.

"I have a problem mentally to keep on doing what I'm doing when I'm winning, once I start thinking I think too much and that's not what I want to do! But I'm enjoying playing the mature game, being more patient and not going for the winners and the shots so soon.

"I lost 3/0 to Nicol in Singapore, and I'm not sure I've ever taken a game off her. I'm happy to win today, I know I'll have to play well tomorrow.

A disappointed Serme explained: "I wanted to do well in this tournament and I went in with a game plan, but from the start I just couldn't breathe properly and my body just wouldn't let me do what I knew I needed to do. It's disappointing, but I'll just have to put this tournament behind me and hop to do better in the worlds."

Third seeded Australian Rachael Grinham didn't make a good start against Aisling Blake. The Irishwoman who ousted Sarah Kippax yesterday raced into a 5/0 lead in the first, and although Grinham pulled back it was too late to salvage the game.

She didn't make the same mistake in the next three though, pulling clear from the midpoint of each to advance to the quarter-finals 7/11, 11/5, 11/7, 11/5.

"Aisling is tough to play, she's improved a lost and I saw he play really well yesterday," said Grinham.

"After that start I resigned myself to losing the first, but needed to get into the match as soon as I could rather than waiting for the second.

"I told myself that if you took away the start I could have won the first. The other games were hard, but once I'd toughed it out in the beginning my short game was working well at the end of them."

The first session ended with a really enjoyable match, and an upset to boot, between Emma Beddoes and Joey Chan.

They went at it hammer and tong for 50-odd minutes, sharing the first four games with hardly an intervention from the referees. The fifth was point for point, and although Chan got to match ball first it was only fair that it went to extra points, the match and both players deserved that.

The Hong Kong left-hander got one more chance at 11/10 but Beddoes hit a winning return of serve and then after some frantic retrieveng by Joey Emma finally put a crosscourt too wide for 13/11 and let out a big "YES".

"I'm so delighted," said a jubilant winner. "Matches like that go either way and today it was me so I'm happy to take it this time, it doesn't happen too often!

"We were ranked about the same so we knew it would be close, but it was a really good, fair game - she called her own ball out at 8-all in the first and there were maybe two decisions in the whole match.

"I'm ecstatic, it's the furthest I've got in a big tournament, especially to win after saving two match balls like I did yesterday, and taking on Rachael on the glass court tomorrow should be an experience.

"Thanks to Eddie [Charlton] for all his help, I hope he'll be watching tomorrow."

Upsets abound in evening session

"That's definitely my best win," said a delighted Low Wee Wern after she had beaten England's in-form Laura Massaro in four tough games to start the evening session.

"Especially since she just won the US Open and I didn't even make te main draw," added the diminutive Malaysian.

After losing the first from 6/2 up, Massaro looked to have steadied the ship as she took the second comfortably, but Low won the big points at the end of two tough, long games, saving a game ball in the third and coming from 9/7 down in the fourth to win 11/6, 3/11, 12/10, 11/9.

"I had a bit of a shoulder injury in the US, so I went back home for two days before going to China, where I played well to win the tournament, so I felt good coming into this tournament and there was no pressure on me playing Laura, although I lost in five last time we played so I knew I had a chance.

"I knew I had to be patient and keep it steady as she gives nothing away, and thankfully it worked today."

Third seed Madeline Perry stemmed the flow of upsets - temporarily - with a comfortable 11/5, 11/5, 11/3 victory over qualifier Farah Abdel Meguid in 22 minutes.

"I was pleased with that," said the Irishwoman, "I'd only seen her play a handful of points before, but I knew that if she beat Jaclyn [Hawkes] she must be a good player, so I had to be on my toes from the start."

The Egyptian charge was soon back on course though, as Nour El Sherbini put another seed out to pasture, beating Donna Urquhart 11/8, 11/7, 11/5 in just under half an hour.

"That's frustrating," said Urquhart. "I just never managed to get into it and I'm not at all tired. I'd never seen her play before, but she's fast and strong and puts the ball away from anywhere - and she just played better than me today."

Sherbini was naturally pleased with her win. "I think I played well today," said the 16-year-old former world junior number two. "I knew I had to concentrate from the start, and I wasn't thinking about the size of the tournament or her being left-handed, I just tied to play my game the best I could and I think I did that.

"I hope I play as well on the glass court tomorrow, either against Jenny or my roommate Nour El Tayeb!"

It will be her roommate who Sherbini meets in the quarter-finals after a night of upsets was completed with the world junior champion beating the world number two - and to put it into context, that wasn't even the biggest upset of the day!

Nour El Tayeb played well in the first game to win it 11/8, Jenny Duncalf bounced back to level with 11/5, and then in a similar vein to previous matches it was the underdog who prevailed at the end of tough and tense games.

"I knew I had to win the third and the fourth," said El Tayeb, "if I'd lost either of those my fitness wouldn't have carried me through the fifth."

She did win them both, just, taking two tense rallies at the end of the third for 11/9 and almost letting a 7/2 in the fourth slip, diving in vain on her first two match balls as Duncalf levelled it 10-all.

A third match ball was enough though, and after 59 minutes another top seed was out.

"That's the longest four games I've ever played," she added. "I knew I was playing the world number two so there was no pressure on me, I just wanted to play well and prove to myself I was up there.

"I need to be mentally stronger, I let a couple of leads slip and I just lost it completely in the second, but it was tough all the way, she doesn't give anything away, she's the world number two after all!

"It's good to be back in the quarters after my good results here last year, I'm happy I played well and hope I can carry on like this. It should be a good match with Nour [El Sherbini], we always seem to end up playing each other these days!"

WISPA action moves to the glass court tomorrow, David v El Weleily and Grinham v Beddoes from 12.00, Perry v Low and Tayeb v Sherbini from 17.30 ... don't miss it!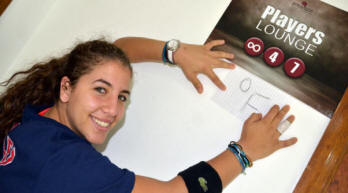 Not quite THAT cold Kanzy, but it's chilly in the Squash Centre ... not that the Nours feel it !


Too many errors, unforgivable.

Globally, I was feeling good, I was moving well, I was more relaxed than yesterday, mentally more confident too. But I just wouldn't finish a point.

Instead of wining the point, or even putting him under pressure, I was giving the point away, hence running constantly after the score, and putting myself under tremendous pressure. In short, I made him move well, but no finish skills today…

What's more worrying for me, is that I only woke up in the 3rd, like in the BGP, I play Mosaad at 12, and the first game – already, I'm not fast off the blocks – but didn't see a thing the whole game. Today about the same story, I just couldn't push myself mentally. Maybe it's getting harder for me to string the matches mentally, to bounce from one to the next!

Plus, the man is freaking as strong as a wall isn't he! He's got such a solid game…..



[7] Peter Barker (Eng) bt Thierry Lincou (Fra)
11/6, 11/3, 11/9 (57m)

PETER, AT LAST

You could see that Peter Barker – who got beaten more than he would have like by Thierry – was o so wary of the Old Man when they started! He was not going for shots, not pushing too hard, holding his arm a bit. I could see in the eyes, the movement of the Englishman that he was not letting go… 5/2 for the Frenchman.

But slowly, Peter starting developing his game, and imposing it to Thierry who started making far too many errors (around 4 per game), not only costing him points, but confidence too, and forcing him to change his tactic slightly. From 6/6, Peter scored 5 points to take that opening game.

Thierry was not mentally in the second game, and Peter, with his strong game at the back doubled with great counter attacking just killed the Frenchman, 11/3.

But in the third bless him, the Frenchman found again a bit of ommfff, although he still made so many errors that frustrated him enormously. But now, Thierry was stitching his opponent on his backhand, time and time again, and finishing the point with a backhand volley drop shot – well, when he was not tinning it, that is!

The game became tighter and tighter, the spirits got hotter and hotter, between the Old Man who knew he could still come back, having done it so many times, and the Young Wolf who was PERFECTLY aware that the Old Man could still do it!

3/3. 4/4. 5/5. 6/6. A few testosterone moments, with both players getting in the other's way, a bit of chatting and explaining, clock being put back on the right time, as we say in French, and the game went on. 7/7. 9/9.

Peter then drills the leg of the Frenchman, who didn't appreciate the joke at all, asked for a video review, still a stroke. "Come on Thierry, I'm sorry, but you've done that shot so many times before…" 10/9. Match ball. A volley drop shot, that gets a no let, 11/9. Thierry really not happy with Peter's movement on that last shot, and making his view quite clear before exiting "Those two last shots, I'm not impressed, Peter".

Nothing bad, really, between the two. Just adrenalin pumping at 500%, and the disappointment of a Champion that still hates losing as humanly possible. And thank GOD for that.

Of course I did win once against Thierry, it was in the Europeans, but just before going on the court, I saw the record on the screen, and thought, well, that's no good, is it! Sh…

I didn't play badly yesterday, but I knew I had to step up today, and I'm very happy with my two games, I think I contained him quite well, prevented him to get in front of me.

In the 3rd, it was a different story, he used his experience and physicality to step in front, and to be honest, I feel that I was lucky to win the third.

I did play well the important points but still, I feel that I was a bit fortunate, but I take it.

You know, Thierry is a absolute Living Legend, and beating him while he is in the top 100 is such an honour, and especially 3/0. I'm very happy.


Nicolas Mueller (Sui) bt Azlan Iskandar (Mas)
11/8, 7/11, 8/11, 11/7, 11/6 (59m)

FAST, VERY FAST….

A splendid performance yet again from the Swiss, who seems to do something to the players he gets on court, as in, they just seem to switch off! Must be something in the water….

More seriously, it looked very good for Azlan after he got back in the match, really comfortable with his movement and tactic in the second and third games, but then, Nicki seemed to give it a big push, forced a decider, and, playing at a "Ramy pace", as in, bleeping hard, forced many errors out of the Malaysian's racquet in that game…

"In the US Open a few days ago, he beat me easily 3/0, so when I took the first game, it boosted my confidence..

In the first game, he made 7 tins, that helped me immensely. Then in the 2nd, he dictated the rallies the whole game, and he stepped up the pace as well. And it was more or less the same story in the 3rd.

But in the 4th, I looked at him, and saw that he looked a bit tired, and I had my second wind by then, I felt as fresh as in the first game. And I think that my first round game helped me a lot confidence wise, as you can train as much as you want, it's a question of bringing your game up on the said day…

For the first time in my life, I'm been working on the mental side of the game with a mental coach, Michael Mueller (no relation, though), and now, I fully enjoy my squash, which was not sometimes the case before.

Also, when I used to be ahead score wise, I would sometimes look the other side, and by the time I woke up, it was 11/7! Now, my coach gave me some mental tips to keep focused, like keeping in mind the job to do, concentrating on my game plan…



My hat to him, he played very well today, I was 1/0 down, I came back, then let go mentally a little bit, and all credit to him, he came back, strung a few quick winners together…

There are days where you can focus 100%, and days where it's more difficult, today, I was struggling. But he had a good week, good luck to him for the rest of the tournament.


[3] Karim Darwish (Egy) bt [Q] Henrik Mustonen (Fin)
11/4, 11/5, 11/5 (28m)

HENRIK, BETTER THAN LAST YEAR

Here on that same court, Henrik came also from the qualifications, and drew Karim on his first round.

The poor boy didn't see much on there, Karim basically wiped the floor with him, and he barely stayed 20m on there.

Today, ok, 50% more time on court, a much more positive game, attacking, counter dropping, running a lot. Not enough to worry Karim in any way, shape or form, but enough to make him run and stay alert on every point.


The Finn will be happy with his progression I'm sure.

Well, yes, a better performance this year, it's actually easier to play better when you can actually spot the ball!!!!

There were a few situations where I should have been either more patient, or played a better shot.

"I feel that I had a few opportunities, but that my shots were not good enough, whereas he took advantage of my bad shot selection…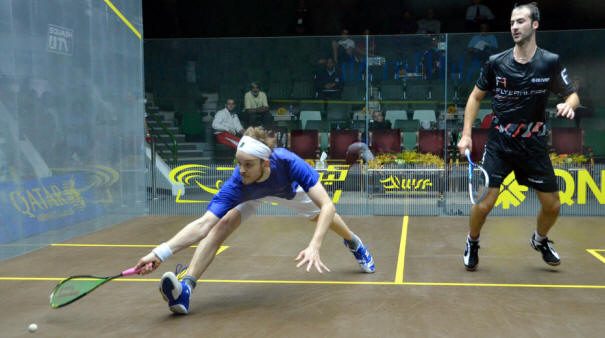 [4] James Willstrop (Eng) bt Simon Rosner (Ger)
11/5, 11/2, 14/12 (47m)

JAMES, BACK TO 2005

I must say I was lucky enough to be in Doha when James won the tournament, after beating David in a match where all his shots went in like a knife in warm butter.

Well, that was the James Simon had to face today, and I'm not sure that Simon did much wrong there.

The first two, well, James was imperial, and I'm not sure many players could have done much better than Simon did. Height of his defence lobs was perfect, his counter drops were in the nicks, his drives were perfect length each time, not to mention glued to the wall, and every time an opportunity presented itself, James would strike a nick with it.

In the second, Simon's pride kicked him, and he gave it a big push, at last able to have James under pressure, pushing him to run much more, at last, we had a match.

A few too many errors from the German allowed the Englishman to take a lead though, 8/5, then 9/7. Match ball on a tin, 10/8. A beautiful backhand volley drop shot saves it.

James then chooses this particular moment, 10/9 and 11/10 to take the first errors of the game. Good timing. Then finds himself on his back, as he slipped going for a ball of the back wall. Simon at last gets his first game ball, saved by a feathery volley drop shot.

Then 13/12, 4th match ball for James, with a bit of drama. A No Let that would have given the match to James overturned by the Video Ref to a let, and next rally, again, a No Let to a let but this time, in favour of James! I tell you, this video thing is great! Keeps the drama going…

And to finish a drop shot from James. Pfew…

In the third, I didn't do much wrong, but he stepped up his game.

He found himself 2/0 after 20m, and a player of that calibre, well, you know he is going to back, and all credit to it, he did. But I was ready and expecting it.

The first two games, everything was going my way, it felt good on there, I had some good spells, played very fluently.

When you get it right on there, it's nice, but it's not that easy, such a specific court… The third was a bit more scrappy, but if I can reproduce the feeling I had in the first two, it's kind of encouraging for the rest of the tournament.





From the end of the first, and during the whole of the second, I just couldn't find a length, couldn't step in front of him, and he kept on killing me. So in the end, I let go of the second to try and concentrate on the third.

The third got a bit better, but he was attacking everything, he was so accurate, he was just the better player today…




He made me feel very slow today, he was so quick, and if anything, the score flatters me. Today, was not my day, but he was too good today.

Players have no respect for reputation, you've got to go on there and play the ball, and that's exactly what Tarek did today, and maybe the English young players should take example on him, as they sometimes give too much respect to their opponent.

Well, the loss is less disappointing than if I had lost 12/10 in the 5th, it was just one of those days!

If nothing else, I was playing too well in the first, the few points he was getting were from bad rallies from me, and I became a bit complaisant. Then he clipped my nose with his racquet, and my vision was blurry for a few points, I just couldn't see that well, and lost my concentration. Still, I should have never lost that game.

Then, once he was 1 game up, he took confidence, and I tried to change my game, going longer, shorter, more width, more height, tried 10 different ways, maybe I didn't stick to any of them long enough…

But then again, now I'm getting older, I have to accept the fact that there will be days where hungry young players get the better of me, I've done it when I was young, with David Palmer, Peter Nicol, John White, etc. And when the adrenalin take you to the finishing line… That's what happened today with Tarek.

But don't you worry, I'll be back strong for the Worlds…



Tarek Momen (Egy) bt [1] Nick Matthew (Eng)
11/9, 12/10, 11/8 (44m)

TAREK, THE FASTEST MAN ALIVE…

Well, it felt like it today, I have to say. What that boy ran, the speed he ran at, the court coverage he produced, the retrieving he got, but most of all, most of all, the volleying he imposed on the World number one is just unimaginable.

Nick started so beautifully, leading 6/1 then 8/4, I was starting to write mentally my article, trying to find nice ways to describe nicely how Young Tarek got a squash lesson from Nick.

And then, Nick seemed to struggle with his vision or breathing, not sure which, he kept wiping his face with his shirt. And from being perfectly in control, both mentally, physically, he let the Egyptian score 5 points in a row from 9/6, and lost the game 11/9.

A sort of stupor went through the crowd. It was not what we thought was going to happen. But it got quickly worst for the Englishman in the second. Although I could see he was going back to basics, looking for his length and basic game, leading 5/1, he let Tarek score 8 points in a row! When was the last time anything like that happened??

Ok, now, I can confirm what I was telling you at the start, Tarek played the match of his life, and his volley drop shots, well, I cannot remember somebody playing that well.

It was just amazing. You thought, there will come a time where he starts tinning them, it's such a high percentage game. But no, he didn't. He kept on turning and twisting Nick, who just look lost at see on there.

All credit to the Englishman, he actually came back in the third from 1/5 to 6/9, saving two match balls at 6/10 and 7/10.

But Tarek, after an nth long devastating fast ridiculous squash rally, finally takes the best win against Nick Matthew, who was so gracious in defeat, praising his opponent not only to the audience, but taking the time to speak with us Media.

Thanks for that, Nick.

I have to say… that I'm speechless, I've been so inconsistent for the past three years, I had my upsets, but today is by far my best result.

Today, everything was going my way, and I thought "you've got to take the opportunity, it may never happen again."

Nick is such an amazing player, you just have days where you don't get it right, and I'm sure he'll be back very strong in the next tournament.

As for me, I have no expectations, I'm just going to keep pushing myself, just play my best squash, and hope for the best.


Stewart Boswell (Aus) bt [8] David Palmer (Aus)
11/8, 4/11, 11/6, 5/11, 11/5 (80m)

BOZZA GOOD AT THE FRONT

One of those days where everything goes in nicely on a cold court for Stewart, all his drop shots/volley drop shots being devastating on David's movement.

The former Number 1 World Champion British Open Champion just was not at his best, not moving excessively well, not striking the ball too accurately either. It was still a good match, with nice rallies, and a lot of rounding around, but it looked like the boss tonight on court was Stewart and that David, always on the backfoot, was trying to catch up….

We've been playing for a long time, since the Juniors, the age of 12. Him and Ricketts, we've been supporting each other and playing together for the World Teams, Commonwealth Games, doubles… And as we were Australian travelling far away from home, we helped each other, pushing each other up, and maybe getting in the top 10 quicker than we deserved!

Tonight I was up and down, his length was better than mine, and every time I would get short, he would kill me.

I seem to have lost my touch recently, it used to be my strength to come back when I was down, but not tonight. I did string a few not too bad rallies together, but I just didn't have the control over the ball at all, and it was very frustrating.

It's always tough to call it a day, it's been on my mind for the past year, so yes, this is definitely my last time in Qatar. I can't really say what title was most important for me, I guess the Worlds and the British, as there are the biggest. And when I started my career, I would have settled for one of them, so I'm happy and proud I got a few of them!





Well, I was not too happy about the stats, 13/1, David was over me for over a decade, so I'm happy to squeeze this one tonight.

This is the last match he was playing in Qatar, I'm sure he would have rather won it, but he's had so many trophies already, he's got a career we all dream of…

I have to change my flight now…


Cameron Pilley (Aus) bt Tom Richards (Eng)
11/7, 11/2, 13/11 (54m)

I was fine with the pace, I like playing fast, but I was struggling on the court and for some reason, I just never felt comfortable until the end on the 3rd. I had trouble to see the ball, and just couldn't find a length. I didn't have that much trouble yesterday, although I'm aware that Ramy didn't move much….

Cameron is a unique player, but the court didn't help!



In the 3rd, it's a bit him stepping up, and me well, getting a bit impatient on a few shots.

For the whole match I was able to stay a couple of points ahead.

But at the end there, I was able to squeeze a few errors out of him at crucial times, plus I got lucky at with a backhand crosscourt that found a lucky bounce.


[6] Gregory Gaultier (Fra) bt [Q] Siddarth Suchde (Ind)
11/3, 11/3, 11/8 (44m)

A BIT TOO FAST FOR SID….

The Indian looked a bit lost at sea in the first two games, but reassessed very well in the third, coping much better with the angles and speed that Greg was imposing on there.

A few discussions with the Ref from the Frenchman, that proves he's well in his tournament, and doesn't like to lose even one point although leading 11/3, 11/3, 7/3… But I guess that what makes Champions, they just hate losing…

Sid had a excellent tournament, he's improved quite a lot recently, and the hard work he is producing is starting to pay off. Well done to him, and good luck for the rest of the season…


It was the first time I played Greg, and people do warn you that it's going sooo fast, and so very accurate, but it's only at the end of the first game it does hit you like a tornado how fast it's going. And it's not something you can actually reproduce in training or anything.

After it hits you, you start figuring things out, but although the score is 8 in the third, I never felt that I could win this, I was always playing catch up…