Fri 11-Nov, Day One:
Locals bow out as Qualifying begins

Day One of the Qatar Classic 2016 kicked off at the Khalifa International Tennis and Squash Complex with 16 first round qualifying matches as 32 players set out on the quest to claim a place in the main draw of the third PSA World Series event of the year.


There was no joy for the locals as all four Qatario players lost in straight games, but Kuwait's Abdullah Al Mezayen who was granted a local entry after not playing for almost a year, produced an upset in one of the early matches as he came through a see-saw five game encounter with 12th seed Ben Coleman.

" I hadn't been playing at that pace for a very long time so it was very hard," said Abdullah. "It gives me great confidence for my match tomorrow against Wan [top seed Adnan], and I hope I can raise my game."


The other seeding upset came when India's Vikram Malhotra beat Olli Tuominen in straight games, although the Finnish veteran threatened a comeback as he saved four match balls before subsiding 11/9 in the third game.

"I stuck to my game plan and that was a key," said Malhotra. "Last night I had a long chat with my coach Thierry Lincou, who knows Olli's game pretty well, and who devised for me a game plan that worked to perfection today."

There were three Egyptian and four English winners as most of the seeded players lined themselves up for tomorrow's qualifying finals, which will all be played on the glass court starting at noon.

Quotes, Reports and Photos from Qualifying R1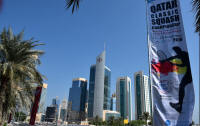 Draw & Results

Reports & Quotes

Photo Galleries