Tue 15-Nov, Day FIVE, Round TWO:
Egyptian trio advance as Marche downs Momen

Dwn to the last sixteen in Doha, as the quarter-finalists were decided at the Khalifa International Tennis and Squash Complex.


It was a good day for Egypt with three winners - top seed Mohamed Elshorbagy started the day with a tough four game win over Leo Au, world champion Karim Abdel Gawad won yet another five-setter against compatriot Zahed Mohamed, and Marwan Elshorbagy got the better of Ryan Cuskelly in three tough games.

The only upset of the day went against the Egyptians though, as young Frenchman Gregoire Marche beat sixth seed Tarek Momen in a fast and furious five games.


Mohamed now meets Simon Rosner, who played "as well as I can play" to beat James Willstrop in three games, Gawad faces Marwan in another all-Egyptian affair, while Marche meets former champion and fourth seed Nick Matthew who "used up a few more lives" in beating qualifier Alan Clyne in four close games.

Daryl Selby is the other Englishman in the last eight, following up his win over second seed with an impressive three-game win over Adrian Waller, and he faces Australia's Cameron Pilley, who was equally impressive in his dismantling of Mexico's Cesar Salazar.

Qatar Classic 2016 - Round TWO:

[1] Mohamed Elshorbagy (Egy) 3-1 Leo Au (Hkg)
12/10, 11/13, 11/8, 11/8 (55m)
[7] Simon Rosner (Ger) 3-0 James Willstrop (Eng)
11/7, 11/7, 11/8 (45m)

Gregoire Marche (Fra) 3-2 [6] Tarek Momen (Egy)
4/11, 11/4, 11/8, 8/11, 11/9 (76m)
[4] Nick Matthew (Eng) 3-1 [Q] Alan Clyne (Sco)
11/5, 11/13, 11/7, 11/9 (54m)

[3] Karim Abdel Gawad (Egy) 3-2 Zahed Mohamed (Egy)
13/11, 9/11, 11/3, 9/11, 11/5 (57m)
[5] Marwan Elshorbagy (Egy) 3-0 Ryan Cuskelly (Aus)
15/13, 13/11, 11/7 (60m)

[8] Cameron Pilley (Aus) 3-0 Cesar Salazar (Mex)
11/2, 11/4, 11/4 (39m)
Daryl Selby (Eng) 3-0 [Q] Adrian Waller (Eng)
11/7, 11/5, 11/9 (48m)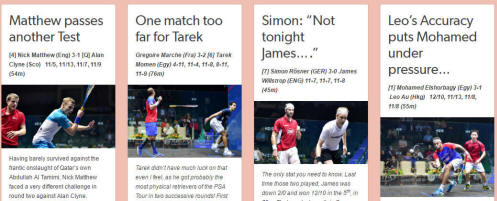 Round Two Match Reports, Quotes, Photos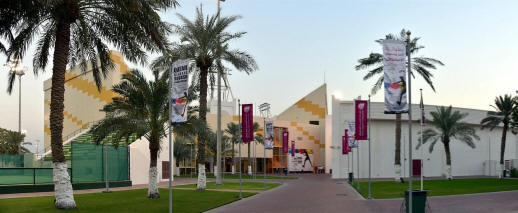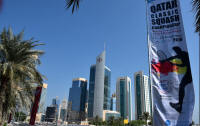 Draw & Results

Reports & Quotes

Photo Galleries