Thu 17-Nov, Day SEVEN, SEMIS:


Elshorbagy and Gawad set up all-Egyptian final

It was Egypt 2 England 0 in the semi-finals in Doha as the world number one and the world champion staged comebacks of different orders to reach the Qatar Classic final.

[1] Mohamed Elshorbagy (Egy) 3-2 [4] Nick Matthew (Eng)
8/11, 9/11, 11/9, 11/4, 11/9 (83m)

[3] Karim Abdel Gawad (Egy) 3-1 Daryl Selby (Eng)
14/16, 11/6, 11/2, 11/5 (50m)



Full Reports, Quotes, Photos
Shorbagy through to fifth Qatar final,
Gawad makes sure it's all-Egyptian


Top seed, defending champion and world #1 Mohamed Elshorbagy mounted an astonishing comeback in the first semi-final to deny Nick Matthew a place in the final while securing his own fifth in a row.

The Englishman seemed to be in calm control in the first half of the match, with Shorbagy unable to impose the pace he likes. Matthew led most of the first, took the second with a run of four points at the end, and led 8-5 and 9-7 in the third.


The Egyptian took four points in a row to take a game back, dominated the fourth then pulled away from 6-all in the decider to lead 9-6 and 10-8. Matthew saved one match ball, but on the next a video decision gave a stroke to Shorbagy and the crowd went wild ...

Karim Abdel Gawad recovered from his customary slow start as surprise semi-finalist Daryl Selby led through most of the first game, eventually taking it 16-14, but the World Champion found his stride and dominated the next three games to reach a third successive major final - but his first in Qatar.


PREVIEW:

It's Egypt v England in both semi-finals at the Khalifa International Tennis and Squash Complex this evening, and while the Egyptians are younger and higher-ranked, you'd write off the two experienced Englishmen at your peril.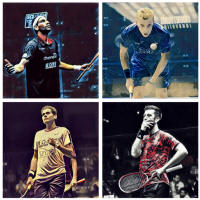 Mohamed Elshorbagy and Nick Matthew have both won the Classic - Matthew in 2009 and Elshorbagy in the last two editions. If you add in the two Worlds held in Qatar, this is Mohamed's fifth Qatar semi-final in a row, and he won the previous four. In the H2H Elshorbagy leads 11-8, and has won six of the last seven.

Karim Abdel Gawad and Daryl Selby are both appearing in their first Qatar semi-finals, and have met just twice in PSA - Gawad won both of those, but Selby has two win in the English Premier League. On current form the World Champion should be a heavy favourite, but the unseeded Englishman is nothing if not difficult to beat.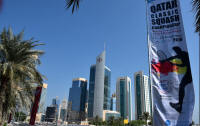 Draw & Results

Reports & Quotes

Photo Galleries