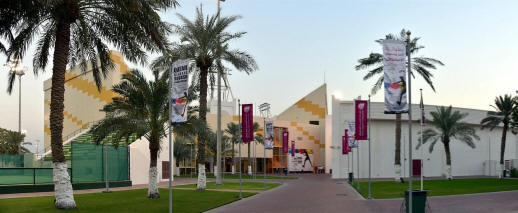 Mon 14-Nov, Day FOUR, Round One (bottom):
Selby masters Mosaad at last
First round action continued today at the Khalifa International Tennis & Squash Complex, with the bottom half of the draw.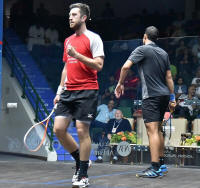 England's Daryl Selby created a big upset as he overcame second seed Omar Mosaad in an up and down five-game encounter to record his first ever win over the big Egyptian.

Selby now meets fellow Englishman Adrian Waller, who repeated his upset win of last year against Swiss Nicolas Mueller.

There was Egyptian success as third and fifth seeds Karim Abdel Gawad - playing his first match as World Champion - and Marwan Elshorbagy made it safely through to the last sixteen.


Gawad faces an all-Egyptian encounter with Zahed Mohamed, who came from 10-4 down in the second on his way to beating Tom Richards, while Marwan meets Australian Ryan Cuskelly, who prevailed ion a brutal 96-minute match with Hong Kong's Max Lee who, like Paul Coll yesterday, cramped up on match ball down and was unable to contest the final rally.

Cameron Pilley made it two Aussies in round two as he beat qualifier Nafiizwan Adnan in straight games to set up a meeting with Mexico's Cesar Salazar, who won in four tough games games against Omar Abdel Meguid.
[3] Karim Abdel Gawad (Egy) 3-1 [Q] Mohamed Reda (Egy)
9/11, 11/6, 11/4, 11/3 (41m)
Zahed Mohamed (Egy) 3-0 Tom Richards (Eng)
11/6, 12/10, 11/4 (26m)

[5] Marwan Elshorbagy (Egy) 3-0 [Q] Yip Tsz Fung (Hkg)
11/7, 11/8, 11/6 (27m)
Ryan Cuskelly (Aus) 3-2 Max Lee (Hkg)
3/11, 11/9, 11/6, 11/13, 11/9 (96m)

[8] Cameron Pilley (Aus) 3-0 [Q] Nafiizwan Adnan (Mas)
11/5, 11/9, 11/5 (52m)
Cesar Salazar (Mex) 3-1 Omar Abdel Meguid (Egy)
11/5, 11/8, 9/11, 15/13 (53m)

[Q] Adrian Waller (Eng) 3-1 Nicolas Mueller (Sui)
6/11, 11/5, 11/8, 12/10 (62m)
Daryl Selby (Eng) 3-2 [2] Omar Mosaad (Egy)
11/9, 5/11, 2/11, 11/9, 11/2 (69m)




Check out all the Round One match reports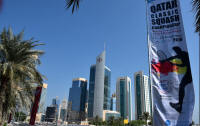 Draw & Results

Reports & Quotes

Photo Galleries