Sat 12-Nov, Day TWO:
Qualifying Finals


Utilising the Glass Court at the Khalifa Internationals complex for the first time, qualifying finals saw seven of the eight seeded players progress to the main draw - two English, two Kiwis, plus players from Malaysia, Hong Kong, Scotland and Egypt.

The upset came as Hong Kong's Yip Tsz Fung beat sixth seed Karim Ali Fathi impressively in straight games, while Declan James and Paul Coll were both made to work very hard to claim their places.

Follow the updates on our social feeds, and check out the reports, quotes and photos (also linked to each result).
Qualifying Finals:

Nafiizwan Adnan (Mas) 3-0 Abdullah Al Mezayen (Kuw)
11/5, 11/8, 11/5 (27m)
Campbell Grayson (Nzl) 3-0 Mazen Gamal (Egy)
11/3, 11/7, 11/5 (38m)

Mohamed Reda (Egy) 3-1 Ivan Yuen (Mas)
11/6, 11/5, 8/11, 11/7 (55m)
Alan Clyne (Sco) 3-2 Farhan Zaman (Pak)
12/10, 11/8, 10/12, 6/11, 11/4 (50m)

Adrian Waller (Eng) 3-0 Charles Sharpes (Eng)
11/7, 11/5, 11/6 (32m)
Declan James (Eng) 3-2 Vikram Malhotra (Ind)
8/11, 11/4, 11/8, 10/12, 11/9 (64m)

Yip Tsz Fung (Hkg) 3-0 Karim Ali Fathi (Egy)
12/10, 11/4, 11/5 (29m)
Paul Coll (Nzl) 3-1 Joe Lee (Eng)
12/14, 13/11, 11/7, 11/7 (78m)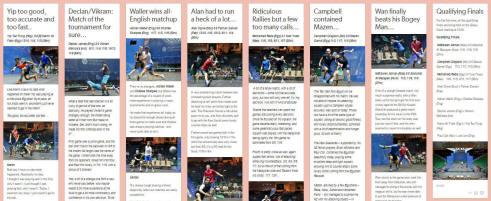 Reports, Quotes and Photos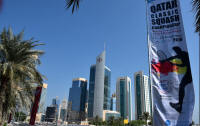 Draw & Results

Reports & Quotes

Photo Galleries