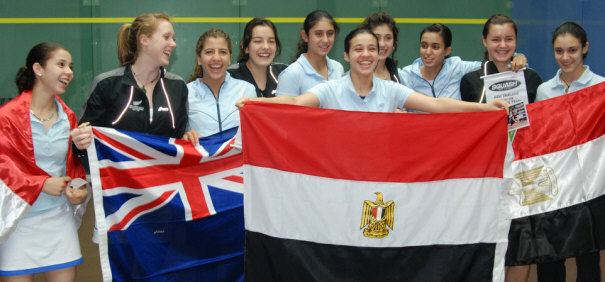 TODAY in Chennai: Wed 5th, Teams Day Three
End of the Pools ...

The eight quarter-finalists were already decided, so today was about jostling for position in the quarter-finals.

In the first session it was the North American challenge with 4th and 5th seeds Canada and USA facing up, while favourites Egypt took on New Zealand.

Then at 16.00 hosts India, seeded two, looked to see off England while Asian rivals Malaysia and Hong Kong met on the showcourt ...

2,1,3

Ct 1

Ct 2

Ct 3

CC

13.00

D: CAN 1-2 USA

D: RSA 3-0 ESP

A: AUS 3-0 SWE

A: EGY 3-0 NZL


16.00

B: FRA 1-2 GER

B: IND 3-0 ENG

C: NED 2-1 DEN

C: MAS 0-3 HKG

Quarter-Final & Playoff draws
Egypt & USA clinch top spots

It was a comfortable final pool game for Egypt as they brushed aside New Zealand 3/0, but USA and Canada found themselves locked into a tight struggle for supremacy in group D.

Samantha Cornett started off like a train for the Canadians, going two games up against Amanda Sobhy. But a gritty fightback from the American gave her team the lead, although it was getting nervous again as she squandered several match balls from 10-3 in the decider, finally taking it 11-8.

Laura Gemmell levelled it for the Canadians, beating Olivia Blatchford in straight games.

The decider was a tense affair, three close games all going the way of USA's Julie Cerrulo, leaving Canada rueing missed opportunities and USA looking forward to a quarter-final against a group runner-up.

In the 3rd/4th matches Australia and South Africa both scored comfortable wins over Sweden and Spain, respectively.

"We thought we had chances in all three matches. Samantha played really well in the first two games, Amanda did well to come back and played better in the next three.

"The decider was on a knife-edge, even though it was 3/0 it could have gone either way.

"I'm very pleased with how Julie performed under the pressure, she was 2-8 down in the second but managed to get herself back and nick it.

"I'm really happy with how the whole team played and supported each other ..."

USA team coach
India ease past England,
Hong Kong upset Malaysia

Some expected it to be a close contest between second seeds India and five-time winners England, but Surbhi Misra and Dipika Pallikal both won convincingly in straight game to give the hosts top spot in group B.

Instead, the upsets came elsewhere, as Hong Kong scored a surprise 3-0 win over third seeds Malaysia, pitting the Malaysians into a quarter-final with top seeds Egypt, while Hong Kong meet New Zealand.

"We were hoping for a win, but knew it would be close, like the first match.

"The players have been playing each other a lot, and it's always very close, this time it was our turn.

"Liu dropped off a bit toward the end of the individuals, but she played really well today to beat Wee Nee 3/0.


Hong Kong manager

The Germans were delighted with a hard-fought win over neighbours France, who have their number two still ill, and their number three suffering from the normal stuff over there. putting them at the bottom of the 9-16 playoff draw.
Favourites aim for second wins ...

It's the second day of pool action, and by the end of the day some teams may be guaranteed their quarter-final places, while others will be battling to salvage the highest position they can.

In the opening session Malaysia, Canada, Hong Kong and USA are all favourites to notch up their second wins, and the same is true of New Zealand, England, Egypt and India in the second session.

If all that comes to pass we'll be in for four table-topping deciders tomorrow, but as the individual event showed, anything can happen ...

| | | | | |
| --- | --- | --- | --- | --- |
| | Ct1 | Ct2 | Ct3 | CC |
| 13.00 | C: MAS 3-0 NED | D: CAN 3-0 RSA | C: HKG 3-0 DEN | D: USA 3-0 ESP |
| 16.00 | A: NZL 3-0 SWE | B: ENG 3-0 GER | A: EGY 3-0 AUS | D: IND 3-0 FRA |
C & D Deciders duly set up ...

The four higher-seeded teams all duly won in today's first set of matches, all 3-0.

Hong Kong brushed Denmark aside while USA carried out a similar job on Spain, both matches taking less than an hour to complete.

South Africa detained Canada longer, with Elani Landman claiming the Springbok's sole game in losing a close four-setter against Danielle Letourneau.

The Netherlands similarly took a sole game off Malaysia, with Milou Van der Heijden losing another game on extra points - she's due some luck soon, is Milou!

So tomorrow's deciders in groups C and D are both 'local derbies', with USA taking on Canada and Malaysia meeting Hong Kong.

A & B too ...

Keeping strictly to the script, New Zealand, England, Egypt and India all duly completed their second successive wins.

None of them dropped a match, but India were pushed hardest, by France - Dipika Pallikal surviving a game ball in the first against Amelie Lamilango, Anaka Alankamony having to come from two games down to Julia Lecoq, and Surbhi Misra dropping the first to Cyrielle Peltier.

New Zealand breezed past Sweden, England were only slightly troubled against Germany, dropping just one game, and somewhat surprisingly Australia kept hot favourites Egypt on court well after all the other matches had finished, taking only one game but making the top seeds work hard for their win.

So tomorrow it's India v England, Egypt v New Zealand - everyone's through to the quarters, but the winners get to play a runner-up in the quarters ....
Teams here we come

After all the excitement of seeing a repeat boys' champion and the youngest ever girls' champion crowned, it's straight down to action in the team championship.

The boys are all flying home, leaving it to the girls to battle it out for the world team title.

Three days of pool action, then quarter, semis and the final, with everyone playing once each day to end up with a 1-16 finish.


Order:
1,3,2

Ct1

Ct2

Ct3

CC

13.00

A: EGY 3-0 SWE

A: NZL 3-0 AUS

B: IND 3-0 GER

B: ENG 2-1 FRA


16.00

C: MAS 3-0 DEN

C: HKG 3-0 NED

D: USA 3-0 RSA

D: CAN 3-0 ESP


Hay clinches it for England

Seeds make safe start

No upsets in the first set of pool ,matches, with Egypt, New Zealand and India all recording 3-0 wins, but England were made to work harder before securing victory over France.

Individual champion Nour El Sherbiny was suffering a bit of a hangover (not literally of course, she's only 13) and struggled in the first game against Sweden's Jennie Lindstrom, taking it 14/12 before finding her range. The El Torky sisters mopped up the rest of the points for top seeds Egypt.

India, led by Dipika Pallikal, cruised to victory over Germany with three 3-0 wins, and New Zealand won the trans-Tasman clash, dropping just one game in the process of beating Australia.

England's Millie Tomlinson had to work hard for her win over Emilie Lamilango, losing a 2-0 lead - missing out on a match-ball opportunity in the fourth - before securing the decider. Julie Lecoq levelled matters for France, leaving it to Kimberley Hay to secure the win for England, but with Cyrielle Peltier getting closer each game Hay was mightily relieved to take the third on extra points.

Comfy for Canada et al ...

It was same again in the afternoon session, with the seeded teams all winning fairly comfortably.

Canada, resting number one Laura Gemmell, dropped a solitary game to Spain, USA whitewashed South Africa, although Cheyna Tucker and Alexandra Full can count themselves unlucky not to take at least a game, Malaysia did the same to Denmark, while Tsz Ling Liu came from 2-1 down to beat Milou Van der Heijden, which was crucial in setting up Hong Kong's 3-0 win over the Netherlands.


It's the same again tomorrow and Wednesday, as the lineups for the quarter-finals are decided ...