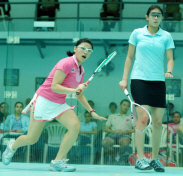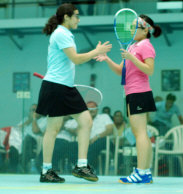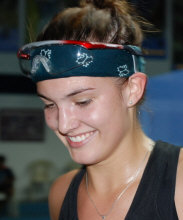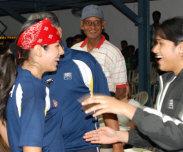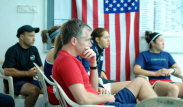 "No-one gave the US a chance of winning unless Amanda won, so this makes it even more special, the girls played great."




"Julie played out of her skin … what an amazing game … WHOA! "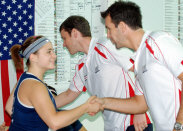 9-16 Playoffs:

Australia 3-0 Spain

Netherlands 0-3 France

South Africa 3-0 Sweden

Germany 3-0 Denmark
Quarter-Finals

Egypt 3-0 Malaysia

USA 2-1 England

Hong Kong 3-0 New Zealand

India 2-1 Canada
Top seeds joined by USA and HK

No stopping Egypt ...

Top seeds Egypt were the first through to the semi-finals, brushing aside Malaysia with wins from Nour El Sherbini and Heba El Torky over Tan Yan Xin and Low Wee Wern.

The Malaysians, after losing out in their group decider to Hong Kong, got the unkindest draw and despite being third seeds, were no match for the reigning champions.

Tan took the first game of the match off individual champion Sherbini, but after that it was Egypt all the way, with Nour El Tayeb cleaning up in the dead rubber.
"Very happy to win this match, now I'm beginning to think this is the 'Dream Team'!

"Malaysia are a very strong team, but our team made good plans for this championship and we came here to win it.

"All respect to all the other teams, but I hope we can play well all through to the end of the final."


Indians pushed by Canada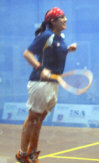 Canada surprised second seeds India with Samantha Cornett continuing her good form from yesterday, taking the first match at second string against a nervous-looking Anwesha Reddy. Dipika Pallikal struck back to level with a straight-games win over Laura Gemmell to set up the decider.

Surbhi Misra again did the business in the third match, and although Jennifer Pelletier pushed her close, the Indian's determined play once again saw her through. India thus reach the semis for the first time since 2003.
"Very pleased. It became a bit closer than we expected, but in the end the girls played well to come through.

"Samantha was very steady, very good. Anwesha was nervous and made a lot of unforced errors, she can, and will, play better than that.

"Dipika did what we expected of her, and Surbhi played well in the decider.

"Jennifer played brilliant squash, she hung in well, but my girl had a bit more in the end, it was her finishing shots that made the difference."


Americans score first-ever win over England


Kim Hay played excellent squash to beat in-form Amanda Sobhy 3-0 to put England ahead against USA, but Olivia Blatchford put in a strong performance to beat Millie Tomlinson at top string to level up the tie.

It was left to Julie Curello to clinch the decider for the second day in a row, and after taking two fairly tight games against Rachael Chadwick, surged ahead in the third to keep the Americans on track for a possible best-ever finish.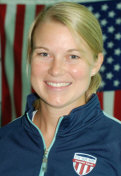 "It's very exciting – in all my years playing for the US we never managed to beat Canada or England, and now we've beaten them both in two days! They were both great wins but this one is especially good.

"The girls played incredibly tough. England came out strong and the girls had to work hard to get through.

"Julie was tremendous in the decider, it's always hard to play last but she's had to do it two days in a row now and pulled us through both times."

"It will be tough tomorrow against Egypt, but we'll play well and hope for the best …"


Hong Kong back in the big time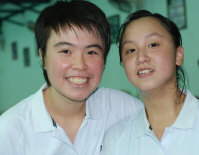 Hong Kong's top pairing of Tsz Wing Tong and Tsz Ling Liu secured the wins against New Zealand to take them into the semis.

Tong recovered from dropping the first game to beat the Kiwis' Amanda Landers-Murphy, and Liu got the better of three tough, tight games against Lana Harrison to put the 2005 champions back into the last four.
"It's an outstanding result for Hong Kong, it's what you dream about.

"All of our players are kids who have come through our Junior Development Programme, so it's obviously working!

"They're taking over from the group that won us the title in 2005 in Belgium, this is the next generation.

"Joey [Chan] and Annie [Au] have gone on to perform tremendously well at the senior level, and I'm sure these players can do the same."