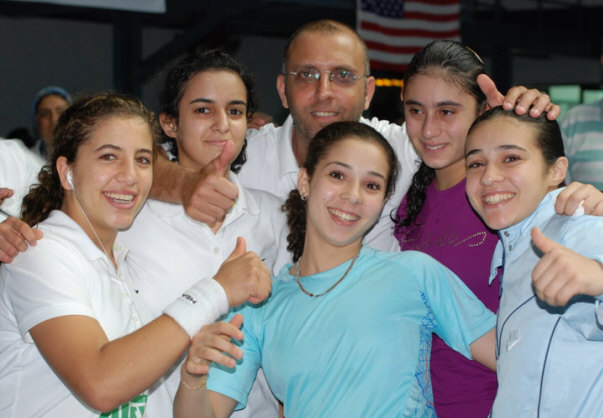 Egyptians one match away from retaining title
Egypt 2-1 USA
Heba El Torky 3-1 Olivia Blatchford
11/5, 11/6, 13/15, 11/7 (34m)
Nour El Sherbini 0-3 Amanda Sobhy
6/11, 6/11, 8/11 (22m)
Nour El Tayeb 3-0 Julie Cerullo
11/6, 11/5, 11/4 (17m)

India 1-2 Hong Kong
Dipika Pallikal 3-1 Tsz Ling Liu
11/4, 10/12, 11/8, 11/6 (31m)
Anwesha Reddy 0-3 Tsz Wing Tong
10/12, 6/11, 8/11 (29m)
Surbhi Misra 1-3 Carmen Lee
9/11, 11/8, 9/11, 9/11 (40m)

5/8:



Malaysia 1-2 England
Hay comes from 0-2 down to seal win
Canada 3-0 New Zealand
Gemmell grinds out opener to set up win

9/12:

Australia 1-2 France
Germany 2-1 South Africa

13/16

Netherlands 3-0 Spain
Denmark 2-1 Sweden


60 Seconds:
Meet Spain and the USA
Egypt 2 - 1 USA
Dream Team shaken by the States

So, the top seeds and defending champions are through to the final, but no-one expected their match against the USA to be like this - not even the USA!

First up was Heba El Torky against Olivia Blatchford at top string. The Egyptian was well on top in the first two games, and when she built a 10-6 lead in the third it looked as though Egypt had the first point on the board.

Then Heba hit five tins in a row, and suddenly had to save a game ball. She did that, but Olivia had been given cause to fight, and she surely did, coming away a 15/13 winner.

After a close opening to the fourth, Heba pulled clear again, and this time made no mistake. Crisis over, we all thought.

"It was the same as in the individuals - when I'm ahead I don't attack.

"Against Nour I was 9-4 and just needed a couple of nicks and it was finished, and when I was 10-6 up in the third today I was thinking more about the individuals than this match.

"It's so annoying, I've been beating all the Egyptian girls 3/0 up to the tournament, and I'm still thinking about that quarter-final I lost.

"I'm glad I got it back in the fourth though, to put the team ahead.

"The British will be my last junior tournament ... I have to take that one!"



Second on were individual champion Nour El Sherbini and Amanda Sobhy, who had suffered a 3-0 reverse against England yesterday.

Against all expectations, Amanda dominated from the start, never letting Nour get properly into the match, and crucially never letting her dominate the 'T', from where she's so dangerous.

Amanda took the first. She took the second. Surely the tide was going to turn. 5-3 to Nour in the third, now we'll see ...

What we saw was an American continuing to play out of her skin, and Egyptian still out of sorts. At 7-all Amanda blasted a drive deep into the corner, then got the better of a tough long rally to reach 9-7. A stroke gave her three match balls. It was going to have to be some comeback now ...

In fact it was no comeback at all, Amanda tinned a boast to squander one opportunity, then forced yet another tin from her opponent to seal a fantastic victory.

"Forget what I said about beating Laura Gemmell being my best match ever, I just beat the World Champion!

"Coming into the match I was sure I was going to get destroyed, so I didn't go on with a plan, I just went on and played, and I never had so much fun on a court in my life!

"I wasn't even getting nervous towards the end, even if I'd lost it would have been to the world champion, so there was no pressure. Whoa!"



So it was left to Nour El Tayeb to save the dream team's skin. It was asking a bit much of Julie Cerullo to win a decider for the third day in a row - especially as she didn't even think she would be playing when the match started! The USA had intended to give number four Yarden Udinak, but forgot to submit their team orders so were forced to play their number three.

"It was a lucky mistake on my part," admitted US coach Jack Wyant, "we ended up with our number three playing the decider which we would have wanted in those circumstances."

But it was too much of an ask, as Nour won through in straight games, looking increasingly in control as the match progressed.

By my oh my, what a bit of excitement to start the day ...

"I was so scared when I was warming up - this is the first team tournament I've ever played in, and to have to go on for the decider in the semi-final ...

"I felt better and better as the match went on though, and I'm so pleased to win and put us into the final."



Hong Kong take out the hosts
India 1-2 Hong Kong
Hong Kong stun the hosts

If today's first match proved to be closer than expected, so did the second, but in this one the underdogs went the whole way - sixth seeds Hong Kong stunning India, the second-seeded hosts.

It started well enough for India, with Dipika Pallikal beating Tsz Ling Lui in four games - she virtually gifted away the second one, tinning five times in a row from 10-7 up. Willing runner though she is, Lui couldn't stem the flow of winners from the Indian's racket.

"I thought everything was coming together in the first, and the seconds seemed to be going the same then I lost it. So I went back to my game in the third.

"I was thinking a lot about the team, and how important it was to win to put us one up, so I was thrilled to win in the end."



India were pegged back to level after Anwesha Reddy could find no answer to the running machine that is Tsz Wing Tong.

The HK girl edged the first on extra points, held a slender advantage throughout the second, then came fro 5-7 down in the third, getting the better of some long, tough rallies to close out the match.

"It was the reverse of the other matches, where I've been playing to put the team into the lead, or to win the match.

"This time, if I lost the whole team were out, so that added more pressure and made me more determined to win."



India had the determined Surbhi Misra out for the decider, for Hong Kong it was Carmen Lee, who so far hadn't been called on in the clutch. But it was Carmen who, in the words of Indian manager Major Maniam, "handled the crunch points better".

Indeed she did - all four games were close, but Carmen took three of them. The Hong Kong contingent were almost on their feet when she led 9-6 in the fourth, were biting their fingernails again as Surbhi came back to level it at 9-all, then they rose as one when she took the next two points ... Hong Kong were in the final.

"I just went on to win, I couldn't lose. I knew I had to break a leg to win this match, I lost to India in the Asian Junior teams and I was just thinking I can't lose to them again.

"I needed to keep it to the back of the court, her forehand boast is very good. In the second I was playing too much to the front and on the forehand, she's too good there so I had to change that.

"I could hear the crowd shouting, but I knew the only way to keep them quiet was to keep winning, not give them anything to cheer about.

"It's unbelievable, we're 5/8 seeds, we shouldn't be in the final but we are, it's just impossible! We're not supposed to win tomorrow, but we'll try our best ...