Sun 24-Aug, Day ONE:
Qualifying Begins


Qualifying got under way at Hong Kong Squash Centre with the usual mix of local youngsters against seasoned pros coupled with a handful of tough pro v pro matches.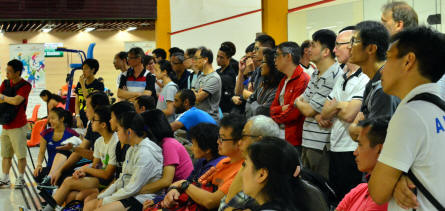 In the men's draw Rex Hedrick v Ivan Yuen looked the toughest match on paper, and so it proved as the Aussie came through in three tough games taking all of 67 minutes - it could have been less had Ivan not fought back from 6-10 in the third.

"When I saw the list of qualifiers he was the one you didn't want," admitted Rex, "the game opened up at the end and it was pretty tough to finish it off."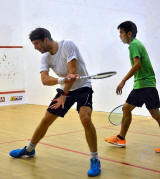 Eddie Charlton, in the last match of the day, looked as though he would be kept on court a while too, but after a 20-minute opening game the Englishman eased away to beat Yeung Ho Wai in 39 minutes.

Of the home players only Leo Au, younger brother of Annie, made it through to tomorrow's qualifying finals, all eight of which promise to be hotly contested.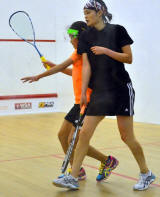 In the women's matches there were a hat-trick of home winners, youngsters Ho Tze Lok and Tin Yan Lau alongside 'veteran' Elise Ng returning to action to support the tournament and trying to "put into practice some of the things I learned doing my Master of Sports degree".

Ho Tze Lok won the longest and toughest women's match of the day, taking almost an hour to see off Gu Jinyue, but the Chinese contingent had success as Li Dongjin beat Ho Ka Po in straight games.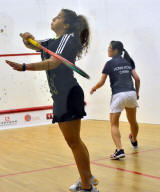 Among the winners was Egypt's Kanzy El Dafrawy, fresh from leading Trinity to their first US College success in 13 years.

"I really wanted to concentrate on college squash last year," said Kanzy, "and winning that was great but my ranking suffered so I've entered a few tournaments this summer. I didn't feel at my best today since I arrived late last night after a 30-hour trip, but I'm glad to get through and looking to do well in the tournament."

As in the men's draw, there will be eight tough matches tomorrow with a place in the main draw the prize.
Men's Qualifying Round One:

Alfredo Avila (Mex) 3-1 James Huang (Tpe)
11/5, 10/12, 11/6, 11/5 (41m)
Zahed Mohamed (Egy) 3-0 Henry Leung (Hkg)
11/7, 16/14, 11/5 (38m)
Steve Finitsis (Aus) 3-0 Ho Fai Chiu (Hkg)
11/2, 11/5, 11/8 (23m)
Omar Abdel Aziz (Egy) 3-0 Hon Fung Wong (Hkg)
11/2, 11/5,11/8 (23m)
Rex Hedrick (Aus) 3-0 Ivan Yuen (Mas)
11/6, 11/6, 13/11 (67m)
Mahesh Mangaonkar (Ind) 3-0 Ling To Yu (Hkg)
11/7, 11/5, 11/7 (26m)

Matthew Karwalski (Aus) 3-0 Yuen Tsun Hei (Hkg)
9/11, 11/6, 11/6, 11/6 (27m)
Shaun le Roux (Rsa) 3-0 Ng Ka Yiu (Hkg)
11/6, 11/4, 11/2 (16m)
Leo Au (Hkg) 3-0 Chris Lo (Hkg)
11/4, 11/4, 11/5 (28m)
Mohamed Abouelghar (Egy) 3-0 Law Yat Long (Hkg)
11/2, 11/8, 11/5 (14m)
Raphael Kandra (Ger) 3-0 Alex Lau (Hkg)
11/8, 11/7, 1/9 (28m)
Eddie Charlton (Eng) 3-0 Yeung Ho Wai (Hkg)
12/10, 11/5, 11/2 (39m)
Women's Qualifying Round One:

Amanda Landers-Murphy (Nzl) 3-0 Tang Yan Yi (Hkg)
11/7, 11/9, 11/4 (19m)
Kanzy El-Dafrawy (Egy) 3-0 Chan Ho-Ching (Hkg)
11/7, 11/7, 11/5 (22m)
Zulhijjah Binti Azan (Mas) 3-1 Li Sum Yin (Hkg)
9/11, 11/4, 11/7, 11/6 (27m)
Milou van der Heijden (Ned) 3-0 Ming Ying Yiu (Hkg)
11/4, 11/3, 11/4 (17m)
Elise Ng (Hkg) 3-0 Chan Siu Ting (Hkg)
11/5, 11/7, 11/9 (24m)

Mariam Metwally (Egy) 3-0 Choi Uen Shan (Hkg)
11/7, 11/8, 11/7 (32m)
Ho Tze-Lok (Hkg) 3-1 Gu Jinyue (Chn)
11/6, 12/14, 11/5, 11/2 (55m)
Tin Yan Lau (Hkg) 3-0 Sum Yuet Lee (Hkg)
11/9, 11/6, 11/7 (20m)
Laura Pomportes (Fra) 3-0 Ching Hei Fung (Hkg)
11/0, 11/5, 11/2 (16m)
Li Dongjin (Chn) 3-0 Ho Ka Po (Hkg)
11/5, 13/11, 11/5 (29m)
Belen Etchechoury (Arg) 3-0 Adele Fung (Hkg)
11/6, 11/6, 11/4 (21m)