Tue 26-Aug, Day THREE:
Men's top half decimated
as birthday girl Nicol marches on ...


The main draw got under way with the top half of both events at Hong Kong Squash Centre, and it was a day of upsets for the men, with four qualifiers progressing plus the demise of the third-seeded former champion!


There was less drama on the women's side as all but one of the higher-seeded players progressed, the exception being Victoria Lust's 3-0 win over Nicolette Fernandes.


Nicol David, on her birthday, made it 46 consecutive wins in HK since 2005 as she beat fellow-Malaysian Delia Arnold to start her quest for a tenth HK title, while home interest was kept alive as Joey Chan beat Milou van der Heijden in straight games.

The top half of the men's draw was, by contrast, blown wide open as qualifiers Alfredo Avila, Shaun Le Roux, Fares Dessouki and Zahed Mohamed all took significant scalps.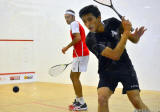 Avila described his victory over Marwan Elshorbagy as "the best win I've ever had." A conduct stroke for blocking to bring up match ball didn't help Marwan's cause.

"He dominated me in the first," said Alfredo, "so I had to slow the pace down, and I just pushed and pushed at the end. I knew this was a big opportunity to make the last sixteen of such a big event, I was getting excited towards the end but I did it."


Le Roux came from a game down to beat the experienced Olli Tuominen. "Winning the SA nationals has given me a confidence boost," said Le Roux, "I've felt I had a big win in me for a while, but to get the best win of my PSA career in a big event like this ... I was happy to qualify but I'm over the moon to make the last sixteen!"


Dessouki also came from a game down to beat Mathieu Castagnet in a match that became rather physical and contentious towards the end.

"This was a really really tough match," said a delighted winner. "The refs were pushing us into some weird places on the court, but it's difficult to judge on critical points. I'm really happy to beat such a tough player, it's good for me and my career, and I look forward to recovering quickly and playing well against another great French player in the next round."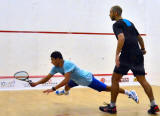 Mohamed won a late night nailbiter against fellow Egyptian Omar Abdel Meguid, who saved three match balls to get back to 9-10 in the decider before Mohamed slammed his final serve into the nick for another big upset.

"I was getting so nervous at the end, he kept coming back and I decided I had to go for the winner and I was lucky that it came off," said Zahed. "It's the first time I played Omar in PSA, we both played well but winning this match will change a lot of things for me in PSA."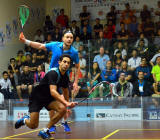 But the biggest upset, in the seedings at least, came as Tarek Momen beat third seed and 2011 champion James Willstrop in three close games.

"It's definitely a nice win, but I'm just amazed how well James was playing when he's obviously struggling with his body," said Momen of his opponent who has opted out of a couple of forthcoming events to get a hip injury seen to.

""I'm glad I played well and up to my standard and I wish James a speedy recovery," added Momen. "It was a good day at the office and I look forward to playing well in the rest of the tournament."

Willstrop was philosophical: "That's probably the toughest first round draw I've ever had - it was very close but he was just ahead in every game."

Home interest in the men's draw was ended as Daryl Selby got the better of three close, often physical, games against Max Lee.
Women's Round One Top:

[1] Nicol David (Mas) 3-0 [Q] Delia Arnold (Mas)
11/6, 11/5, 11/5 (31m)
Emma Beddoes (Eng) 3-0 Siyoli Waters (Rsa)
12/10, 11/5, 11/6 32m)
[7] Omneya Abdel Kawy (Egy) 3-1 Tesni Evans (Wal)
11/2, 11/5, 6/11, 11/6 (40m)
Joey Chan (Hkg) 3-0 [Q] Milou van der Heijden (Ned)
11/3, 11/6, 11/4 (25m)
[8] Amanda Sobhy (Usa) 3-0 Q] Salma Hany (Egy)
11/6, 13/11, 11/5 (31m)
Victoria Lust (Eng) 3-0 Nicolette Fernandes (Guy)
11/8, 11/9, 12/10 (43m)
[3] Camille Serme (Fra) 3-1 [Q] Laura Pomportes (Fra)
11/8, 11/6, 8/11, 11/5 (41m)
Jenny Duncalf (Eng) 3-0 [Q] Latasha Khan (Usa)
11/4, 11/5, 11/2 (19m)

Men's Round One Top:

[1] Gregory Gaultier (Fra) 3-0 [Q] Nafiizwan Adnan (Mas)
11/4, 11/4, 13/11 (31m)
[Q] Fares Dessouki (Egy) 3-1 Mathieu Castagnet (Fra)
10/12, 11/8, 11/8, 11/9 (76m)
[Q] Zahed Mohamed (Egy) 3-2 Omar Abdel Meguid (Egy)
9/11, 11/5, 11/5, 7/11, 11/9 (71m)
[7] Daryl Selby (Eng) 3-0 Max Lee (Hkg)
11/9, 11/9, 11/6 (57m)
[8] Simon Rosner (Ger) 3-0 [Q] Rex Hedrick (Aus)
11/5, 11/6, 11/7 (34m)
[Q] Alfredo Avila (Mex) 3-2 Marwan Elshorbagy (Egy)
6/11, 11/8, 11/9, 9/11, 11/8 (65m)
Tarek Momen (Egy) 3-0 [3] James Willstrop (Eng)
11/9, 12/10, 11/8 (42m)
[Q] Shaun Le Roux (Rsa) 3-1 Olli Tuominen (Fin)
8/11, 11/6, 13/11, 12/10 (70m)