Wed 27-Aug, Day FOUR:
More upsets but seeds begin to settle ...

The first round concluded at Hong Kong Squash Centre with yet more upsets, although as the day wore on the seeds started to assert themselves.


The HK crowd were warmed up with a comfortable enough win for their favourite Annie Au, followed by a display of shotmaking from Rachael Grinham as they both won in straight games.

"My aim was just to get past the first round," admitted Annie. "I'm satisfied with my performance today so I'll just focus on one match at a time."


On the upstairs court wildcard Tong Tsz Wing put on a good show against Low Wee Wern taking the opening game, but the Malaysian fifth seed grew into the match, even if she took her time converting a 10-3 lead in the fourth to close it out 11-8.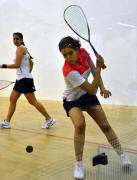 "She came out strong in the first," said Low, "but after that I felt comfortable right up to 10-3 match ball, she gave it all she had and came back well so I was glad to get off in four in the end."

Nour El Tayeb, finalist last week in Malaysia, took two close first games against Mariam Metwally - amazingly the first time they'd played even in practice - and was also 10-3 up in the third before finally winning it 11-8.

"I was nervous through the whole match," said Tayeb. "Even though I never played her before I knew she was very good, and after last week I want to do well again but I was trying too hard to be relaxed and just made myself too anxious! It was close all the way through, I'm just glad to win in the end."


More Egyptian success came as Nouran Gohar, finalist in the world juniors, upset India's Joshana in three quickfire games.

"She's hard to play as she has so many shots, " said Gohar. "But I managed to play my game, keeping the pace up and the court helped me when I got the chance to play dropshots. It's my first time in HK so I'm very happy to make the last sixteen!"


The last sixteen was rounded off with three Englishwomen, comfortable wins for Laura Massaro and Alison Waters and a hard-fought one for Sarah-Jane Perry.

"The first was good, then it became a bit of a scrap," said Perry of her 62-minute five-setter with Line Hansen. "At 1-2 and 8-9 down it was getting a bit edgy, it was a good time to play my only good dropshot of the match!"

Before the men's matches started Borja Golan, fourth seed and last year's runner-up, went through as LJ Anjema was forced to pull out with a foot injury.


On court the upsets continued where they left off yesterday as Mohamed Abouelghar made it five qualifiers in the last sixteen, Greg Marche ousted sixth seed and former finalist Karim Darwish, and Nicolas Mueller breezed past Cameron Pilley in straight games.

"That was one of the hardest matches of my life," said Abouelghar of his five-game win over Joe Lee. "I thought the third was crucial, and when I lost it I told myself I had to push beyond my limits to win. I felt it in the legs in the fourth and fifth but I'm happy I was able to push myself that far."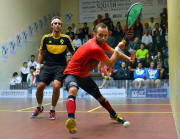 Marche was delighted with his win: "I knew after I beat Rosner and LJ at the Euros that I was capable of winning this kind of match, but that's a very good win for me, my best, I'm really happy with how I played and it's a good opportunity for me now in this tournament."

The second men's session was less dramatic, with wins - for Saurav Ghosal, Peter Barker, Chris Simpson and Mohamed Elshorbagy, with Shorbagy, the second seed, havoing to save a game ball to avoid being taken to a fifth by fellow Egyptian Karim Abdel Gawad.

Women's Bottom Half:

[4] Alison Waters (Eng) 3-0 Misaki Kobayashi (Jpn)
11/4, 11/8, 11/7 (26m)
Sarah-Jane Perry (Eng) 3-2 Line Hansen (Den)
11/3, 5/11, 8/11, 11/9, 11/8 (62m)

Nour El Tayeb (Egy) 3-0 [Q] Mariam Metwally (Egy)
13/11, 12/10, 11/8 (37m)
[5] Low Wee Wern (Mas) 3-1 Tong Tsz-Wing (Hkg)
7/11, 11/4, 11/2, 11/8 (48m)

[6] Annie Au (Hkg) 3-0 Heba El Torky (Egy)
11/6, 11/4, 11/4 (26m)
Rachael Grinham (Aus) 3-0 [Q] Samantha Teran (Mex)
11/4, 11/7, 12/10 (37m)

Nouran Gohar (Egy) 3-0 Joshana Chinappa (Ind)
11/8, 11/4, 11/7 (20m)
[2] Laura Massaro (Eng) 3-0 [Q] Kanzy El Dafrawy (Egy)
11/6, 11/4, 11/3 (24m)


get the latest scores and updates on twitter

Men's Bottom Half:

[4] Borja Golan (Esp) w/o Laurens Jan Anjema (Ned)
w/d injured
[Q] Mohamed Abouelghar (Egy) 3-2 Joe Lee (Eng)
11/7, 2/11, 9/11, 11/5, 11/4 (67m)

Gregoire Marche (Fra) 3-1 [5] Karim Darwish (Egy)
11/5, 11/8, 7/11, 11/7 (41m)
Nicolas Mueller (Sui) 3-0 Cameron Pilley (Aus)
11/8, 11/4, 11/5 (41m)

[6] Peter Barker (Eng) 3-0 Adrian Waller (Eng)
11/7, 11/4, 11/5 (60m)
Saurav Ghosal (Ind) 3-0 [Q] Henrik Mustonen (Fin)
11/4, 11/6, 11/3 (28m)

Chris Simpson (Eng) 3-0 Tsz Fung Yip (Hkg)
11/3, 11/4, 11/7 (26m)
[2] Mohamed Elshorbagy (Egy) 3-1 Karim Abdel Gawad (Egy)
11/5, 11/6, 7/11, 12/10 (52m)