SAT 30-Aug, Day SEVEN: SEMI-FINALS
[1] Gregory Gaultier (Fra) 3-0 Tarek Momen (Egy)
11/7, 11/2, 11/3 (37m)

[2] Mohamed Elshorbagy (Egy) 3-1 [4] Borja Golan (Esp)
11/7, 11/5, 7/11, 11/7 (50m)

[1] Nicol David (Mas) 3-0 [8] Amanda Sobhy (Usa)
11/8, 11/4, 11/2 (27m)

Nour El Tayeb (Egy) 3-1 [2] Laura Massaro (Eng)
11/9, 10/12, 11/2, 12/10 (47m)

Follow the latest updates and photos on twitter
Men's top seeds through to final


Gregory Gaultier and Mohamed Elshorbagy will contest the Hong Kong Open final - after all the upsets with five qualifiers making the last sixteen, it will be the top two seeds who battle it out for the World Series crown at Hong Kong Park Sports Centre.


Gaultier eased through his match with Tarek Momen, the younger Egyptian feeling the effects of yesterday's marathon win after a competitive first game.

"I tried to make the pace fast from the start," said Gaultier, "and that was working well for me.

"In the second and third I think he started to feel the effects of yesterdays match., but I was still feeling fresh and I don't think the score really reflected the match."


Shorbagy looked to be heading for a similar victory, but gritty Spaniard Borja Golan fought back to take the third, and it was only at the end of the fourth that Shorbagy managed to pull clear.

"I had to play well to get those first two games, Borja is always a tough opponent," said Shorbagy.


"He came back strongly in the third and I had to play a better game which I managed to do in the fourth.

"Getting to my first final in this tournament is something you can always be proud of, and to play in front of a crowd like this is always great.


"Greg is world number one and he's the man to beat at the moment, so there's no pressure on me tomorrow, but it should be an interesting match, for sure ...

"Malaysia was great preparation for me, winning it gave me great confidence and I'm trying to take that confidence into here, so it's been going well so far. Getting to my first final here is great, but we're all here to win, not just to justify your seeding. I would love to win it, as much as Greg, because he has lost four finals here, so we both want our first win here."

David to face Tayeb in tenth title bid


The first women's semi-final saw nine-time champion Nicol David through to another final in a similar manner to Gaultier - after competing well in the first game, young American Amanda Sobhy subsided, as so many have done, in the next two games.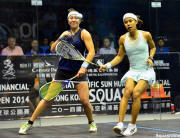 "No doubt she played a strong first game," said Nicol. "We were both finding our feet and our range on the court.

"Then it was just a matter of putting the work in in the second and third games, and hershots didn't come in as well and she missed a few shots she doesn't usually, so I just had to put the pressure on.

"I'm just going to be focusing on what I have to do. I just love playing here. It raises my game and I always play my best squash. I'm just going to go all out and leave it all out there."


The last match of the day provided another stunning upset for Nour El Tayeb as the unseeded young Egyptian beat Laura Massaro for the second time in a week, to reach a second consecutive world series final.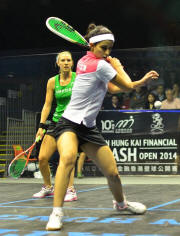 Tayeb edged the first but Massaro did the same to level the match, then seemed to have no answer as Tayeb took the third 11-2 and went 7-1 up in the fourth.

The Englishwoman fought back, as she does, levelled at 9-all and had one chance to take it to a decider, but Tayeb took the next three points to complete the win.


"I have no words to describe how I feel at the moment," said a delighted winner.

"To beat Laura Massaro twice, and to reach two huge finals, it's just unbelievable.

"I'm in the best form of my life. It's definitely the best two weeks of my life, for sure.

"I understand if I won one match, but to back it up for two weeks, I really don't know how to explain it. The furthest I was looking was the first round!"