Thu 28-Aug, Day FIVE:
Quarter-finalists decided in Hong Kong

After two days of upsets, it was the turn of the seeds to reassert themselves today at the Hong Kong Squash Centre, in the men's draw at least.

Women's Round TWO:

[1] Nicol David (Mas) 3-1 Emma Beddoes (Eng)
11/4, 11/6, 8/11, 11/7 (46m)
Joey Chan (Hkg) 3-0 [7] Omneya Abdel Kawy (Egy)
11/8, 13/11, 11/7 (31m)

[8] Amanda Sobhy (Usa) 3-0 Victoria Lust (Eng)
11/6, 11/8, 11/6 (31m)
[3] Camille Serme (Fra) 3-2 Jenny Duncalf (Eng)
11/13, 6/11, 11/4, 11/3, 12/10 (77m)

[4] Alison Waters (Eng) 3-0 Sarah-Jane Perry (Eng)
11/7, 11/9, 11/9 (40m)
Nour El Tayeb (Egy) 3-2 [5] Low Wee Wern (Mas)
11/8, 7/11, 11/3, 7/11, 11/5 (74m)

Rachael Grinham (Aus) 3-1 [6] Annie Au (Hkg)
9/11, 11/4, 11/5, 11/9 (41m)
[2] Laura Massaro (Eng) 3-1 Nouran Gohar (Egy)
11/5, 11/8, 8/11, 11/9 (53m)

Joey delights HK faithful


Defending champion Nicol David recorded her 47th straight win in Hong Kong, but Emma Beddoes made the world number one work hard for her 3-1 win.

"I was feeling good in the first two, but she played really well in the third, found her length and didn't make any errors," said David. "I knew I had to tighten up and managed to get it back in the fourth."


The first upset of the day came as Hong Kong's Joey Chan beat seventh seed Omneya Abdel Kawy in straight games to set up a meeting with David.

"I knew I had to keep her moving as much as I could," said Chan, "trying to stop her attacking. I'm proud to make the quarters again, I just want to enjoy the atmosphere tomorrow and play as well as I can."


Third seed Camille Serme survived by the skin of her teeth against Jenny Duncalf, coming from 0-2 down and from 8-10 in the fifth to take the match 12-10.

"At two-nil down I was thinking that it couldn't be worse," admitted Serme. "I just tried to calm myself down and get my tactics right, I was a bit mixed up in my head.

"I got lucky on the second match ball and I told myself that this is my chance now. It's never nice to lose a match like that, I'm just glad I was the winner today."

Serme plays the USA's Amanda Sobhy, who beat Victoria Lust in straight games.

In the bottom half of the draw Enland's Laura Massaro and Alison Waters, seeded two and four, both progressed. Waters won her all-England match with Sarah-Jane Perry in straight games while Massaro was almost taken to a deciding game before beating young Egyptian Nouran Gohar 3-1.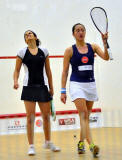 Waters now meets Nour El Tayeb, finalist in last week's Malaysian Open, who took 74 minutes to win a see-saw five-setter against Malaysian fifth seed Low Wee Wern.

"That's how it is with Wee Wern," said Tayeb, "she sucks me into her slow pace and for large parts of the match I just couldn't play my game! Omar [Elborolossy] kept telling me I needed to wake up, and thankfully in the fifth I managed to get on top again."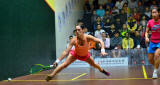 Massaro meets Rachael Grinham, the veteran Aussie who came from a game down to end the hopes of Hong Kong's Annie Au, the seventh seed.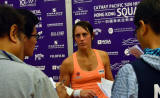 "I thought I played really well, but I knew I had to keep smacking the ball hard, not my usual sort of game at all," said Grinham.

"If she gets her shots going on this court she's deadly, she's beaten me a few times on here so I needed to keep it fast to take her options away.

"Two years ago I'd have been happy to think I had two years left, so now I'm just taking it month by month. I still feel I've got the game to beat the top players, but maybe not three or four of them in a row!"
Men's Round TWO:

[1] Gregory Gaultier (Fra) 3-0 [Q] Fares Dessouki (Egy)
11/4, 11/3, 11/7 (40m)
[7] Daryl Selby (Eng) 3-1 [Q] Zahed Mohamed (Egy)
11/8, 6/11, 11/7, 11/5 (59m)

Tarek Momen (Egy) 3-1 [Q] Shaun Le Roux (Rsa)
12/10, 7/11, 13/11, 11/6 (65m)
[8] Simon Rosner (Ger) 3-0 [Q] Alfredo Avila (Mex)
11/2, 11/3, 11/6 (29m)

[4] Borja Golan (Esp) 3-2 [Q] Mohamed Abouelghar (Egy)
11/7, 6/11, 11/7, 3/11, 11/4 (63m)
Nicolas Mueller (Sui) 3-2 Gregoire Marche (Fra)
8/11, 8/11, 12/10, 11/4, 11/8 (69m)

[6] Peter Barker (Eng) 3-0 Saurav Ghosal (Ind)
11/6, 11/5, 2/1 rtd (39m)
[2] Mohamed Elshorbagy (Egy) 3-0 Chris Simpson (Eng)
11/3, 11/1, 11/7 (25m)
Seeds reassert to reach quarters
The men's matches all went to seeding, with all five qualifiers exiting, although Shaun Le Roux made Tarek Momen work hard for a four-game win, and Mohamed Abouelghar took fourth seed Borja Golan to a deciding game.


"It was my first match of the tournament and I was maybe guilty of losing my concentration at times," said the Spaniard, "but all credit to him as he was playing really well. He gave away a few mistakes in the end and I think experience was important at that stage."


The longest men's match of the day saw Nicolas Mueller repeat last year's thrilling win over Greg Marche on court nine as the Swiss came form two games down to win.

"I like to play long matches on that court," said Mueller, "I beat him 15/13 in the fifth on there last year!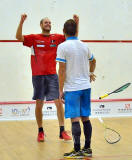 "He played unbelievable squash in the first two, just too good, and then he came from 10-6 down to 10-all in the third.

"I knew I just had to stick in, I wasn't playing badly, and his level dropped maybe 1% but that was enough.

"I'm happy and lucky to scrape through - I don't know if last year's match was in his head, it was certainly in mine in a positive way."