Mon 25-Aug, Day TWO:
Egyptians impress in Qualifying Finals


Qualifying finals day, and with sixteen places in one of the most prestigious and most valuable tournaments on the circuit, there were precious few easy matches in store at Hong Kong Squash Centre.

Overall it was a good day for the Egyptian contingent as they took three places in each of the draws, but not such a good one for the hosts as all five Hong Kong players bowed out.


The first match of the day produced the biggest upset as young Mexican Alfredo Avila toppled men's top seed Tom Richards in four games. Avila went two up, but the Englishman fought back to take the third, and saved four match balls in the fourth before succumbing 13/11.

"I tried to play hard and fast but he was getting better as the match went on," said Avila, "so I needed to win the fourth as a fifth would have been very tough to win. I'm so happy to qualify," said Alfredo, "it's the first time I ever made the main draw of a tournament this big."


Avila's reward is a match against Marwan Elshorbagy tomorrow. Double Mexican success came later as Samantha Teran made it through to the women's main draw.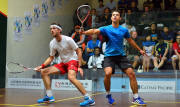 The Egyptian men's successes were all hard won - Zahed Mohamed took lust short of an hour to see off Steve Finitsis, and in the last two matches of the day Mohamed Abouelghar let a two-game lead slip before beating Rafael Kandra in the fifth while Fares Dessouki came from a game down and from behind in the fourth to beat Eddie Charlton.


The only Egyptian not to make it through was Omar Abdel Aziz, beaten by Australia's Rex Hedrick whose 3-2 win was, once again, the longest of the day.

"It was a bit frantic at the start," admitted Hedrick, "so I tried to slow the pace down and that helped me so it wasn't too demanding physically. I've played a lot of smaller events in HK but this is the first time I've played in this so it's pretty good to get through!"

There's no rest for Rex though as he takes on Simon Rosner tomorrow.


Mariam Metwally, Salma Hany and Kanzy El Dafrawy were the Egyptian winners on the women's side, Kanzy beating Amanda Landers-Murphy 3-1 in the longest women's match of the day.

"I still haven't fully recovered from the trip here, but I found my pace and managed to control the ball well, she said, "I had to be more patient than I usually am. I'mso happy to qualify for such a big tournament, that's always the aim."


Another absentee from the recent bigger main draws, Milou van der Heijden took full advantage of getting into HK - she was first reserve in the recently concluded Malaysian Open - as she beat Zulhijah Binti Azan to earn a match against HK's Joey Chan tomorrow.

"I'm very happy," said the Dutchwoman. "It's my first time in HK since the World Juniors. It would hve been nice to get a shot at Nicol but any match in the main draw has to be good."


The shortest match of the day also had the biggest age gap as Latasha Khan took on local 13-year-old Tin Yan Lau. It was a comfortable enough win for the USA veteran, who could hardly stop smiling throughout. "She's just so cute!" admitted Latasha.

The draw threw up three 'local derbies' - Delia Arnold v Nicol David, Laura Pomportes v Camille Serme, and Metwally v Nour El Tayeb, finalist last weekend in Malaysia.
Men's Qualifying Finals: updated main draw

Alfredo Avila (Mex) 3-1 Tom Richards (Eng)
11/7, 11/5, 6/11, 15/13 (51m)
Zahed Mohamed (Egy) 3-1 Steve Finitsis (Aus)
11/8, 11/4, 5/11, 11/5 (54m)
Rex Hedrick (Aus) 3-2 Omar Abdel Aziz (Egy)
8/11, 11/4, 11/5, 6/11, 11/4 (79m)
Henrik Mustonen (Fin) 3-0 Mahesh Mangaonkar (Ind)
11/9, 12/10, 11/8 (43m)

Nafiizwan Adnan (Mas) 3-1 Matthew Karwalski (Aus)
11/7, 10/12, 11/3, 14/12 (45m)
Shaun le Roux (Rsa) 3-1 Leo Au (Hkg)
11/8, 11/4, 8/11, 11/6 (63m)
Mohamed Abouelghar (Egy) 3-2 Raphael Kandra (Ger)
11/6, 11/9, 8/11, 6/11, 11/5 (54m)
Fares Dessouki (Egy) 3-1 Eddie Charlton (Eng)
3/11, 11/9, 11/6, 13/11 (67m)
Lots more photos in the Gallery
Women's Qualifying Finals: updated main draw

Kanzy El Dafrawy (Egy) 3-1 Amanda Landers-Murphy (Nzl)
11/7, 9/11, 11/5, 11/9 (51m)
Milou van der Heijden (Ned) 3-1 Zulhijjah Binti Azan (Mas)
12/10, 11/6, 6/11, 11/9 (42m)
Delia Arnold (Mas) 3-0 Elise Ng (Hkg)
11/5, 11/6, 11/8 (19m)
Mariam Metwally (Egy) 3-0 Liu Tsz-Ling (Hkg)
12/10, 11/9, 11/4 (34m)

Samantha Teran (Mex) 3-0 Ho Tze-Lok (Hkg)
11/8, 11/7, 11/7 (29m)
Latasha Khan (Usa) 3-0 Tin Yan Lau (Hkg)
11/2, 11/2, 11/5 (19m)
Laura Pomportes (Fra) 3-2 Li Dongjin (Chn)
8/11, 11/2, 8/11, 11/6, 11/3 (42m)
Salma Hany Ibrahim (Egy) 3-0 Belen Etchechoury (Arg)
11/6, 11/3, 11/6 (20m)
Play gets under way in the top half of both draws
from 13.30 tomorrow, on two courts.